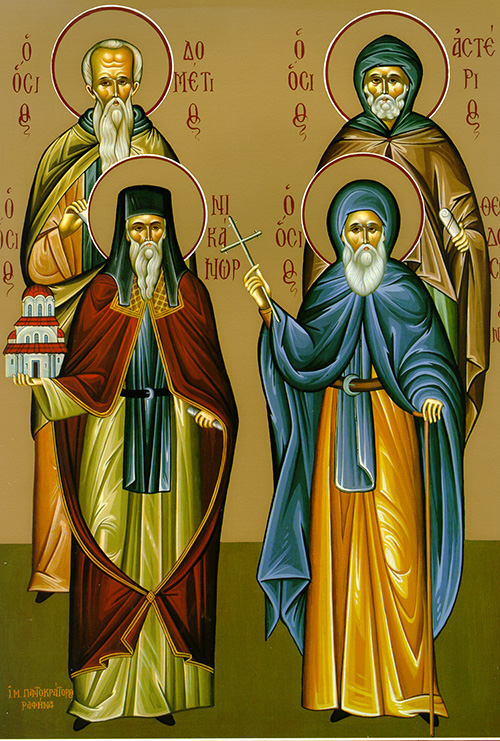 The holy venerable martyr Dometius lived in Persia during the 4th century. In his youth he was converted to the Faith by a Christian named Uaros. Forsaking Persia, St. Dometius withdrew to the frontier city of Nisibis (in Mesopotamia), where he was baptized in one of the monasteries, and also received the monastic tonsure. Fleeing the ill-will of some of the monks, St. Dometius moved to the monastery of Saints Sergius and Bacchus in the city of Theodosiopolis. The monastery was under the guidance of an archimandrite named Urbelos, a strict ascetic. In this monastery St. Dometius was ordained a deacon, but when the archimandrite decided to have Dometius made a presbyter, the saint, considering himself unworthy, hid himself on a desolate mountain in Syria, in the region of Cyrrhus. Many pagans were brought to faith in Christ by St. Dometius. At one time, the emperor Julian the Apostate (361-363) arrived in the area, found St. Dometius praying with his disciples in a cave, and walled them up alive inside.
Troparion
Trained in asceticism on the mountain, you were able to defeat the assaults of the devil by the power of the Cross, O holy Dometius. With great courage, you faced the battle and crushed the hostile emperor with the sword of faith. O glorious monk and martyr, God crowned you for your asceticism and your good fight.
Kontakion
You once turned from perishable goods and earthly thoughts which destroy. You became an inspiration for monks, O father Dometius, and you did not shake before the anger of the king who tried to turn you away from honoring Christ. You were killed for your valiant stand; and we sing a hymn of praise to your honor, remembering your death song: God is with me, and no one can prevail against me.
Epistle
2nd Corinthians 2: 3c-15
Brothers and sisters: My happiness is yours. That is why I wrote you in great sorrow and anguish, with copious tears – not to make you sad but to help you realize the great love I bear you.
If anyone has given offense he has hurt not only me, but in some measure, to say no more, everyone of you. The punishment already inflicted by the majority on such a one is enough; you should now relent and support him so that he may not be crushed by too great a weight of sorrow. I therefore beg you to reaffirm your love for him. The reason I wrote you was to test you and learn whether you are obedient in all matters. If you forgive a man anything, so do I. Any forgiving I have done has been for your sakes and, before Christ, to prevent Satan – whose guile we know too well – from outwitting us.
When I came to Troas to preach the gospel of Christ, the door of opportunity was opened wide for me by the Lord. Yet I was inwardly troubled because I did not find my brother Titus there. So I said goodbye to them and went off to Macedonia. Thanks be to God, who unfailingly leads us on in Christ's triumphal train, and employs us to diffuse the fragrance of his knowledge everywhere! We are an aroma of Christ for God's sake, both among those who are being saved and those on the way to destruction.
Gospel
Matthew 23: 13-22
The Lord said: "Woe to you scribes and Pharisees, you frauds! You shut the doors of the kingdom of God in men's faces, neither entering yourselves nor admitting those who are trying to enter. Woe to you scribes and Pharisees, you frauds! You travel over sea and land to make a single convert, but once he is converted you make a devil of him twice as wicked as yourselves. It is an evil day for you, blind guides! You declare, 'If a man swears by the temple it means nothing, but if he swears by the gold of the temple he is obligated.' Blind fools! Which is more important, the gold or the temple which makes it sacred? Again, you declare, 'If a man swears by the altar it means nothing, but if he swears by the gift on the altar he is obligated.' How blind you are! Which is more important, the offering or the altar which makes the offering sacred? The man who swears by the altar is swearing by it and everything on it. The man who swears by the temple is swearing by it and by him who dwells there. The man who swears by heaven is swearing by God's throne and by him who is seated on that throne."
Icon courtesy of Jack Figel, Eastern Christian Publications – ecpubs.com
Sunday, August 6 –