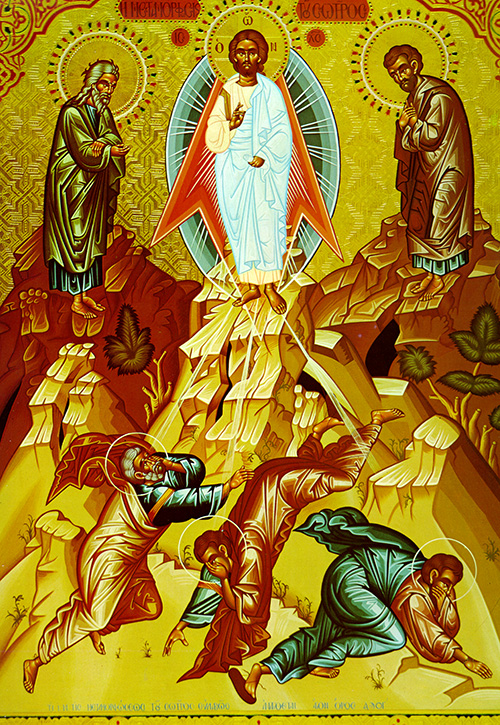 The Transformation of Our Lord, God, and Savior Jesus Christ in which Jesus Christ, beloved and only-begotten Son of the eternal Father, manifested his glory in the presence of the holy Apostles Peter, James, and John, with the Law and the prophets bearing witness in the persons of Moses and Elijah. This was done so that, while sharing the servile humility of our state he might intimate our glorious restoration through grace. Thus it might be announced to the ends of the earth that the image of God, in which humanity was created, even as it was corrupted in Adam, would be restored in Christ.
Troparion
You were transfigured on the mountain, O Christ our God, revealing as much of Your glory to Your disciples as they could behold. Through the prayers of the Theotokos, let Your everlasting light shine upon us singers. O Giver of Light, glory to You!
Kontakion
You were transfigured on the mountain, O Christ our God, and Your disciples beheld as much of Your glory as they could bear, that when they would see You crucified they would understand that You suffered willingly, so they would preach to the world that You are truly the radiance of the Father.
Readings for the Feast
Epistle
2 Peter 1: 10-19
Brothers and sisters, be solicitous to make your call and election permanent; surely those who do so will never be lost. On the contrary, your entry into the everlasting kingdom of our Lord and Savior Jesus Christ will be richly provided for.
I intend to recall these things to you constantly, even though you already understand and are firmly rooted in the truth you possess. I consider it my duty, as long as I live, to prompt you with this reminder. I know, by the indications our Lord Jesus Christ has given me, how close is the day when I must fold my tent. I shall press to have you recall these things frequently after my departure. It was not by way of cleverly concocted myths that we taught you about the coming in power of our Lord Jesus Christ, for we were eyewitnesses of his sovereign majesty. He received glory and praise from God the Father when that unique declaration came to him out of the majestic splendor: "This is my beloved Son, on whom my favor rests." We ourselves heard this said from heaven while we were in his company on the holy mountain. Besides, we possess the prophetic message as something altogether reliable. Keep your attention closely fixed on it, as you would on a lamp shining in a dark place until the first streaks of dawn appear and the morning star rises in your hearts.
Gospel
Matthew 17: 1-9
At that time Jesus took Peter, James, and his brother John and led them up on a high mountain by themselves. He was transfigured before their eyes. His face became as dazzling as the sun, his clothes as radiant as light. Suddenly Moses and Elijah appeared to them conversing with Jesus. Then Peter said to Jesus, "Lord, how good that we are here! With your permission I will erect three booths here, one for you, one for Moses, and one for Elijah." He was still speaking when suddenly a bright cloud overshadowed them. Out of the cloud came a voice which said, "This is my beloved Son on whom my favor rests. Listen to him." When they heard this the disciples fell forward on the ground, overcome with fear. Jesus came toward them and laying his hand on them, said, "Get up! Do not be afraid." When they looked up they did not see anyone but Jesus. As they were coming down the mountainside Jesus commanded them, "Do not tell anyone of the vision until the Son of Man rises from the dead."
Readings for the day
Epistle
1 Corinthians 4: 9-16
Brothers and sisters: As I see it, God has put us apostles at the end of the line, like men doomed to die in the arena. We have become a spectacle to the universe, to angels and men alike. We are fools on Christ's account. Ah, but in Christ you are wise! We are the weak ones, you the strong! They honor you, while they sneer at us! Up to this very hour we go hungry and thirsty, poorly clad, roughly treated, wandering about homeless. We work hard at manual labor. When we are insulted we respond with a blessing. Persecution comes our way: we bear it patiently. We are slandered, and we try conciliation. We have become the world's refuse, the scum of all; that is the present state of affairs.
I am writing you in this way not to shame you but to admonish you as my beloved children. Granted you have ten thousand guardians in Christ, you have only one father. It was I who begot you in Christ Jesus through my preaching of the gospel. I beg you, then, be imitators of me.
Gospel
Matthew 17: 14-22
At that time a man came up to Jesus and knelt before him. "Lord," he said, "take pity on my son, who is demented and in a serious condition. For example, he often falls into the fire and frequently into the water. I have brought him to your disciples but they could not cure him." In reply Jesus said: "What an unbelieving and perverse lot you are! How long must I remain with you? How long can I endure you? Bring him here to me!" Then Jesus reprimanded the demon and it came out of the boy. That very moment the boy was cured.
The disciples approached Jesus at that point and asked him privately, "Why could we not expel it?" "Because you have so little trust," he told them. "I assure you, if you had faith the size of a mustard seed, you would be able to say to this mountain, 'Move from here to there,' and it would move. Nothing would be impossible for you. This kind does not leave but by prayer and fasting."
When they met again in Galilee, Jesus said to them, "The Son of Man is going to be delivered into the hands of men who will put him to death, and he will be raised up on the third day."
Icon courtesy of Jack Figel, Eastern Christian Publications – ecpubs.com
Saturday, August 5 –