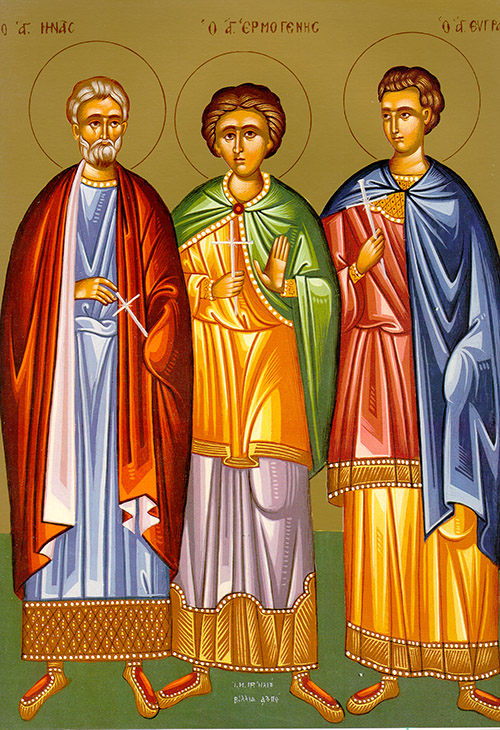 The holy martyrs Menas, Hermogenes, and Eugraphus: Menas and Hermogenes were born in Athens and moved to Constantinople in the 4th century. Both were pagans. Menas was sent by Emperor Maximian to calm the strife between pagans and Chrsitians in Alexandria. While there, he became a Christian. The emperor sent Hermogenes to Alexandria to punish Menas. After a miracle that occurred during Menas's trial, Hermogenes became a Christian. Then the emperor himself came to Egypt and put forth both men to harsh torture. Upon seeing their valor, Eugraphus, who was Menas's secretary, denounced himself to the emperor. Maximian had them all beheaded.
Troparion
Having mortified the fiery visions and movements of the passions by abstinence, the martyrs of Christ received grace to dispel the ailments of the infirm, and to live even after death to work wonders. O truly most glorious wonder, that naked bones pour forth healing. Glory to the One God and Creator.
Kontakion
Let us all honor with sweet singing Menas the wonderful, Hermogenes the divine, and Eugraphus dedicated together, for they honored the Lord and suffered honorably for Him, and are worthy to be numbered with the bodiless choir in heaven; and they are bountiful wonders.
Epistle
Galatians 5:22 – 6:2
Brothers and sisters: The fruit of the spirit is love, joy, peace, patient endurance, kindness, generosity, faith, mildness and chastity. Against such there is no law! Those who belong to Christ Jesus have crucified their flesh with its passions and desires. Since we live by the spirit, let us follow the spirit's lead. Let us never be boastful, or challenging, or jealous toward one another.
Brothers and sisters, if someone is detected in sin, you who live by the spirit should gently set him right, each of you trying to avoid falling into temptation himself. Help carry one another's burden; in this way you will fulfill the law of Christ.
Gospel
Luke 13: 19-29
The Lord told this parable: "The reign of God is like a mustard seed which a man took and planted in his garden. It grew and became a large shrub and the birds of the sir nested in its branches."
Jesus went on: "To what shall I compare the reign of God? It is like yeast which a woman took to knead into three measures of flour until the whole mass of dough began to rise."
He went through cities and towns teaching– all the while making his way toward Jerusalem. Someone asked him, "Lord, are they few in number who are to be saved?" Jesus replied: "Try to come in through the narrow door. Many, I tell you, will try to enter and be unable. When once the master of the house has risen to lock the door and you stand outside knocking and saying, 'Sir, open for us,' he will say in reply, 'I do not know where you come from.' Then you will begin to say, 'We ate and drank in your company. You taught in our streets.' But he will answer, 'I tell you, I do not know where you come from. Away from me, you evil-doers!'
"There will be wailing and grinding of teeth when you see Abraham, Isaac, Jacob, and all the prophets safe in the kingdom of God, and you yourselves rejected. People will come from the east and the west, from the north and the south, and will take their place at the feast in the kingdom of God."
Icon courtesy of Jack Figel, Eastern Christian Publications – ecpubs.com
Friday, December 9 –