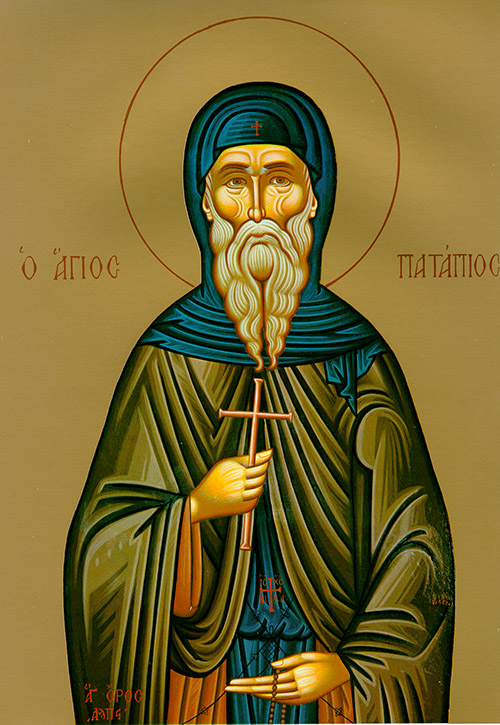 Our venerable father Patapius was born at Thebes into a pious Christian family. Reaching the age of maturity, he scorned the vanities of the world and so went into the Egyptian desert where he became known for his ascetic deeds. Though he wished to dwell in silence, people began to come to him for advice. He went eventually to Constantinople, where he obtained a cell at the city wall, near the Blachernae church. But here, too, he quickly became known. The sick began to throng about, and he, having been granted the gift of healing, began to help all the needy. After a life adorned with virtue and miracles, St. Patapius fell asleep in the Lord and was buried in the church of St. John the Baptist in the 7th century.
Troparion
In you, O father, the divine image was strictly preserved; taking up your cross, you followed Christ. You taught us by example how to spurn the flesh, for it passes away, and how to care for the soul, which is immortal. Therefore, O venerable Patapius, your soul rejoices with the angels.
Kontakion
The people who come to your temple with reverence, O Holy One, as a place of spiritual healing, ask to receive healing of their infirmities and forgiveness of sins which they have committed in their lives. For you are revealed, O venerable Patapius, as an intercessor for all in need.
Epistle
2 Timothy 1: 1-2, 8-18
Paul, by the will of God an apostle of Christ Jesus sent to proclaim the promise of life in him, to Timothy, my child whom I love. May grace, mercy, and peace from God the Father and from Christ Jesus our Lord be with you.
Never be ashamed of your testimony to our Lord, nor for me, a prisoner for his sake; but with the strength which comes from God bear your share of the hardship which the gospel entails.
God has saved us and has called us to a holy life, not because of any merit of ours but according to his own design – the grace held out to us in Christ Jesus before the world began but now made manifest through the appearance of our Savior. He has robbed death of its power and has brought life and immortality into clear light through the gospel. In the service of this gospel I have been appointed preacher and apostle and teacher, and for its sake I undergo present hardships. But I am not ashamed, for I know him in whom I have believed, and I am confident that he is able to guard what has been entrusted to me until that Day. Take as a model of sound teaching what you have heard me say in faith and love in Christ Jesus. Guard the rich deposit of faith with the help of the Holy Spirit who dwells within us.
You know that all in Asia, including even Phygelus and Hermogenes, have turned their back on me. May the Lord have mercy on the family of Onesiphorus, because he has often given me new heart and has not been ashamed of me, even in my chains. When he was in Rome, he sought me out earnestly and found me. When he stands before the Lord on the great DAy, may the Lord grant him mercy! And the many services he has performed for Christ in Ephesus you know even better than I.
Gospel
Luke 21: 37-38, 22: 1-8
At that time Jesus would teach in the temple by day, and leave the city to spend the night on the Mount of Olives. At daybreak all the people came to hear him in the temple.
The feast of Unleavened Bread known as the Passover was drawing near, and the high priests and scribes began to look for some way to dispose of Jesus; but they were afraid of the people. Then Satan took possession of Judas, the one called Iscariot, a member of the twelve. He went off to confer with the chief priests and officers about a way to hand Jesus over to them. They were delighted, and agreed to give him money. Judas accepted, then kept looking for an opportunity to hand Jesus over without creating a disturbance.
The day of Unleavened Bread arrived on which it was appointed to sacrifice the paschal lamb. Accordingly, Jesus sent Peter and John off with the instruction, "Go and prepare our Passover supper for us."
Icon courtesy of Jack Figel, Eastern Christian Publications – ecpubs.com
Thursday, December 8 –