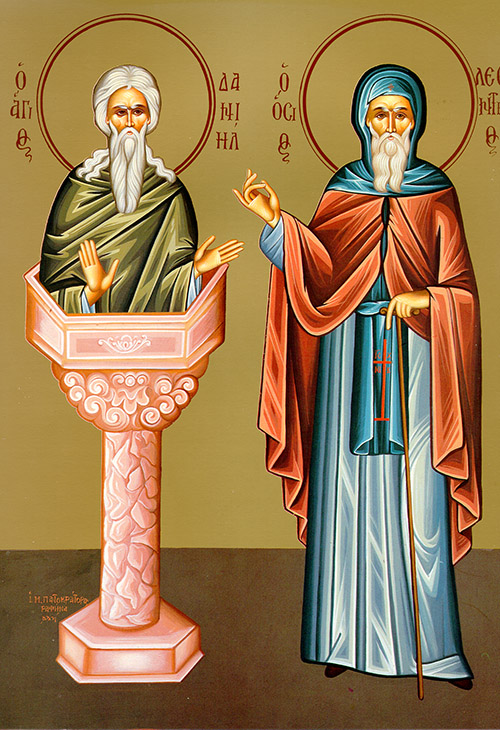 Our venerable father Daniel the Stylite was born in the village of Bethara, near the city of Samosata in Mesopotamia. His mother Martha was childless for a long while and in her prayers she vowed that if she had a child, she would dedicate him to the Lord. Her prayers were heard, and Martha soon gave birth to a son, who was without a name until he was five years old. Transported by the manner and example of St. Simeon, Daniel stood on a column, not subdued by force of cold or heat or wind, for thirty-three years and three months. St. Daniel also possessed the gift of gracious words. He guided many onto the path of correcting their lives as a priest of Constantinople. The monk reposed in his eightieth year in 489.
Troparion
You became a column of endurance and rivaled the forefathers, O venerable one, becoming like Job in your sufferings and like Joseph in your trials, and like the bodiless angels though you lived in the flesh. O Daniel our father, intercede with Christ God that He may save our souls.
Kontakion
Having ascended the pillar like a radiant star, O blessed One, you illumined the world with your venerable deeds, and dispelled the darkness of deception, O Father, therefore we pray you: shine forth even now the never setting light of understanding into the hearts of your servants.
Epistle
Colossians 3: 4-11
Brothers and sisters: When Christ our life appears, then you shall appear with him in glory. Put to death whatever in your nature is rooted in earth: fornication, uncleanness, passion, evil desires, and that lust which is idolatry. These are the sins which provoke God's wrath. Your own conduct was once of this sort, when these sins were your very life. You must put that aside for now: all the anger and quick temper, the malice, the insults, the foul language. Stop lying to one another. What you have done is put aside your old self with its past deeds and put on a new man, one who grows in knowledge as he is formed anew in the image of his Creator. There is no Greek or Jew here, circumcised or uncircumcised, foreigner, Scythian, slave or freeman. Rather, Christ is everything in all of you.
Gospel
Luke 14: 16-24
The Lord told this parable: "A man was giving a large dinner and he invited many. At dinner time he sent his servants to say to those invited, 'Come along, everything is ready now.' But they began to excuse themselves, one and all. The first one said to the servant, 'I have bought some land and must go out and inspect it. Please excuse me.' Another said, 'I have bought five yoke of oxen and I am going out to test them. Please excuse me.' A third said, 'I am newly married and so I cannot attend.' The servant returning reported all this to his master. The master of the house grew angry at the account. He said to his servant, 'Go out quickly into the streets and alleys of the town and bring in the poor and the crippled, the blind and the lame.' The servant reported, after some time, 'Your orders have been carried out, my lord, and there is still room.' The master then said to the servant, 'Go out into the highways and along the hedgerows and force them to come in. I want my house to be full, but I tell you that not one of those invited shall taste a morsel of my dinner.' [For many are called but few are chosen.]"
Icon courtesy of Jack Figel, Eastern Christian Publications – ecpubs.com
Saturday, December 10 –