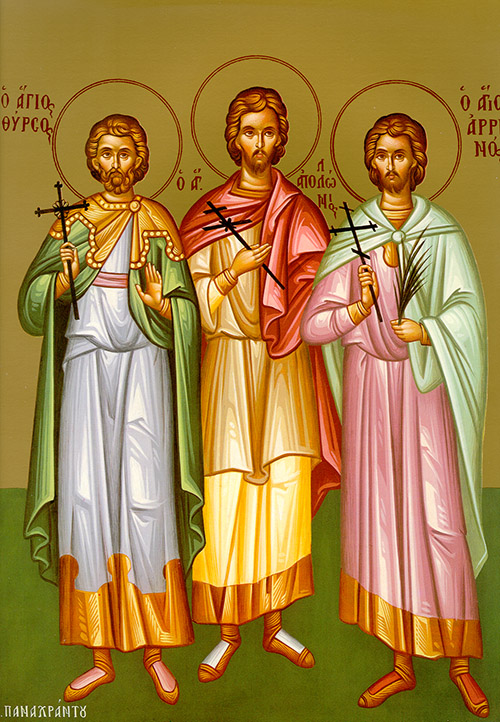 The holy martyrs Thyrsus, Leucas, and Callinicus suffered for Christ under the emperor Decius (249-251) at Caesarea in Bithynia. St. Leucas, having reproached the prefect for his unjust persecution of Christians, was executed after being tortured. St. Thyrsus, who was still a catechumen, was nonetheless eager for martyrdom. He was sentenced to cruel tortures and torments after refusing to offer sacrifice to the idols. Citing the words of the prophet Jeremiah (Jer. 2:27), he ridiculed those who worshiped wood and stone. The saint's arms and legs were pulled out of their sockets, his eyes were plucked out, and his teeth were shattered with a hammer. He was taken to a heathen temple, where, by the power of his prayers, he toppled a statue of Apollo. The prefect was enraged by this, and he ordered that greater torments be devised for the athlete of Christ. He endured them all and died peacefully after making the Sign of the Cross. The pagan priest Callinicus, seeing the bravery and the miracle involving St. Thyrsus, believed in Christ and boldly confessed the true Faith, for which he was beheaded.
Troparion
Your martyrs, O Lord our God, in their struggles received incorruptible crowns from You. With Your strength, they brought down the tyrants and broke the cowardly valor of demons. Through their prayers, O Christ our God, save our souls.
Kontakion
You showed the violence of the enemy in public after you spat upon the barbarian torturer. You upheld the holiness of the faith, finding your strength in the help of Christ. Now pray for us, all you martyrs.
Epistle
2 Timothy 4: 9-22
Timothy, my son: Do your best to join me soon, for Demas, enamored of the present world, has left me and gone to Thessalonica. Crescens has gone to Galatia and Titus to Dalmatia. I have no one with me but Luke. Get Mark and bring him with you, for he can be of great service to me. Tychicus I have sent to Ephesus. When you come, bring the cloak I left in Troas with Carpus, and the books, especially the parchments.
Alexander the coppersmith did me a great deal of harm; the Lord will repay him according to his deeds. Meanwhile, you too had better be on guard, for he has strongly resisted our preaching. At the first hearing of my case in court, no one took my part. In fact, everyone abandoned me. May it not be held against them! But the Lord stood by my side and gave me strength, so that through me the preaching task might be completed and all the nations might hear the gospel. That is how I was saved from the lion's jaw. The Lord will continue to rescue me from all attempts to do me harm and will bring me safe to his heavenly kingdom. To him be glory forever and ever. Amen
Greet Prisca and Aquila and the family of Onesiphorus. Erastus has stayed in Corinth, while Trophimus I had to leave ill at Miletus. Get here before winter if you can. Eubulus, Pudens, Linus, Claudia, and all the brothers send greetings. The Lord be with your spirit. Grace be with you.
Gospel
Mark 7: 14-24
At that time Jesus summoned the crowd again and said to them: "Hear me, all of you, and try to understand. Nothing that enters a man from outside can make him impure; that which comes out of him, and only that, constitutes impurity. Let everyone heed what he hears!"
When Jesus got home, away from the crowd, his disciples questioned him about the proverb. Jesus asked them, "Are you, too, incapable of understanding? Do you not see that nothing that enters a man from outside can make him impure? It does not penetrate his being, but enters his stomach only and passes into the latrine." Thus did he render all foods clean. He went on: "What emerges from within a man, that and nothing else is what makes him impure. Wicked designs come from the deep recess of the heart: acts of fornication, theft, murder, adulterous conduct, greed, maliciousness, deceit, sensuality, envy, blasphemy, arrogance, an obtuse spirit. All these evils come from within and render a man impure."
From that place Jesus went off to the territory of Tyre and Sidon.
Icon courtesy of Jack Figel, Eastern Christian Publications – ecpubs.com
Tuesday, December 13 –