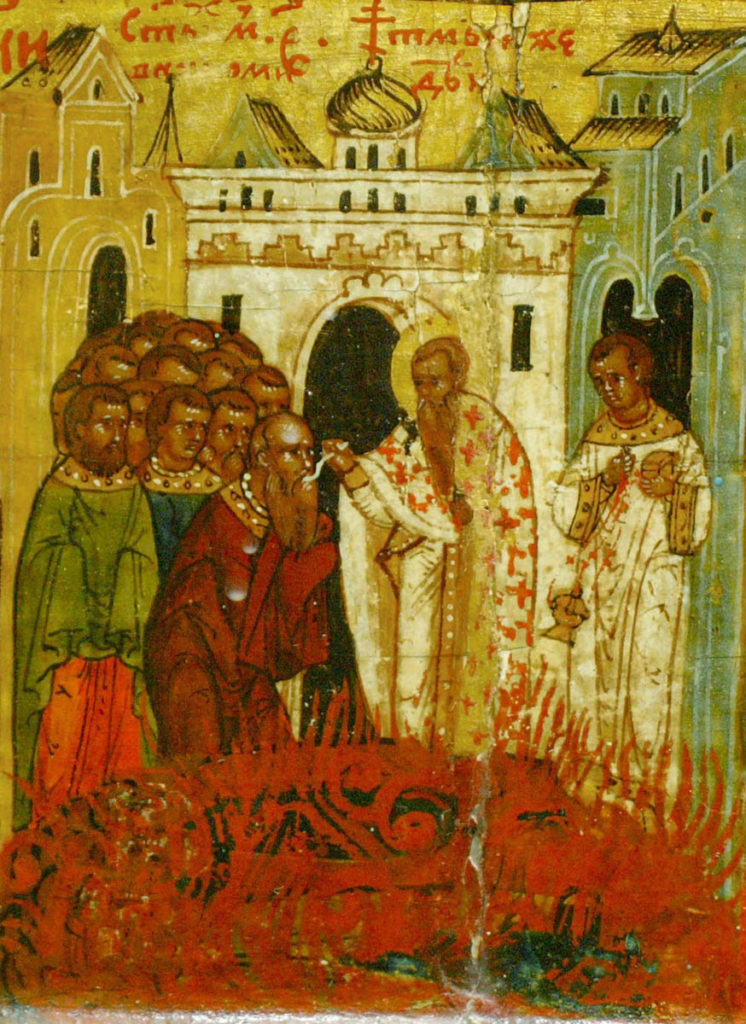 The twenty-thousand martyrs of Nicomedia: During the reign of emperor Maximian Hercules, the Christian faith was brutally persecuted in Nicomedia. When the local Christians gathered in the church to celebrate the Nativity of the Lord, he ordered his soldiers to surround the church and set it on fire. Those inside were offered free passage out, as long as they betrayed Christ. They all refused, men, women, and children alike, and they were martyred.
Troparion
O passion-bearers if the Lord, blessed is the earth that received your blood, and holy is the place that received your bodies. You have vanquished the enemy in battle and proclaimed Christ with courage. We pray to you to intercede with Him, the Good One, that He may save our souls.
Kontakion
O saints made steadfast in soul by faith, twenty thousand accepted suffering by fire, calling out to Him Who was born of the Virgin: accept our all-consumed burnt offering as You accepted gifts of gold, myrrh, and frankincense from the Persian kings, O God existing from all eternity.
Epistle
Hebrews 10: 1-18
Brothers and sisters: Since the law had only a shadow of the good things to come, and no real image of them, it was never able to perfect the worshipers by the same sacrifices offered continually year after year. Were matters otherwise, the priests would have stopped offering them, for the worshipers, once cleansed, would have had no sin on their conscience. But through those sacrifices there came only a yearly recalling of sins, because it is impossible for the blood of bulls and goats to take sins away. Wherefore, on coming into the world, Jesus said, "Sacrifice and offering you did not desire, but a body you have prepared for me; holocausts and sin offerings you took no delight in. Then I said, 'As is written of me in the book, I have come to do your will, O God.'" First Jesus says, "Sacrifices and offerings, holocausts and sin offerings, you neither desired nor delighted in." (These are offered according to the prescription of the law.) Then he says, "I have come to do your will." In other words, Jesus takes away the first covenant to establish the second.
By this "will," we have been sanctified through the offering of the body of Jesus Christ once and for all. Every other priest stands ministering day by day, and offering again and again those same sacrifices for sins and can never take away sins. But Jesus offered one sacrifice for sins and took his seat forever at the right hand of God; now he waits until his enemies are placed beneath his feet. By one offering he has forever perfected those who are being sanctified. The Holy Spirit attests this to us, for after saying, "This is the covenant I will make with them after those days says the Lord: I will out my laws in their hearts and I will write them on their minds," he also says, "Their sins and their transgressions I will remember no more." Once these have been forgiven, there is no further offering for sin.
Gospel
Mark 10: 11-16
At that time the Lord said "Whoever divorces his wife and marries another commits adultery against her; and the woman who divorces her husband and marries another commits adultery."
People were bringing their little children to Jesus to have him touch them, but the disciples were scolding them for this. Jesus became indignant when he noticed it and said to them: "Let the children come to me and do not hinder them. It is to just such as these that the kingdom of God belongs. I assure you that whoever does not accept the reign of God like a little child shall not take part in it." Then he embraced the children and blessed them, placing his hands on them.
Icon courtesy of Jack Figel, Eastern Christian Publications – ecpubs.com
Tuesday, December 27 –