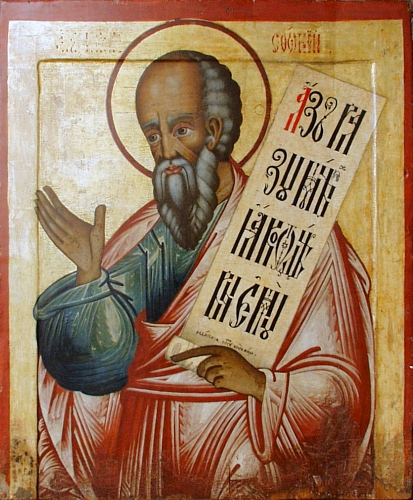 The holy prophet Zephaniah announced the destruction of the ungodly on the day of the wrath of the Lord and strengthened the host of poor and needy people in the hope of salvation. He was a native of Mount Sarabatha, from the tribe of Simeon. He lived and prophesied in the 7th century before Christ, at the time of Josiah the pious king of Judah. Zephaniah was a contemporary of the prophet Jeremiah. Having great humility and a pure mind raised in God, he was found worthy of discerning the future. He prophesied the day of the wrath of God and the punishment of Gaza, Ashkalon, Ashod, Ekron, Nineveh, Jerusalem, and Egypt. Foreseeing the advent of the Messiah, he enthusiastically exclaimed: "Sing. O daughter of Zion; shout, O Israel; be glad and rejoice with all thy heart, O daughter Jerusalem" (Zephaniah 3 14). This seer of mysteries entered into rest at his birthplace to await the General Resurrection and his reward from God.
Troparion
As we celebrate the memory of your prophet Zephaniah, O Lord, we implore You to save our souls through his prayers.
Kontakion
The Divine Spirit revealed you as shining brightly, O prophet Zephaniah, for you proclaimed the coming of God. Rejoice, therefore, O Daughter of Zion. Profess Him, O Jerusalem. Behold, your King, bearing salvation.
Epistle
Galatians 3: 8-12
Brothers and sisters: Because Scripture saw in advance that God's way of justifying the Gentiles would be through faith, it foretold this good news to Abraham: "All nations shall be blessed in you." Thus it is that all who believe are blessed along with Abraham, the man of faith.
All who depend on observance of the law, on the other hand, are under a curse. It is written, "Cursed is he who does not abide by everything written in the book of the law and carry it out." It should be obvious that no one is justified in God's sight by the law, for "the just man shall live by faith." But the law does not depend on faith. Its terms are: "Whoever does these things shall live by them."
Gospel
Luke 12: 32-40
The Lord said, "Do not live in fear, little flock. It has pleased your Father to give you the kingdom. Sell what you have and give alms. Get purses for yourselves that do not wear out, a never-failing treasure with the Lord which no thief comes near nor any moth destroys. Wherever your treasure lies, there your heart will be.
"Let your belts be fastened around your waists and your lamps be burning ready. Be like men awaiting their master's return from a wedding, so that when he arrives and knocks, you will open for him without delay. It will go well with those servants whom the master finds wide-awake on his return. I tell you, he will put on an apron, seat them at table, and proceed to wait on them. Should he happen to come at midnight or before sunrise and find them prepared, it will go well with them. You know as well as I that if the head of the house knew when the thief was coming he would not let him break into his house. Be on guard, therefore. The Son of Man will come when you least expect him."
Icon courtesy of Jack Figel, Eastern Christian Publications – ecpubs.com
Friday, December 2 –