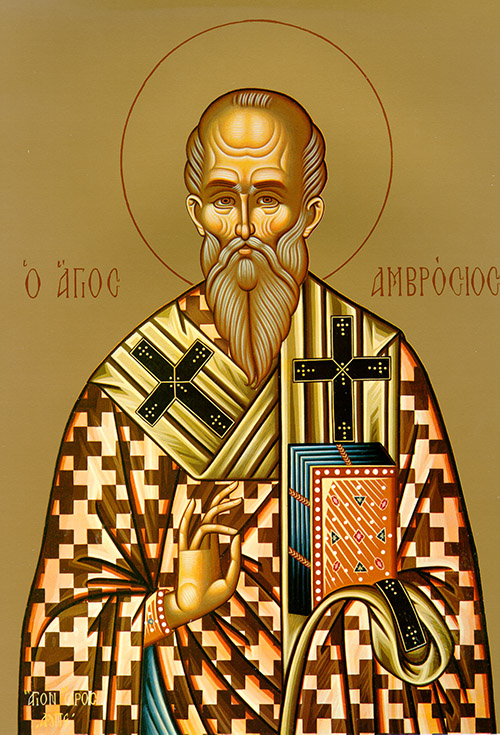 Our holy father Ambrose, Bishop of Milan, who on April 4th, on the holy day of Pascha, fell asleep in the Lord in 397. His memory is celebrated today on which, while still a catechumen, he undertook ruling the famous See of Milan in 373, while he was exercising the office of prefect of the city. A true pastor and teacher of the faithful, he exercised great charity towards all, defended strenuously the freedom of the Church and the doctrine of the orthodox faith against the Arians. By his commentaries and his musical hymns, he piously catechized the people.
Troparion
Your life has shown you to your flock as a rule of faith, an image of gentleness, and a teacher of moderation. You acquired greatness through humility and wealth through poverty. O father and archbishop Ambrose, intercede with Christ our God to save our souls.
Kontakion
Shining with divine teachings, you darkened the delusion of Arius, O Priest of the Mysteries and Shepherd, Ambrose. Working wonders by the power of the Spirit, you worked wonders and healed diverse passions, O father and archbishop, pray to Christ God for the salvation of our souls.
Epistle
1 Timothy 5:22 – 6:11
Timothy, my son: Never lay your hands hastily on anyone, or you may be sharing in the misdeeds of others. Keep yourself pure. Stop drinking water only. Take in a little wine for the good of your stomach, and because of your frequent illnesses.
Some men's sins are flagrant and cry out for judgment now, while other men's sins will appear only later. Similarly, some good deeds stand out clearly as such; even inconspicuous ones cannot be hidden forever.
All under the yoke of slavery must regard their masters as worthy of full respect; otherwise the name of God and the church's teaching suffer abuse. Those slaves whose masters are brothers in the faith must not take liberties with them on that account. They must perform their tasks even more faithfully, since those who will profit from their work are believers and beloved brothers. These are the things you must teach and preach. Whoever teaches in any other way, not holding to the sound doctrines of our Lord Jesus Christ and the teaching proper to true religion, should be recognized as both conceited and ignorant, a sick man in his passion for polemics and controversy. From these come envy, dissension, slander, evil suspicions – in a word, the bickering of men with twisted minds who have lost all sense of truth. Such men value religion only as a means of personal gain. There is, of course, great gain in religion – provided one is content with a sufficiency. We brought nothing into this world, nor have we the power to take anything out. If we have food and clothing we have all that we need. Those who want to be rich are falling into temptation and a trap. They are letting themselves be captured by foolish and harmful desires which drag men down to ruin and destruction. The love of money is the root of all evil. Some men in their passion for it have strayed from the faith, and have come to grief amid great pains. Man of God that you are, flee from all this.
Gospel
Luke 21: 5-8, 10-11, 20-24
At that time some disciples were speaking of how the temple was adorned with precious stones and votive offerings. Jesus said, "These things you are contemplating – the day will come when not one stone will be left on another, but it will all be torn down." They asked him, "When will this be, Teacher? And what will be the sign that it is going to happen?" Jesus said, "Take care not to be misled. Many will come in my name saying, 'I am he' and 'The time is at hand.' Do not follow them.
Nation will rise against nation and kingdom against kingdom. There will be great earthquakes, plagues, and famines in various places–and in the sky fearful omens and great signs. When you see Jerusalem encircled by soldiers, know that its devastation is near. Those in Judea at the time must flee to the mountains; those in the heart of the city must escape it; those in the country must not return. These indeed will be days of retribution, when all that is written must be fulfilled.
"The women who are pregnant or nursing at the breast will fare badly in those days! The distress in the land and the wrath against this people will be great. The people will fall before the sword; they will be led captive in the midst of the Gentiles. Jerusalem will be trampled by the Gentiles, until the times of the Gentiles are fulfilled."
Icon courtesy of Jack Figel, Eastern Christian Publications – ecpubs.com
Tuesday, December 6 –