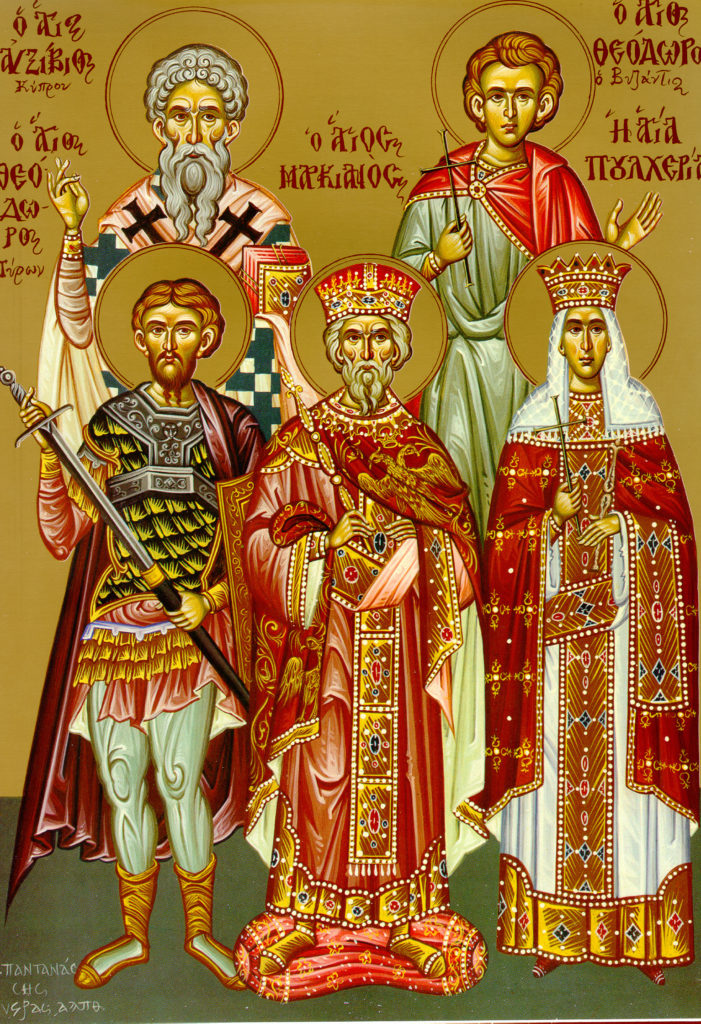 The holy Great martyr Theodore the Recruit (Tyro) was a soldier in the city of Alasium of the Pontine district (a northeastern province of Asia Minor along the Black Sea), under command of a certain Brincus. They commanded him to offer sacrifice to idols. St. Theodore firmly confessed his faith in Christ the Savior in a loud voice. The commander gave him several days to think it over, during which time St.Theodore prayed. They charged him with setting the pagan temple on fire, and threw him into prison to starve to death. The Lord Jesus Christ appeared to him there, comforting and encouraging him. Brought to the governor, St. Theodore boldly and fearlessly confessed his faith, for which he was subjected to new torments and condemned to burning. The martyr Theodore climbed onto the fire without hesitation, and with prayer gave up his holy soul to God in 306.
Troparion
Marvels of faith! The holy martyr Theodore rejoiced amid the licking flames, just as if he were splashing in cool water. Made a holocaust in the fire, he was offered like sweetbreads to the Trinity. Save our souls through his prayers, O Christ our God.
Kontakion
Believing in Christ with all your might, you struck a mighty blow to the enemy. You received an eternal crown of glory, O long-suffering and victorious Theodore.
Epistle
1 John 4:20- 5:21
Dearly beloved: If anyone says, 'My love is fixed on God," yet hates his brother, he is a liar. One who has no love for the brother he has seen cannot love the God he has not seen. The commandment we have from him is this: whoever loves God must also love his brother.
Everyone who believes that Jesus is the Christ has been begotten of God. Now, everyone who loves the father loves the child he has begotten. We can be sure that we love God's children when we love God and do what he commanded. The love of God consists in this: that we keep his commandments – and his commandments are not burdensome.
Everyone begotten of God conquers the world, and the power that has conquered the world is this faith of ours. Who, then, is conqueror of the world? The one who believes that Jesus is Son of God. Jesus Christ it is who came through water and blood – not in water only, but in water and in blood. It is the Spirit who testifies to this, and the Spirit is truth. Thus there are three that testify, the Spirit and the water and the blood – and these three are of one accord. DO we not accept human testimony? The testimony of God is much greater: it is the testimony God has given on his own Son's behalf. The testimony is this: God gave us eternal life, and this life is in his Son. Whoever possesses the Son possesses life; whoever does not possess the Son of God does not possess life.
I have written this to you to make you realize that you possess eternal life – you who believe in the name of the Son of God.
We have this confidence in God: that he hears us whenever we ask for anything according to his will. And since we know that he hears us whenever we ask, we know that what we asked him for is ours.
Anyone who sees his brother sinning, if the sin is not deadly, should petition God, and thus life will be given to the sinner. This is only for those whose sin is not deadly. There is such a thing as deadly sin; I do not say that one should pray about that. True, all wrongdoing is sin, but not all sin is deadly.
We know that no one begotten of God commits sin, rather, God protects the one begotten by him, and so the evil one cannot touch him. We know that we belong to God, while the whole world is under the evil one. We know, too, that the Son of God has come and has given us discernment to recognize the One who is true. And we are in the One who is true, for we are in his Son Jesus Christ. He is the true God and eternal life. My little children, be on your guard against idols.
Gospel
Mark 15: 1-15
At that time as soon as it was daybreak the chief priests, with the elders and scribes (that is, the whole Sanhedrin), reached a decision. They bound Jesus, led him away, and handed him over to Pilate. Pilate interrogated him: "Are you the king of the Jews?" Jesus replied, "You are the one who is saying it." The chief priests, meanwhile, brought many accusations against Jesus. Pilate interrogated him again: "Surely you have some answers? See how many accusations they are leveling against you." But greatly to Pilate's surprise, Jesus made no further response.
Now on the occasion of a festival Pilate would release for them one prisoner – any man they asked for. There was a prisoner names Barabbas jailed along with the rebels who had committed murder in the uprising. When the crowd came up to press their demand that he would honor the custom, Pilate rejoined, "Do you want me to release the king of the Jews for you?" He was aware, of course, that it was out of jealousy that the priests had handed Jesus over. Meanwhile, the chief priests incited the crowd to have Pilate release Barabbas instead. Pilate again asked them, "What am I to do with the man you call the king of the Jews?" They shouted back, "Crucify him!" Pilate protested, "Why? What crime has he committed?" They only shouted the louder, "Crucify him!" So Pilate ,who wished to satisfy the crowd, released Barabbas to them; and after he had had Jesus scourged, he handed him over to be crucified.
Icon courtesy of Jack Figel, Eastern Christian Publications – ecpubs.com
Wednesday, February 16 –