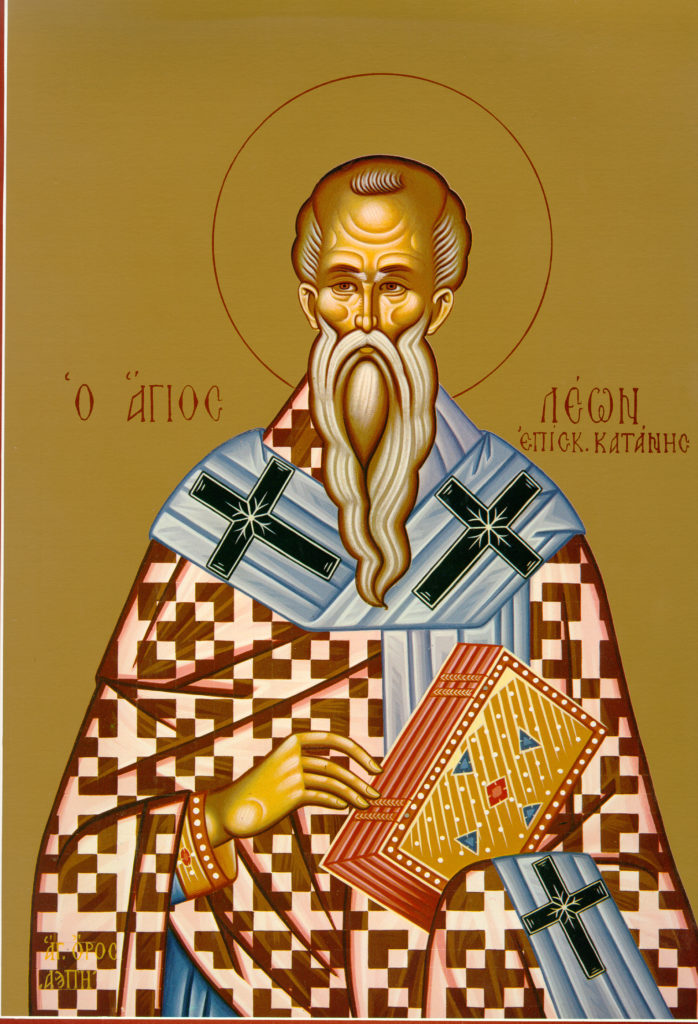 In the town of Catania below the volcanic Mount Ezra, lived St. Leo, a good shepherd and compassionate teacher of the people. He had great concern for the sick and the poor. His zeal for the Faith was as great as his charity toward the less fortunate. A magician named Heliodorus appeared in Catania and deluded the people with various illusions, greatly demoralizing the youth of the town. At one time during divine services, Heliodorus entered the church of God and began his obscenities. St. Leo approached him, tied him to one end of his pallium, and led him to the marketplace. Here Leo ordered that a large fire be built. When it was raging, Leo stood in the middle of the blaze and pulled Heliodorus into the fire. Heliodorus was completely consumed, but Leo remained alive and unscathed. All who had been bewitched by Heliodorus and who had looked upon him as someone divine, were ashamed. The compassionate and zealous Leo was proclaimed throughout the entire kingdom as a great miracle-worker, who helped men by his shining miracles. St. Leo fell asleep in the Lord around the year 787, and from his relics flowed a healing myrrh.
Troparion
The sincerity of your deeds has revealed you to your people, as a teacher of moderation, a model of faith, and an example of virtue. Therefore, you attend greatness through humility, and wealth through poverty. O father and bishop Leo, ask Christ our God to save our souls.
Kontaktion
The Church sees you as a brilliant light in the heavens, shining more radiantly than the sun. Preserve her unconquered and indestructible to heresy, and keep her ever spotless, O blessed saint, for we honor your memory at all times.
Epistle
1 Corinthians 8:8 – 9:2
Brothers and sisters: Now food does not bring us closer to God. We suffer no loss through failing to eat, and we gain no favor by eating. Take care, however, lest in exercising your right you become an occasion of sin to the weak. If someone sees you, with your "knowledge," reclining at table in the temple of an idol, may not his conscience in its weak state be influenced to the point that he eats the idol-offering? Because of your "knowledge" the weak one perishes, that brother for whom Christ died. When you sin thus against your brothers and wound their weak consciences, you are sinning against Christ. Therefore, if food causes my brother to sin I will never eat meat again, so that I may not be an occasion of sin to him.
Am I not free? Am I not an apostle? Have I not seen Jesus our Lord? And are you not my work in the Lord? Although I may not be an apostle for others, I certainly am one for you. You are the very seal of my apostolate in the Lord.
Gospel
Matthew 25: 31-46
The Lord said: "When the Son of Man comes in his glory, escorted by all the angels of heaven, he will sit upon his royal throne, and all the nations will be assembled before him. Then he will separate them into two groups, as a shepherd separates sheep from goats. The sheep he will place on his right hand, the goats on his left. The king will say to those on his right, 'Come. You have my Father's blessing! Inherit the kingdom prepared for you from the creation of the world. For I was hungry and you gave me food. I was thirsty and you gave me drink. . I was a stranger and you welcomed me, naked and you clothed me. I was ill and you comforted me, in prison and you came to visit me.' Then the just will ask him: 'Lord, when did we see you hungry and feed you or see you thirsty and give you drink? When did we welcome you away from home or clothe you in your nakedness? When did we visit you when you were ill or in prison?' The king will answer them: 'I assure you, as often as you did it for one of my least brothers, you did it for me.'
"Then he will say to those on his left: 'Out of my sight, you condemned, into that everlasting fire prepared for the devil and his angels! I was hungry and you gave me no food, I was thirsty and you gave me no drink. I was away from home and you gave me no welcome, naked and you gave me no clothing. I was ill and in prison and you did not come to comfort me.' Then they in turn will ask: 'Lord, when did we see you hungry or thirsty or away from home or naked or ill or in prison and not attend you in your needs?' He will answer them: 'I assure you, as often as you neglected to do it to one of these least ones, you neglected to do it to me.' These will go off to eternal punishment and the just eternal life."
Icon courtesy of Jack Figel, Eastern Christian Publications – ecpubs.com
Saturday, February 19 –