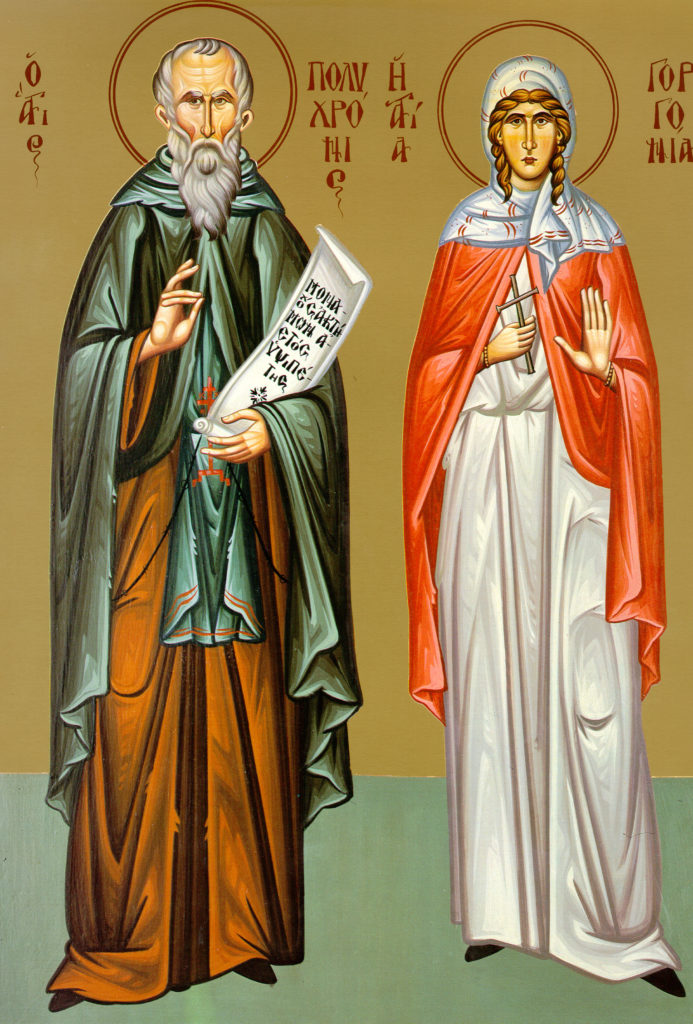 St. Polycarp, Bishop of Smyrna, who was "fruitful in every good work" (Col. 1:10), was born in the first century, and lived in Smyrna in Asia Minor. He was orphaned at an early age, but at the direction of an angel, he was raised by the pious widow Kallista. After the death of his adoptive mother, Polycarp gave away his possessions and began to lead a chaste life, caring for the sick and infirm. He was very fond of and close to St. Bucolus, Bishop of Smyra (who we celebrate Feb. 6). He ordained Polycarp as deacon, entrusting him to preach the Word of God in church. He also ordained him to the holy priesthood. Under the emperors Marcus Antoninus and Lucius Aurelius Commodus, at about the age of 90, St. Polycarp was given over to the flames in the amphitheater at Smyrna. Before the proconsul and the whole people, he gave thanks to God the Father because he had deemed worthy to be numbered among martyrs and to receive a portion from the cup of Christ.
Troparion
O holy priest-martyr Polycarp, you lent yourself to the apostles' way of life and succeeded them on their throne. Inspired by God, you found the way to contemplation through the practice of virtue. Therefore, you became a perfect teacher of truth, fighting for the faith unto the shedding of your blood. Intercede with Christ our God that He may save our souls.
Kontakion
O wise priest-martyr Polycarp, you offered spiritual fruits to God and became worthy of Him because of your virtues. Therefore, we who have been enlightened by your teachings, honor your memory and glorify the Lord.
Icon courtesy of Jack Figel, Eastern Christian Publications – ecpubs.com
Tuesday, February 22 –