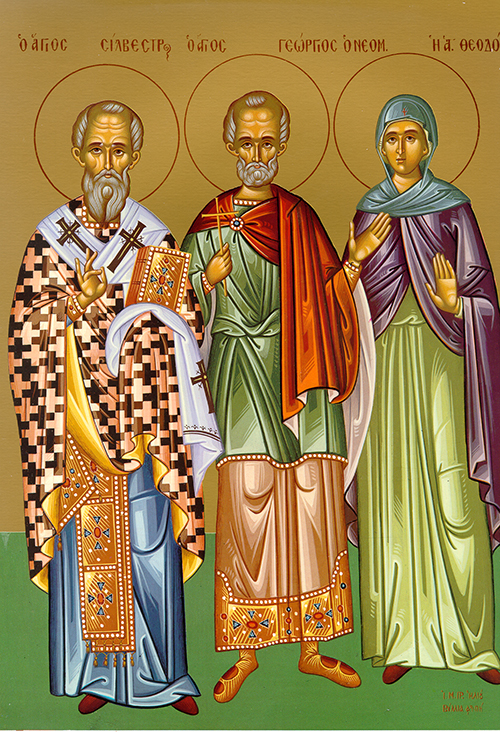 Our holy father Sylvester, Pope of Rome who piously ruled the Church for many years. During his pontificate, Constantine the Emperor built basilicas worthy of veneration and the Nicene Council of 325 acclaimed Christ the Son of God. On this day in Rome in the cemetery of Priscilla his body was laid to rest in 335.
Troparion
Your life has shown you to your flock as a rule of faith, an image of gentleness, and a teacher of moderation. You acquired greatness through humility and wealth of poverty. O father and bishop Sylvester, intercede with Christ our God and save our souls.
Kontakion
O God-bearer of the King and God, having been acquainted with fasting, you were revealed as a priest among priests: O Father Sylvester the glory of pastors, from where the angelic hosts now rejoice together, being glad in the heaven, save in love those who keep your memory.
Epistle
2nd Timothy 4:5-8
Timothy, my son: Be steady and self-possessed; put up with hardship, perform your work as an evangelist, fulfill your ministry. I for my part am already being poured out like a libation. The time of my dissolution is near. I have fought the good fight, I have finished the race, I have kept the faith. From now on a merited crown awaits me; on that Day the Lord, just judge that he is, will award it to me– and not only to me, but to all who have looked for his appearing with eager longing.
Gospel
Mark 1: 1-18
Here begins the gospel of Jesus Christ, the Son of God. In Isaiah the prophet it is written: "I sent my messenger before you to prepare your way: a herald's voice in the desert, crying, 'Make ready the way of the Lord, clear him a straight path.'"
Thus it was John the Baptizer appeared in the desert, proclaiming a baptism of repentance which led to the forgiveness of sins. All the Judean countryside and the people of Jerusalem went out to him in great numbers. They were being baptized by him in the Jordan River as they confessed their sins. John was clothed in camel's hair, and wore a leather belt around his waist. His food was grasshoppers and wild honey. The theme of his preaching was: "One more powerful than I is to come after me. I am not fit to stoop and untie his sandal straps. I have baptized you in water; he will baptize you in the Holy Spirit."
Icon images courtesy of Jack Figel, Eastern Christian Publications – ecpubs.com
Saturday, January 1 –