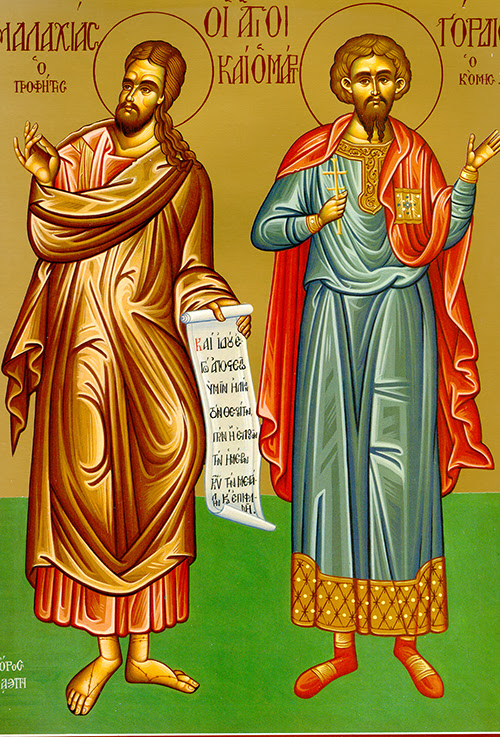 The Holy Prophet Malachi, who after the return from the Babylonian Captivity announced the great day of the Lord and his coming to his temple, and that always and everywhere a pure offering should be made to his name.
Troparion
O divinely inspired Malachi, you announced the coming of Christ, and you spoke of the dignity of the Law. How clearly you informed us: The Lord is surely coming; Whom we have joyfully sought in the Temple. Beg Him now to save our souls.
Kontakion
O Prophet, by bestowing rich prophecies, you clearly predicted the coming of Christ and the salvation of the world. He enlightened the world by His radiance.
The Holy Martyr Gordius, praised in the writings of St. Basil the Great, a centurion who suffered during the reign of the Emperor Diocletian (304).
Troparion
Your martyr Gordius, O Lord our God, in his struggle received an incorruptible crown from You. With Your strength, he brought down the tyrants and broke cowardly valor of demons. Through his prayers, O Christ our God, save our souls.
Kontakion
O holy Gordius, your sweat has soaked the earth, and your precious blood has made the universe rejoice. Through your intercession, save those who sing your glory with faith and honor you fittingly, O divinely minded and glorious martyr worthy of all praise.
Epistle
Hebrews 3: 5-11 17-19
Brothers and sisters: Moses "was faithful in all God's household" as a servant charged with the task of witnessing to what would be spoken; but Christ was faithful as the Son placed over God's house. It is we who are that house if we hold fast to our confidence and the hope of which we boast.
Wherefore, as the Holy Spirit says: "today, if you should hear his voice, harden not your hearts as at the revolt in the day of testing in the desert, when your fathers tested and tried me, and saw my works for forty years. Because of this I was angered with that generation and I said, 'They have always been of erring heart, and have never known my ways.' Thus I swore in my anger, 'They shall never enter into my rest.'"
Gospel
Luke 20: 27-44
At that time some Sadducees came forward (the ones who claim there is no resurrection) to pose this problem to Jesus: "Master, Moses prescribed that if a man's brother dies leaving a wife with no child, the brother should marry the widow and raise posterity to his brother. Now there were seven brothers. The first one married and died childless. Next, the second brother married the widow, then the third, and so on. All seven died without leaving her any children. Finally the widow herself died. At the resurrection, whose wife will she be? Remember, seven married her."
Jesus said to them: "The children of this age marry and are given in marriage, but those judged worthy of a place in the age to come and of resurrection from the dead do not. They become like angels and are no longer liable to death. Sons of the resurrection, they are sons of God. Moses in the passage about the bush showed that the dead rise again when he called the Lord the God of Abraham, and the God of Isaac, and the God of Jacob. God is not the God of the dead but of the living. All are alive for him."
Some of the scribes responded, "Well said Teacher." They did not dare ask him anything else. Jesus said to them: "How can they say that the Messiah is the son of David? Does not David himself say in the psalms, 'The Lord said to my lord: Sit at my right hand while I make your enemies your footstool'? Now if David accords him the title 'lord,' how can he be his son?"
Icon images courtesy of Jack Figel, Eastern Christian Publications – ecpubs.com
#byzantine #catholic #saints #prayer #byzantineLA
Sunday, January 2 –