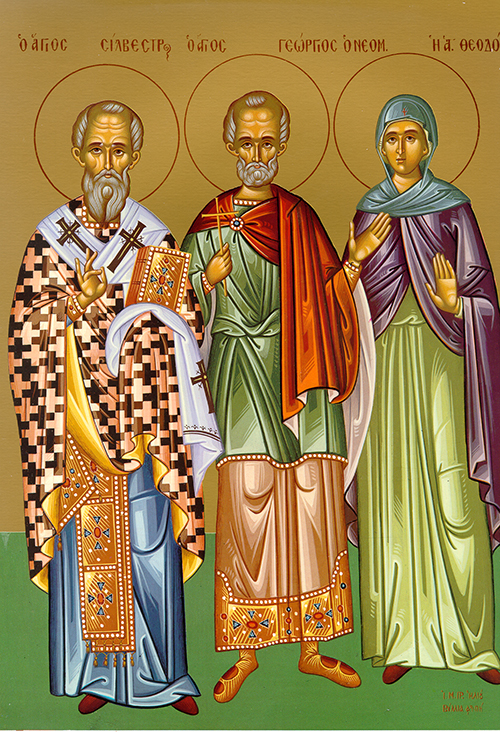 Our holy father Sylvester, Pope of Rome who piously ruled the Church for many years. During his pontificate, Constantine the Emperor built basilicas worthy of veneration and the Nicene Council of 325 acclaimed Christ the Son of God. On this day in Rome in the cemetery of Priscillia his body was laid to rest in 335.
Troparion
Your life has shown you to your flock as a rule of faith, an image of gentleness, and a teacher of moderation. You acquired greatness through humility and wealth of poverty. O father and bishop Sylvester, intercede with Christ our God and save our souls.
Kontakion
O God-bearer of the King and God, having been acquainted with fasting, you were revealed as a priest among priests: O Father Sylvester the glory of pastors, from where the angelic hosts now rejoice together, being glad in the heaven, save in love those who keep your memory.
Epistle
Hebrews 11: 17- 31
Brothers and sisters: By faith Abraham, when put to the test, offered up Isaac, and he who had received the promises was ready to offer his only son, of whom it was said, "Through Isaac descendants shall bear your name." He reasoned that God was able to raise even from the dead, and he received Isaac back as a symbol. By faith regarding things still to come Isaac blessed Jacob and Esau. By faith Jacob, when dying, blessed each of the sons of Joseph and "bowed in worship, leaning on the top of his staff." By faith Joseph, near the end of his life, spoke of the Exodus of the Israelites and gave instructions about his bones.
By faith Moses was hidden by his parents for three months after his birth, because they saw that he was a beautiful child, and they were not afraid of the king's edict. By faith Moses, when he had grown up, refused to be known as the son of Pharaoh's daughter; he chose to be ill-treated along with the people of God rather than enjoy the fleeting pleasure of sin. He considered the reproach of the Anointed greater wealth than the treasures of Egypt, for he was looking to the recompense. By faith he left Egypt, not fearing the king's fury, for he persevered as if seeing the one who is invisible. By faith he kept the Passover and sprinkled the blood, that the Destroyer of the firstborn might not touch them. By faith they crossed the Red Sea as if it were dry land, but when the Egyptians attempted it they were drowned. By faith the walls of Jericho fell after being encircled for seven days. By faith Rahab the harlot did not perish with the disobedient, for she had received the spies in peace.
Gospel
Mark 10: 46-52
At that time as Jesus was leaving Jericho with his disciples and a large crowd, there was a blind beggar Bartimaeus sitting by the roadside. On hearing that it was Jesus of Nazareth, he began to call out, "Jesus, Son of David, have pity on me!" Many people were scolding him to make him keep quiet, but he shouted all the louder, "Son of David, have pity on me!" Then Jesus stopped and said, "Call him over." So they called the blind man over, telling him as they did so, "You have nothing to fear from him! Get up! He is calling you!" He threw aside his cloak, jumped up and came to Jesus. Jesus asked him, "What do you want me to do for you?" "Rabboni," the blind man said, "I want to see." Jesus said in reply, "Be on your way! Your faith has healed you." Immediately he received his sight and started to follow Jesus on the road.
Icon image courtesy of Jack Figel, Eastern Christian Publications – ecpubs.com
Monday, January 2 –