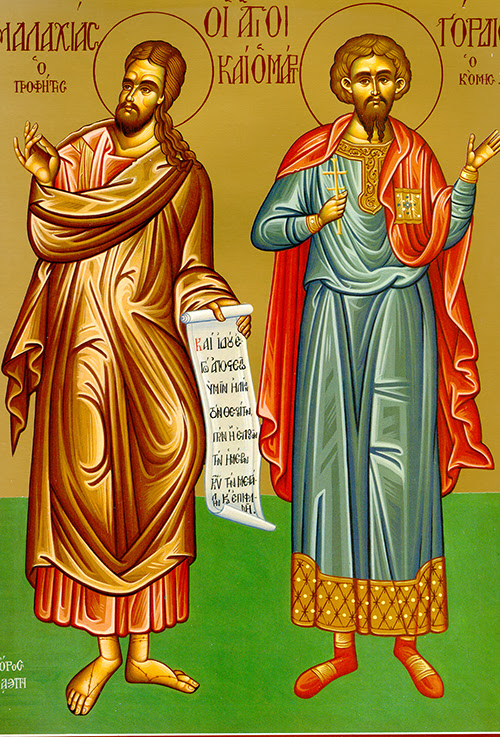 The Holy Prophet Malachi, after the return from the Babylonian Captivity, announced the great day of the Lord and his coming to his temple, and that always and everywhere a pure offering should be made to his name.
The Holy Martyr Gordius, praised in the writings of St. Basil the Great, was a centurion who suffered during the reign of the Emperor Diocletian (304).
Troparion – Malachi
O divinely inspired Malachi, you announced the coming of Christ, and you spoke of the dignity of the Law. How clearly you informed us: The Lord is surely coming; Whom we have joyfully sought in the Temple. Beg Him now to save our souls.
Troparion – Gordius
Your martyr Gordius, O Lord our God, in his struggle received an incorruptible crown from You. With Your strength, he brought down the tyrants and broke cowardly valor of demons. Through his prayers, O Christ our God, save our souls.
Kontakion – Malachi
O Prophet, by bestowing rich prophecies, you clearly predicted the coming of Christ and the salvation of the world. He enlightened the world by His radiance.
Kontakion – Gordius
O holy Gordius, your sweat has soaked the earth, and your precious blood has made the universe rejoice. Through your intercession, save those who sing your glory with faith and honor you fittingly, O divinely minded and glorious martyr worthy of all praise.
Epistle
Hebrews 12: 25-26; 13: 22-25
Brothers and sisters: do not refuse to hear him who speaks. For if the Israelites did not escape punishment when they refused to listen as God spoke to them on earth, how much greater punishment will be ours if we turn away from him who speaks from heaven! His voice then shook the earth, but now he has promised, "I will once more shake not only earth but heaven!" And that "once more" shows that shaken, created things will pass away, so that only what is unshaken may remain. Wherefore, we who are receiving the unshakable kingdom should hold fast to God's grace through which we may offer worship acceptable to him and reference and awe.
Brothers and sisters, I beg you to bear with this word of encouragement, for I have written to you rather briefly. I must let you know that our brother Timothy has been set free. If he is able to join me soon, he will be with me when I see you. Greetings to all your leaders and to all the people of God. Grace be with you all.
Gospel
Mark 11: 11-24
At that time Jesus entered Jerusalem and went into the temple precincts. He inspected everything there, but since it was already late in the afternoon, he went out to Bethany accompanied by the Twelve. The next day when they were leaving Bethany he felt hungry. Observing a fig tree some distance off, covered with foliage, he went over to see if he could find anything on it. When he reached it he found nothing but leaves; it was not the time for figs. Then addressing it he said, "Never again shall anyone eat of your fruit!" His disciples heard all this.
When they reached Jerusalem he entered the temple precincts and began to drive out those who were engaged in buying and selling. He overturned the money-changers' tables and the stall of the men selling doves; moreover, he would not permit anyone to carry things through the temple area.
Then he began to teach them: "Does not Scripture have it, 'My house shall be called a house of prayer for all peoples'? But you have turned it into a den of thieves." The chief priests and the scribes heard of this and began to look for a way to destroy him. They were at the same time afraid of him because the whole crowd was under the spell of his teaching. When evening drew on, Jesus and his disciples went out of the city. Early next morning, as they were walking along, they saw the fig tree withered to its roots. Peter remembered and said to him, "Rabbi, look! The fig tree you cursed has withered up." In reply Jesus told them: "Put your trust in God. I solemnly assure you, whoever says to this mountain, 'Be lifted up and thrown into the sea,' and has no inner doubts but believes that what he says will happen, shall have it done for him. I give you my word, if you are ready to believe that you will receive whatever you ask for in prayer, it shall be done for you."
Icon courtesy of Jack Figel, Eastern Christian Publications– ecpubs.com
Monday, January 2 –