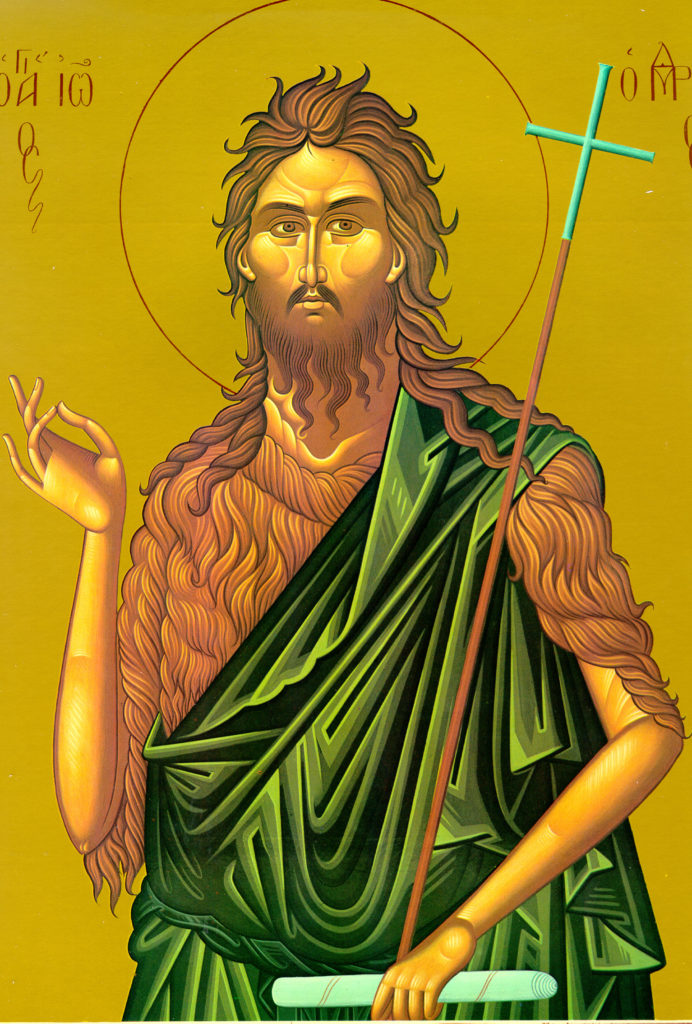 Synaxis of the Holy, Glorious Prophet, Forerunner, and Baptist John.
A "synaxis" feast follows one of the great feasts, and highlights a major personage of yesterday's celebration. We remember today the work of the Forerunner, John, who baptized Christ.
Troparion
The memory of the righteous is celebrated with praise, but for you, O Forerunner, the Lord's testimony is enough. You were shown to be more honorable than the prophets since you were deemed worthy to baptize in waters the Lord you had proclaimed. Therefore, you fought for the truth, and with joy proclaimed the good news to those in Hades, that God has appeared in the flesh to take away the sins of the world and to grant us great mercy.
Kontakion
O Lord, before Your presence in the flesh, the Jordan River trembled and reversed its course out of fear. Struck with awe. John hesitated to perform upon You the baptism foretold by the prophets. The ranks of angels were rapt in wonder when they saw You being baptized in the flesh. All those in darkness received illumination and sang a hymn of praise to You, O Lord; for You appeared and shed Your light upon the whole world.
Epistle
Acts 19:1-8
In those days, while Apollos was in Corinth, Paul passed through the interior of the country and came to Ephesus. There he found some disciples to whom he put the question, "Did you receive the Holy Spirit when you became believers?" They answered, "We have not so much as heard that there is a Holy Spirit." "Well, how were you baptized?" he persisted. They replied, "With the baptism of John." Paul then explained, "John's baptism was a baptism of repentance. He used to tell the people about the one who would come after him in whom they were to believe- that is Jesus." When they heard this, they were baptized in the name of the Lord Jesus. As Paul laid his hands on them, the Holy Spirit came down on them and they began to speak in tongues and to utter prophecies. There were in the company about twelve men in all. Paul entered the synagogue, and over a period of three months debated fearlessly, with persuasive arguments, about the kingdom of God.
Gospel
John 1: 29-34
At that time John the Baptizer caught sight of Jesus coming toward him and he exclaimed: "Look! There is the Lamb of God who takes away the sins of the world! It is he of whom I said: 'After me is to come a man who ranks ahead of me, because he was before me.' I confess I did not recognize him, though the very reason I came baptizing with water was that he might be revealed to Israel."
John gave this testimony also: "I saw the Spirit descend like a dove from the sky, and it came to rest on him. But I did not recognize him. The one who sent me to baptize with water told me, 'When you see the Spirit descend and rest on someone, it is he who is to baptize with the Holy Spirit.' Now I have seen for myself and have testified, 'This is God's chosen One.'"
Icon courtesy of Jack Figel, Eastern Christian Publications – ecpubs.com
#byzantine #catholic #saints #prayer #byzantineLA
Thursday, January 6 –