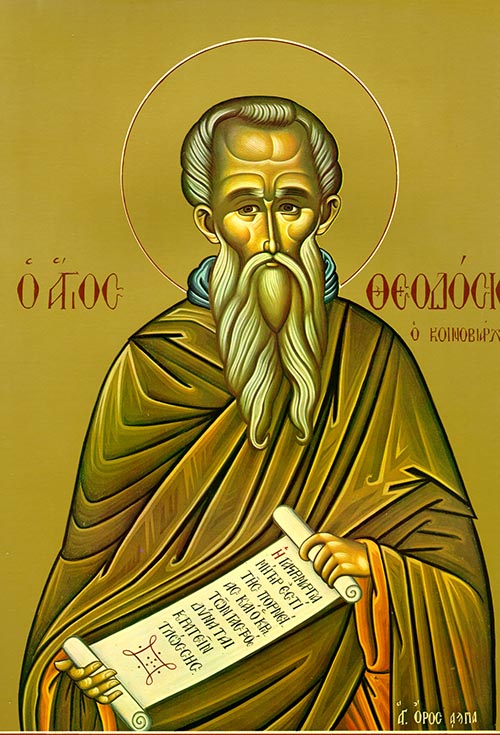 Our venerable father Theodosius, founder of the Common Life, lived during the fifth and sixth centuries, and was the founder of cenobitic monasticism. He was born in Cappadocia to pious parents. Endowed with a splendid voice, he zealously toiled at church readings and singing. Yearning for a solitary life, St. Theodosius settled in Palestine into a desolate cave, in which, according to tradition, the three Magi had spent the night, having come to worship the Savior after his Nativity. He lived there for thirty years in great abstinence and unceasing prayer. People flocked to the ascetic, wishing to live under his guidance. When the cave could no longer hold all the monks, St. Theodosius prayed that the Lord Himself would indicate a place for the monks. Taking the censer with cold charcoal and incense, the monk started walking into the desert. At a certain spot the charcoal ignited by itself and the incense smoke began to rise. Here the monk established the first cenobitic monastery or Lavra. Soon the Lavra of St. Theodosius became renowned, and up to 700 monks gathered there. Before his death, St. Theodosius summoned to him three beloved bishops and revealed to them that he would soon depart for the Lord. After three days, he died at the age of 105 (in the year 529). The saint's body was buried with reverence in the cave in which he lived at the beginning of his ascetic life.
Troparion
Your abundant tears made the wilderness bloom, and your sufferings made your labors fruitful a hundredfold; you became a shining torch over the world. O venerable Father Theodosius, pray to Christ our God that He may save our souls.
Kontakion
You were planted in the courts of your Lord and blossomed forth with beautiful and admirable virtues, O master of God's holy sheepfold. You multiplied your children in the wilderness and quenched their thirst with your abundant tears. Therefore we cry out: Rejoice O father Theodosius.
Readings for Theodosius
Epistle
2 Corinthians 4: 6-15
Brothers and sisters: God, who said, "Let light shine out of darkness," has shone in our hearts, that we in turn might make known the glory of God shining on the face of Christ. This treasure we possess in earthen vessels to make it clear that its surpassing power comes from God and not from us. We are afflicted in every way possible, but we are not crushed; full of doubts, we never despair. We are persecuted but never abandoned; we are struck down but never destroyed. Continually we carry about in our bodies the dying of Jesus, so that in our bodies the life of Jesus may also be revealed. While we live we are constantly being delivered to death for Jesus' sake, so that the life of Jesus may be revealed in our mortal flesh. Death is at work in us, but life in you. We have that spirit of faith of which the Scripture says, "Because I believed, I spoke out." We believe and so we speak, knowing that he who raised up the Lord Jesus will raise us up along with Jesus and place both us and you in his presence. Indeed, everything is ordered to your benefit, so that the grace bestowed in abundance may bring greater glory to God because they who give thanks are many.
Gospel
Matthew 11: 27-30
The Lord said to his disciples: "everything has been given over to me by my Father. No one knows the Son but the Father, and no one knows the Father but the Son– and anyone whom the Son wished to reveal him.
"Come to me, all you who are weary and find life burdensome, and I will refresh you. Take my yoke upon your shoulders and learn from me, for I am gentle and humble of heart. Your souls will find rest, for my yoke is easy and my burden light."
Readings for the day
Epistle
James 3:11 – 4:6
Brothers and sisters: Does a spring gush forth fresh water and foul from the same outlet? A fig tree, brothers and sisters, cannot produce olives, or a grapevine figs; no more can a brackish source yield fresh water.
If one of you is wise and understanding, let him show this in practice through a humility filled with good sense. Should you instead nurse bitter jealousy and selfish ambition in your hearts, at least refrain from arrogant and false claims against the truth. Wisdom like this does not come from above. It is earthbound, a kind of animal, even devilish, cunning. Where there are jealousy and strife, there also are inconstancy and all kinds of vile behavior. Wisdom from above, by contrast, is first of all innocent. It is peaceable, lenient, docile, rich in sympathy, and kindly in deeds that are its fruits, impartial and sincere. The harvest of justice is sown in peace for those who cultivate peace.
Where do the conflicts and disputes among you originate? Is it not your inner cravings that make you war within your members? What you desire you do not obtain, and so you resort to murder. You envy and you cannot acquire, so you quarrel and fight. You do not obtain because you do not ask. You ask and you do not receive because you ask wrongly, with a view to squandering what you receive on your pleasures. O you unfaithful ones, are you not aware that love of the world is enmity to God? A man is marked out as God's enemy if he chooses to be the world's friend. Do you suppose it is to no purpose that Scripture says, "The spirit ha has implanted in us tends toward jealousy"? Yet he bestows a greater gift, for the sake of which it is written, "God resists the proud but bestows his favor on the lowly."
Gospel
Matthew 12: 28-37
At that time one of the scribes came up, and when he heard the Pharisees and Sadducees arguing he realized how skillfully Jesus answered them. He decided to ask Jesus, "Which is the first of all the commandments?" Jesus replied: "This is the first: 'Hear, O Israel! The Lord our God is Lord alone! Therefore you shall love the Lord your God with all your heart, with all your soul, with all your mind, and with all your strength.' This is the second, 'You shall love your neighbor as yourself.' There is no other commandment greater than these." The scribe said to him: "Excellent Teacher! You are right in saying, 'He is the One, there is no other than he.' Yes, 'to love him with all our heart, with all our thoughts and with all our strength, and to love our neighbor as ourselves' is worth more than any burnt offering or sacrifice." Jesus approved the insight of this answer and told him, "You are not far from the reign of God." And no one had the courage to ask him any more questions.
As Jesus was teaching in the temple precincts he went on to say: "How can the scribes claim, 'The Messiah is David's son'? David himself, inspired by the Holy Spirit, said, 'The Lord said to my Lord: Sit at my right hand until I make your enemies your footstool.' If David himself addresses him as 'Lord,' in what sense can he be his son?" The majority of the crowd heard this with delight.
Icon courtesy of Jack Figel, Eastern Christian Publications – ecpubs.com
Tuesday, January 10 –