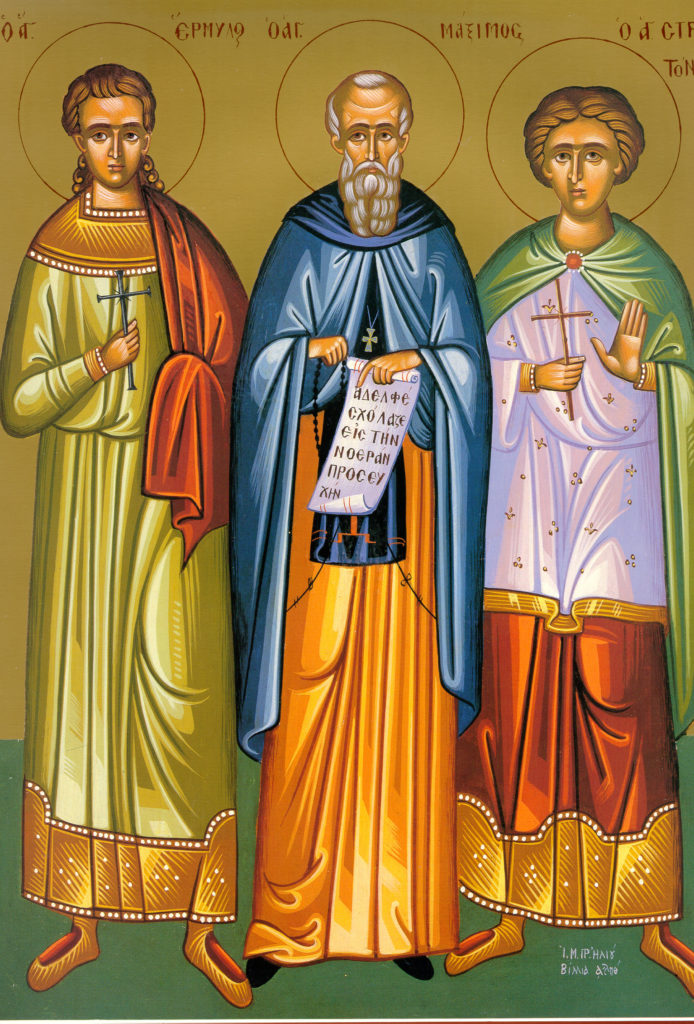 The Emperor Licinius raised a great persecution of Christians. St. Hermolaus, a Christian and a deacon in the Church, was arrested and brought to trial. When Hermolaus was informed that he was being led away to be tortured, he greatly rejoiced. In vain did the emperor threaten him. Hermolaus openly confessed his faith in Christ, and responded to all the threats of the emperor saying: The Lord is with me; I fear not; What can man do against me? (psalm 118:6). Following excruciating tortures, Hermolaus was thrown into a dungeon. The guard was Strantonicus, a secret Christian, who sympathized with the suffering of Hermolaus with all his heart. When it was reported to the emperor that Stratonicus was also a Christian, the emperor ordered that both of them be drowned in the Danube River. Then the executioners tied Hermolaus and Stratonicus in a net, and both were drowned. Three days later, their bodies washed ashore. Christians discovered their bodies and buried them about eighteen miles from Belgrade in the year 315.
Troparion
Your martyrs, O Lord our God, in their struggles received incorruptible crowns from You. With Your strength, they brought down the tyrants and broke the cowardly valor of demons.
Through their prayers, O Christ our God, save our souls.
Kontakion
O martyrs, you both met a blessed end in water and drowned the devil by the grace of God. You have received crowns of triumph for this and have been admitted to angelic choirs. Now remember those who honor you.
Readings for the fathers
Epistle
Romans 8: 28-39
Brothers and sisters: We know that God makes all things work together for the good of those who love God and are called according to his decree. Those whom he foreknew he predestined to share the image of his Son, that the Son might be the first-born of many brothers. Those he predestined he likewise called; those he called he also justified; and those he justified he in turn glorified. What shall we say after that? If God is for us, who can be against us? Is it possible that he who did not spare his own Son but handed him over for the sake of us all will not grant us all things besides? Who shall bring a charge against God's chosen ones? God, who justifies? Who shall condemn them? Christ Jesus, who died or rather was raised up, who is at the right hand of God and who intercedes for us?
Who will separate us from the love of Christ? Trial, or distress, or persecution, or hunger, or nakedness, or danger, or the sword? As Scripture says: "For your sake we are being slain all the day long; we are looked upon as sheep to be slaughtered." Yet in all this we are more than conquerors because of him who has loved us. For I am certain that neither death nor life, neither angels nor principalities, neither the present nor the future, nor powers, neither height nor depth nor any other creature, will be able to separate us from the love of God that comes to us in Christ Jesus our Lord.
Gospel
Luke 6: 17-23
At that time, coming down the mountain with the twelve, Jesus stopped at a level stretch where there were many of his disciples; a large crowd of people was with them from all Judea and Jerusalem and the coast of Tyre and Sidon, people who came to hear him and be healed of this diseases. Those who were troubles with unclean spirits were cured; indeed, the whole crowd was trying to touch him because power went out from him which cured all. Then, raising his eyes to his disciples, he said: "Blest are you poor, the reign of God is yours. Blest are you who hunger; you shall be filled. Blest are you who are weeping; you shall laugh. Blest shall you be when men hate you, and proscribe your name as evil because of the Son of Man. On the day they do so, rejoice and exult, for your reward shall be great in heaven."
Readings of the Day

Epistle
Hebrews 10: 35 – 11: 7
Brothers and sisters: Do not, then, surrender your confidence; it will have great reward. You need patience to do God's will and receive what he has promised.
For just a brief moment, and he who is to come will come; he will not delay. My just man will live by faith and if he draws back I take no pleasure in him. We are not among those who draw back and perish, but among those who have faith and live.
Faith is confident assurance concerning what we hope for, and conviction about things we do not see. Because of faith the men of old were approved by God. Through faith we perceive that the worlds were created by the word of God, and that what is visible came into being through the invisible. By faith Abel offered God a sacrifice greater than Cain's. Because of this he was attested to be just, God himself having borne witness to him on account of his gifts; therefore, although Abel is dead, he still speaks. By faith Enoch was taken away without dying, and "he was seen no more because God took him." Scripture testifies that, before he was taken up, he was pleasing to God – but without faith, it is impossible to please him. Anyone who comes to God must believe that he exists, and that he rewards those who seek him. By faith Noah, warned about things not yet seen, revered God and built an ark that his household might be saved. He thereby condemned the world and inherited the justice which comes through faith.
Gospel
Mark 9: 9-13
At that time Jesus and the disciples were coming down the mountain, Jesus strictly enjoined them not to tell anyone what they had seen, before the Son of Man had risen from the dead. They kept this word of his to themselves, though they continued to discuss what "rise from the dead" meant. Finally they out to him this question: "Why do the scribes claim that Elijah must come first?" Jesus told them: "Elijah will indeed come first and restore everything. Yet why does Scripture say of the Son of Man that he must suffer much and be despised? Let me assure you, Elijah has already come. They did entirely as they pleased with him, as Scriptures say of him."
Icon courtesy of Jack Figel, Eastern Christian Publications – ecpubs.com
Wednesday, January 12 –