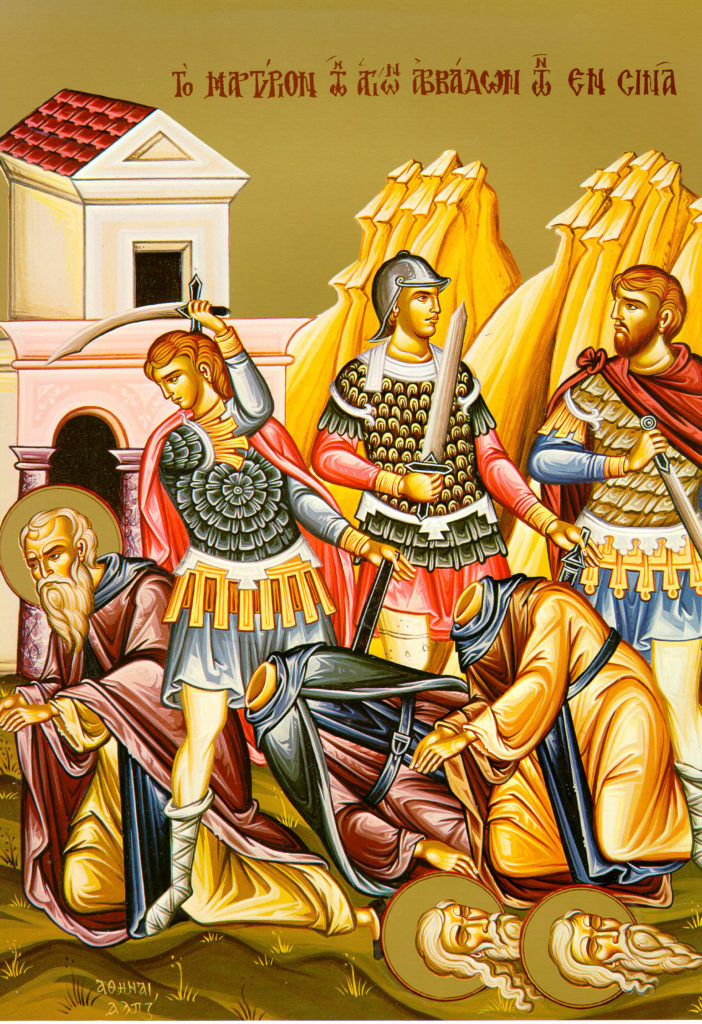 There were two occasions when the monks and hermits of Sinai and Raitho were murdered by the barbarians. The first took place in 312 when forty Fathers were killed at Mt. Sinai, and thirty-nine were slain at Raitho the same day. The second massacre occurred nearly a hundred years later.
Troparion
God of our father, You always deal with us in Your kindness. Take not Your mercy away from us; but through their prayer guide our life in peace.
Kontakion
You fled the fury of the world and found for yourselves a clam haven. You were crowned with martyrs' blood by the yoke of fasting; for this you have been admitted into the company of martyrs and monks.
Epistle
Hebrews 11: 8-16
Brothers and sisters: By faith Abraham obeyed when he was called, and went forth to the place he was to receive as a heritage; he went forth, moreover, not knowing where he was going. By faith he sojourned in the promised land as in a foreign country, dwelling in tents with Isaac and Jacob, heirs of the same promise; for he was looking forward to the city with foundations, whose designer and maker is God. By faith Sarah received power to conceive though she was past the age, for she thought that the One who had made the promise was worthy of trust. As a result of this faith, there came forth from one man, who was himself as good as dead, descendants as numerous as the stars in the sky and the sands of the seashore.
All of these died in faith. They did not obtain what had been promised but saw and saluted it from afar. By acknowledging themselves to be strangers and foreigners on the earth, they showed that they were seeking a homeland. If they had been thinking back to the place from which they had come, they would have had the opportunity of returning there. But they were searching for a better, a heavenly home. Wherefore God is not ashamed to be called their God, for he has prepared a city for them.
Gospel
Mark 9: 33-41
At that time Jesus and his disciples returned to Capernaum and Jesus, once inside the house, began to ask them, "What were you discussing on the way home?" At this they fell silent, for on the way they had been arguing about who was most important. So he sat down and called the Twelve around him and said, "If anyone wishes to rank first, he must remain the last one of all and the servant of all." Then he took a little child, stood him in their midst, and putting his arms around the child, said to them, "Whoever welcomes a child such as this for my sake welcomes me. And whoever welcomes me welcomes, not me, but him who sent me."
John said to him, "Teacher, we saw a man using your name to expel demons and we tried to stop him because he was not of our company." Jesus said in reply: "Do not try to stop him. No man who performs a miracle using my name can at the same time speak ill of me. Anyone who is not against us is with us. Any man who gives you a drink of water because you belong to Christ will not, I assure you, go without his reward."
Icon courtesy of Jack Figel, Eastern Christian Publications – ecpubs.com
Thursday, January 13 –