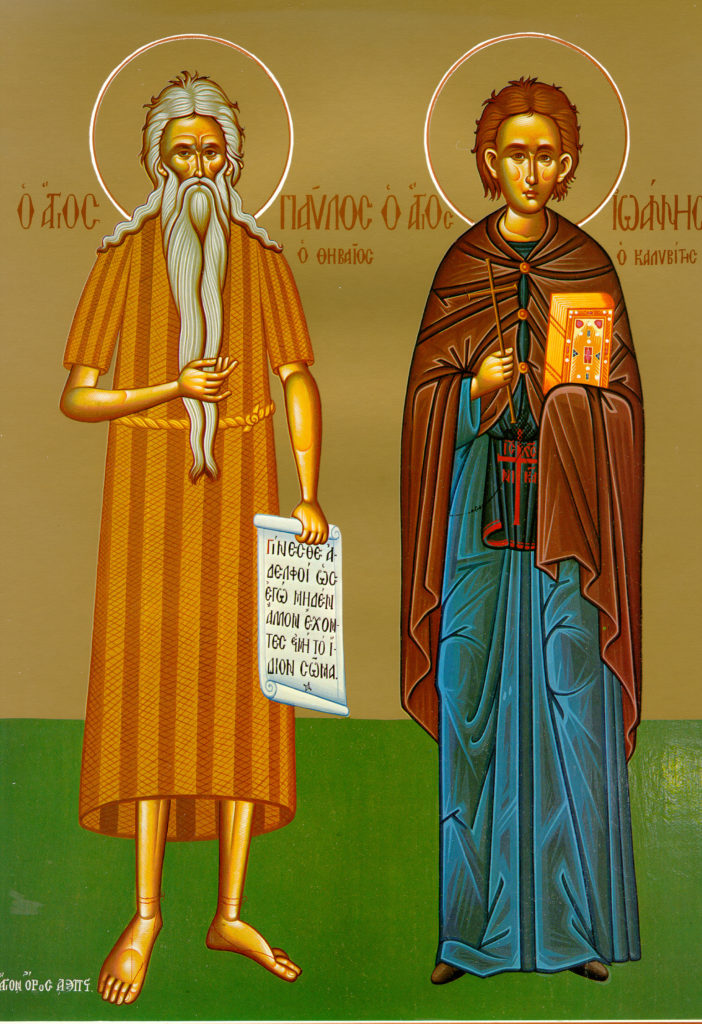 Paul of Thebes was a disciple of St. Anthony the Great. He is one of the earliest of the "desert fathers" and lived as a hermit in Theibaid in Egypt during the middle of the fourth century.
John the hut-deller lived in Constantinople during the fifth century. He left home, and returned 6 years later and lived as a beggar in a hut wearing rags. He survived on the charity of his parents, who did not recognize him, and devoted his life to contemplation. His parents only recognized him after his death by a gold codex of the Gospels they had given him.
Troparion
O God of our ancestors, You always deal with us according to your everlasting compassion, take not your mercy away from us; but through the prayers of our ancestors, guide our lives along the ways of peace.
Kontakion – Paul
Now that we have assembled let us sing the praises of that unwaning light from the divine Sun. O father Paul, you shine on those who are in the darkness of ignorance. O beauty of Thebes, you lead us all to heaven. You are the immovable foundation of monks, and of all those who keep the fast.
Kontakion – John
Having loved that poverty which no one can rob, you turned down your parents' wealth, O John. Taking the Gospel of Christ in your hands, you followed Him; now pray for us unceasingly.
Readings for the saints
Epistle
Galatians 5:22 – 6:2
In contrast, the fruit of the Spirit is love, joy, peace, patience, kindness, generosity, faithfulness, gentleness, self-control. Against such there is no law. Now those who belong to Christ Jesus have crucified their flesh with its passions and desires. If we live in the Spirit, let us also follow the Spirit. Let us not be conceited, provoking one another, envious of one another.
Brothers and sisters, even if a person is caught in some transgression, you who are spiritual should correct that one in a gentle spirit, looking to yourself, so that you also may not be tempted. Bear one another's burdens, and so you will fulfill the law of Christ.
Gospel
Matthew 11: 27-30
"All things have been handed over to me by my Father. No one knows the Son except the Father, and no one knows the Father except the Son, and anyone who the Son wishes to reveal Him."
"Come to me, all you who labor and are burdened, and I will give you rest. Take my yoke upon you and learn from me, for I am meek and humble of heart; and you will find rest for yourself. For my yoke is easy, and my burden light."
Readings for the day
Epistle
1st Timothy 1:15-17
Timothy, my son: you can depend on this as worthy of full acceptance: that Christ Jesus came into the world to save sinners. Of these I myself am the worst. But on that very account I was dealt with mercifully, so that in me, as an extreme case, Jesus Christ might display all his patience, and that I might become an example to those who would later have faith in him and gain everlasting life. To the king of ages, the immortal, the invisible, the only God, be honor and glory forever and ever! Amen.
Gospel
Matthew 15: 21-28
At that time Jesus left that place and withdrew to the district of Tyre and Sidon. It happened that a Canaanite woman living in that locality presented herself, crying out to him, "Lord, Son of David, have pity on me! My daughter is terribly troubled by a demon." He gave her no word of response. His disciples came up and began to entreat him, "Get rid of her. She keeps shouting after us." Jesus replied, "My mission is only to the lost sheep of the house of Israel." She came forward then and did him homage with the plea, "Help me Lord!" But he answered, "It is not right to take the food of sons and daughters and throw it to the dogs." "Please, Lord," she insisted, "even the dogs eat the leavings that fall from their masters' tables." Jesus then said in reply, "Woman, you have great faith! Your wish will come to pass." That very moment her daughter got better.
Icon courtesy of Jack Figel, Eastern Christian Publications – ecpubs.com
Saturday, January 14 –