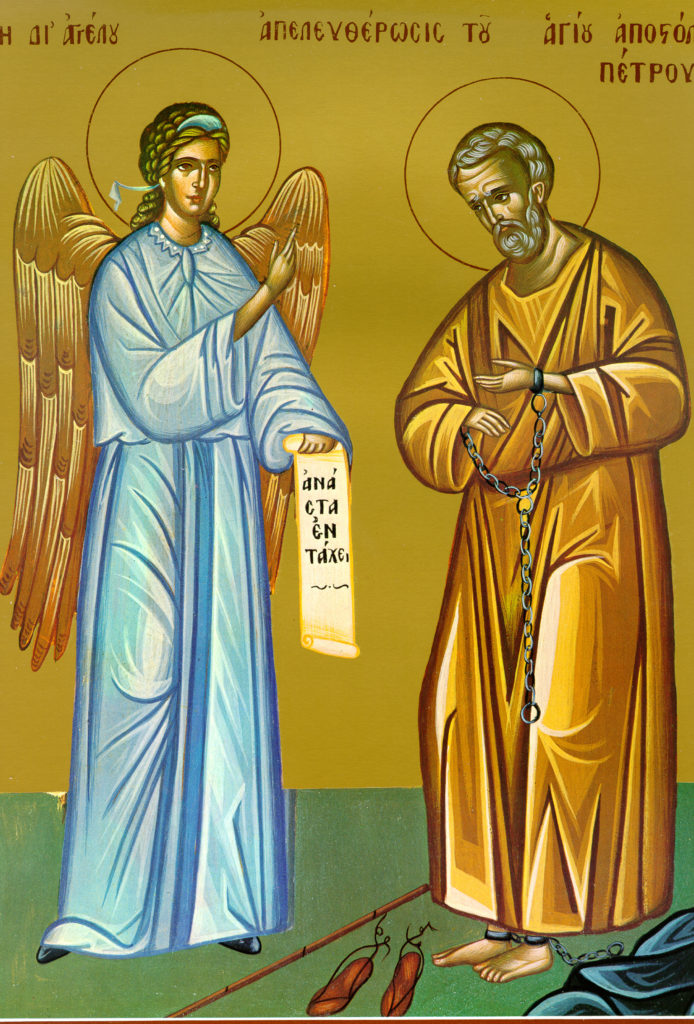 In about the year 42 the apostle Peter was thrown into prison for preaching about Christ the Savior. In prison he was bound by two iron chains. The night before his trial, an angel of the Lord came to Peter, removed his chains, and let him out of the prison (Acts 12:1-11). When Christians learned of this miracle, they took the chains and kept them as precious items. For three centuries the chains were kept in Jerusalem, and those who were afflicted with illness and approached them with faith received healing. The patriarch Juvenal gifted these chains to the wife of the emperor Theodosius the Younger and were sent to Constantinople. Later, one chain was given to the wife of the emperor Valentinian who built a church dedicated to the apostle Peter and placed that chain in it. Also placed in that church were the chains that bound Peter before his martyrdom under the emperor Nero.
Troparian
Without leaving Rome you come to us with your chains. We venerate them in our faith, O prime apostle, and we pray to you: obtain mercy for us from God by your prayers.
Kontakion
Where is praise Peter, the heavenly disciple of truth, the first and greatest of the apostles. Let us kiss his chains with faith that our sins may be forgiven.
Readings for the veneration
Epistle
Acts 12: 1-11
In those days, king Herod started to harass some of the members of the church. He beheaded James the brother of John, and when he saw this please certain of the Jews, he took Peter into custody too. During the feast of Unleavened Bread he had Peter arrested and thrown into prison with four squads of soldiers to guard him. Herod intended to bring him before the people after the Passover. Peter was thus detained in prison, while the church prayed fervently to God on his behalf. During the night before Herod was to bring him to trial, Peter was sleeping between two soldiers, fastened with double chains, while guards kept watch at the door. Suddenly an angel of the Lord stood nearby and light shone in the cell. He tapped Peter on the side and woke him. "Hurry, get up!" the angel said. With that, the chains dropped from Peter's wrists. The angel said, "Put on your belt and your sandals!" This Peter did. Then the Angel told him, "Now put on your cloak and follow me."
Peter followed the angel out, but with no clear realization that this was taking place through the Angels' help. The whole thing seemed to him a mirage. They passed the first guard, then the second, and finally came to the iron gate leading out to the city, which opened for them of itself. They emerged and made their way down a narrow alley, when suddenly the Angel left him. Peter had recovered his senses by this time, and said, "Now I know for certain that the Lord has sent his angel to rescue me from here its clutches and from all that the Jews hope for."
Gospel
John 21: 14-25
At that time Jesus appeared to the disciples after being raised from the dead. When they had rated their meal, Jesus said to Simon Peter, "Simon, son of John, do you love me more than these?" "Yes, Lord," he said, "you know I love you." At which Jesus said, "Feed my lambs."
A second time he put his question, "Simon, son of John, do you love me?" "Yes, Lord," Peter said, "you know that I love you." Jesus replied, "Tend my sheep."
A third time Jesus asked him, "Simon, son of John, do you love me?" Peter was hurt because Jesus had asked a third time, "Do you love me?" So Peter said to him: "Lord, you know everything. You know well that I love you." Jesus said to him, "Feed my sheep. I tell you solemnly: as a young man you fastened your belt and went about as you pleased; but when you are older you will stretch out your hands, and another will tie you fast and carry you off against your will."
What he said indicated the sort of death by which Peter was to glorify God. When Jesus had finished speaking he said to Peter, "Follow me."
Peter turned around at that, and noticed that the disciple whom Jesus loved was following — the one who had leaned against Jesus's chest during the supper and said, "Lord, which one will hand you over?" — Seeing that disciple, Peter was prompted to ask Jesus, "But Lord, what about him?" Jesus replied, "Suppose I want him to stay until I come, how does that concern you? Your business is to follow me." This is how the report spread among the Brothers that this disciple was not going to die. Jesus never told him, as a matter of fact, the disciple was not going to die; all he said was, "Suppose I want him to stay until I come. How does that concern you?"
It is this same disciple who is the witness to these things; it is he who wrote them down and is his testimony, we know, it's true. There are still many other things that Jesus did, if they were written about in detail, I doubt there would be room enough in the entire world to hold the box to record them.
Readings for the day
Epistle
James 2: 14-26
Brothers and sisters, what good is it to profess faith without practicing it? Such faith has no power to save one, has it? If a brother or sister has nothing to wear and no food for the day, and you say to them, "Goodbye and good luck! Keep warm and well fed," but do not meet their bodily needs, what good is that? So it is with the faith that does nothing in practice. It is thoroughly lifeless.
To such a person one might say, "You have faith and I have work– is that it?" Show me your faith without works, and I will show you the faith that underlies my works! Do you believe that God is one? You are quite right. The demons believe that, and shudder. Do you want proof, you ignoramus, that without works faith is idle? Was not our father Abraham justified by his works when he offered his son Isaac on the altar? There you see proof that faith was both assisting his works and implemented by his works. You also see how the Scripture was fulfilled which says, "Abraham believed God, and it was credited to him as justice": for this he received the title "God's friend."
You must perceive that a person is justified by his works and not by faith alone. Rahab the harlot will illustrate the point. Was she not justified by her works when she harbored the messengers and sent them out by a different route? Be assured, then, that faith without works is as dead as a body without breath.
Gospel
Mark 10: 46-52
At that time as Jesus was leaving Jericho with his disciples and a large crowd, there was a blind beggar Bartimaeus sitting by the roadside. On hearing that it was Jesus of Nazareth, he began to call out, "Jesus, Son of David, have pity on me!" Many people were scolding him to make him keep quiet, but he shouted all the louder, "Son of David, have pity on me!" Then Jesus stopped and said, "Call him over." So they called the blind man over, telling him as they did so, "You have nothing to fear from him! Get up! He is calling you!" He threw aside his cloak, jumped up and came to Jesus. Jesus asked him, "What do you want me to do for you?" "Rabboni," the blind man said, "I want to see." Jesus said in reply, "Be on your way! Your faith has healed you." Immediately he received his sight and started to follow Jesus on the road.
Icon courtesy of Jack Figel, Eastern Christian Publications – ecpubs.com
Sunday, January 15 –