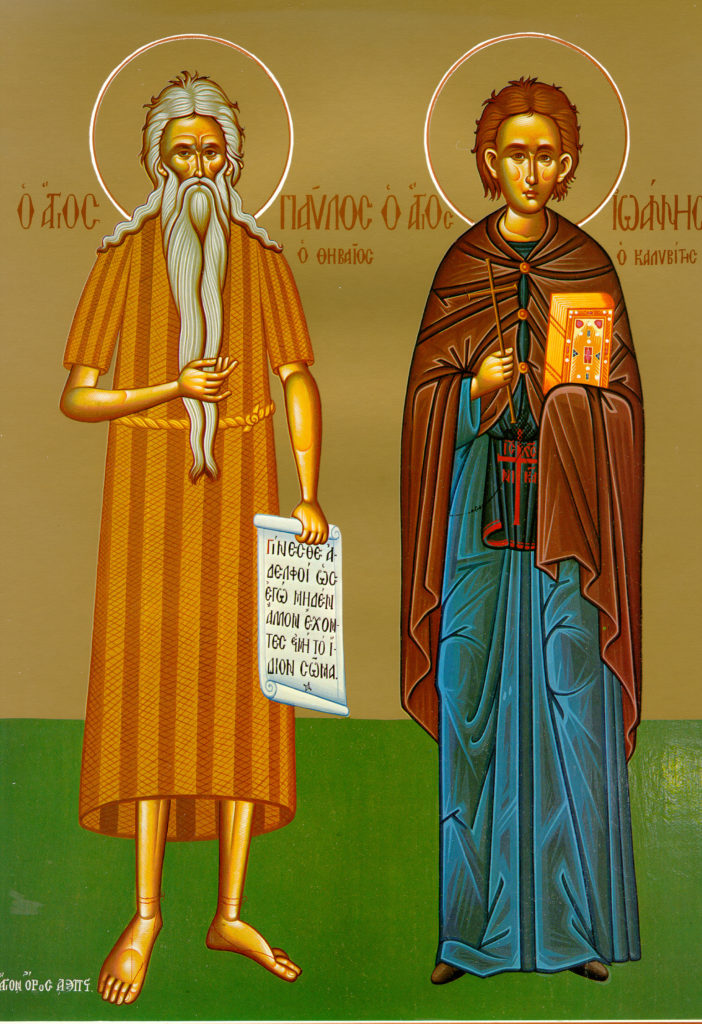 Paul of Thebes was a disciple of St. Anthony the Great. He is one of the earliest of the "desert fathers" and lived as a hermit in Theibaid in Egypt during the middle of the fourth century.
John the hut-deller lived in Constantinople during the fifth century. He left home, and returned 6 years later and lived as a beggar in a hut wearing rags. He survived on the charity of his parents, who did not recognize him, and devoted his life to contemplation. His parents only recognized him after his death by a gold codex of the Gospels they had given him.
Troparion
O God of our ancestors, You always deal with us according to your everlasting compassion, take not your mercy away from us; but through the prayers of our ancestors, guide our lives along the ways of peace.
Kontakion of Paul
Now that we have assembled let us sing the praises of that unwaning light from the divine Sun. O father Paul, you shine on those who are in the darkness of ignorance. O beauty of Thebes, you lead us all to heaven. You are the immovable foundation of monks, and of all those who keep the fast.
Kontakion of John
Having loved that poverty which no one can rob, you turned down your parents' wealth, O John. Taking the Gospel of Christ in your hands, you followed Him; now pray for us unceasingly.
Readings for the saints
Epistle
Galatians 5:22 – 6:2
In contrast, the fruit of the Spirit is love, joy, peace, patience, kindness, generosity, faithfulness, gentleness, self-control. Against such there is no law. Now those who belong to Christ Jesus have crucified their flesh with its passions and desires. If we live in the Spirit, let us also follow the Spirit. Let us not be conceited, provoking one another, envious of one another.
Brothers and sisters, even if a person is caught in some transgression, you who are spiritual should correct that one in a gentle spirit, looking to yourself, so that you also may not be tempted. Bear one another's burdens, and so you will fulfill the law of Christ.
Gospel
Matthew 11: 27-30
"All things have been handed over to me by my Father. No one knows the Son except the Father, and no one knows the Father except the Son, and anyone who the Son wishes to reveal Him."
"Come to me, all you who labor and are burdened, and I will give you rest. Take my yoke upon you and learn from me, for I am meek and humble of heart; and you will find rest for yourself. For my yoke is easy, and my burden light."
Readings for the day

Epistle
Colossians 1: 3-6
Paul, an apostle of Christ Jesus by the will of God, and Timothy our brother, to the holy ones at Colossae, faithful brothers in Christ. May God our Father give you grace and peace.
We always give thanks to God, the Father our Lord Jesus Christ in our prayers for you because we have heard of your faith in Christ Jesus and the love you bear toward all the saints – moved as you are by the hope held in store for you in heaven. You heard of this hope through the message of truth, the gospel, which has to come to you, has borne fruit, and has continued to grow in your midst, as it has everywhere in the world. This has been the case from the day you first heard it and comprehended God's gracious intention.
Gospel
Luke 16: 10-15
The Lord said, "If you can trust a man in little things, you can also trust him greater; while anyone unjust in a slight matter is also unjust in greater. If you cannot be trusted with elusive wealth, who will trust you with lasting? And if you have not been trustworthy with someone else's money, who will give you what is your own? No servant can serve two masters. Either he will hate the one and love the other or be attentive to one and despise the other. You cannot give yourself to God and money." The Pharisees, who were avaricious men, heard all this and began to deride him. Jesus said to them: "You justify yourselves in the eyes of men, but God reads your hearts. What man thinks important, God holds in contempt."
Icon courtesy of Jack Figel, Eastern Christian Publications – ecpubs.com
Friday, January 14 –