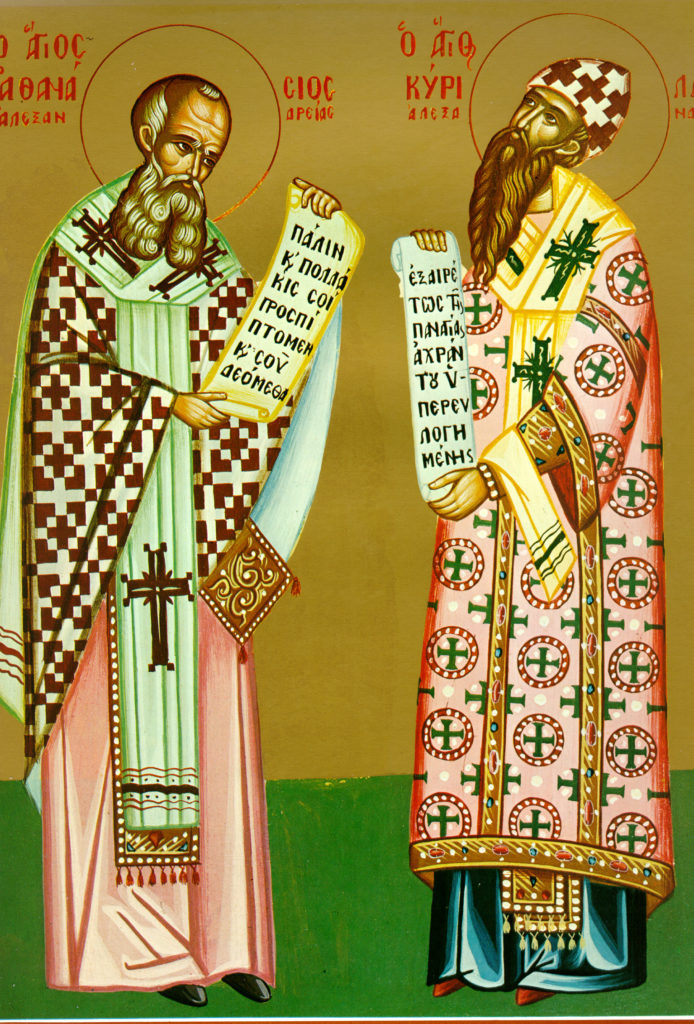 St. Athanasius
is one of the four great doctors of the Byzantine Church, called the Father of Orthodoxy. He opposed the Arians with admirable zeal and endured exile for 46 years. He died in 373.
St. Cyril
opposed the Nestorians and taught that the divine and human natures in Christ are united in oneness of person, and that the Theotokos ought truly to be called Mother of God. He presided over the 3rd Ecumenical Council at Ephesus in 431. He died in 444.
Troparion
Shining with works of true faith, you quenched every heretical dogma. You were conquerors in victory and enriched everyone by your holiness. You adorned the Church with regal glory, and you justly found Christ who shows us mercy.
Kontakion
O archbishops, remarkable for your piety and devotion, heroic defenders of the Church of Christ, protect all those who beg of you: O merciful Ones, through your intercession save those who honor you with fervor
Readings for the fathers
Epistle
Hebrews 13: 7-16
Brothers and sisters: remember your leaders who spoke the word of God to you; consider how their lives ended, and imitate their faith. Jesus Christ is the same yesterday, today, and forever.
Do not be carried away by all kinds of strange teaching. It is good to have our hearts strengthened by the grace of God and not by foods which are useless to those who take them as a standard for a living. We have an altar from which those who serve the tabernacle have no right to eat. The bodies of the animals whose blood is brought into the sanctuary by the high priest as a sin offering are burned outside the camp. Therefore Jesus died outside the gate, to sanctify the people by his own blood. Let us go to him outside the camp, bearing the insults which he bore. For here we have no lasting city; we are seeking one which is to come. Through him let us continually offer God a sacrifice of praise, that is, the fruit of lips which acknowledge his name. Do not neglect good deeds and generosity; God is pleased by sacrifices of that kind.
Gospel
Matthew 5:14-19
The Lord said to his disciples: "You are the salt of the earth. But if salt loses its taste, with what can it be seasoned? It is no longer good for anything but to be thrown out and trampled underfoot. You are the light of the world. A city set on a mountain cannot be hidden. Nor do they light a lamp and then put it under a bushel basket; it is set on a lamp stand, where it gives light to all in the house. Just so, your light must shine before others, that they may see your good deeds and glorify your Heavenly Father."
Readings for the day

Epistle
Hebrews 12: 25-26; 13: 22-25
Brothers and sisters: do not refuse to hear him who speaks. For if the Israelites did not escape punishment when they refused to listen as God spoke to them on earth, how much greater punishment will be ours if we turn away from him who speaks from heaven! His voice then shook the earth, but now he has promised, "I will once more shake not only earth but heaven!" And that "once more" shows that shaken, created things will pass away, so that only what is unshaken may remain. Wherefore, we who are receiving the unshakable kingdom should hold fast to God's grace through which we may offer worship acceptable to him and reference and awe.
Brothers and sisters, I beg you to bear with this word of encouragement, for I have written to you rather briefly. I must let you know that our brother Timothy has been set free. If he is able to join me soon, he will be with me when I see you. Greetings to all your leaders and to all the people of God. Grace be with you all.
Gospel
Mark 10: 2-12
At that time, some Pharisees came up and as a test began to ask Jesus whether it was permissible for a husband to divorce his wife. In reply Jesus said, "What command did Moses give you?" they answered, "Moses permitted divorce and the writing of a decree of divorce." But then Jesus told them: "he wrote that commandment for you because of your stubbornness. At the beginning of creation God made them male and female; for this reason a man shall leave his father and mother and the two shall become as one. They are no longer two but one flash. Therefore let no man separate what God has joined." Back in the house again, the disciples began to question him about this. He told them, "Whoever divorces his wife and marries another commits adultery against her; and the woman who divorces her husband and marries another commits adultery."
Monday, January 17 –