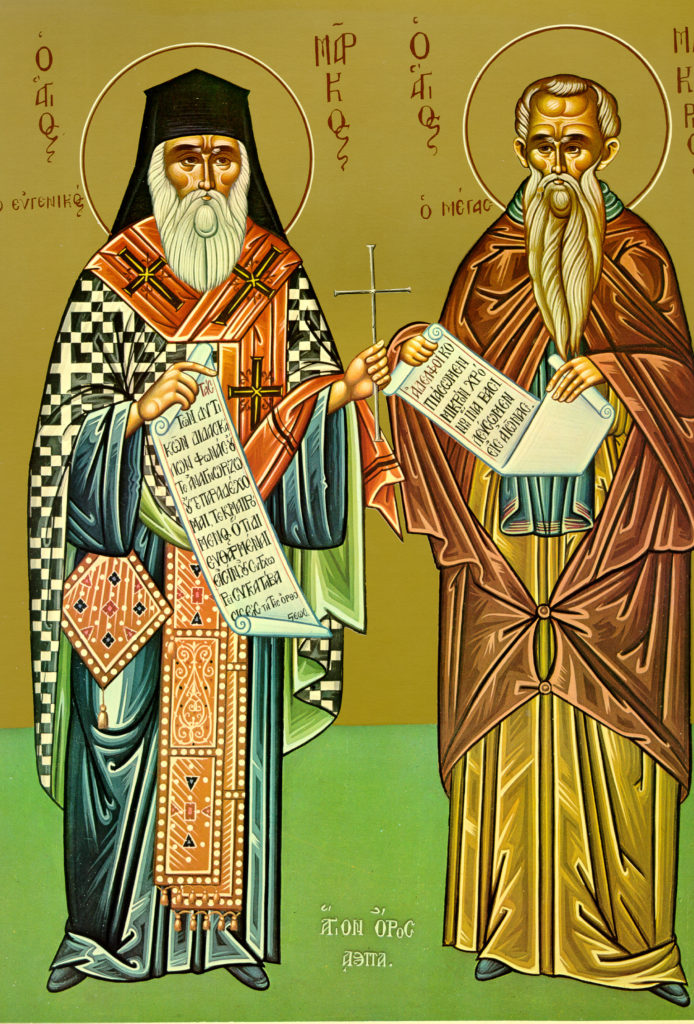 St. Macarius the Great of Egypt was born in the early fourth century in the village of Ptinapor in Egypt. At the wish of his parents he entered into marriage, but was soon widowed. After he buried his wife, he withdrew to the wilderness. He spent sixty years in labor and struggle, both inwardly and outwardly, for the Kingdom of Heaven. So much did he succeed in cleansing his mind of evil thoughts and his heart of evil desires, that God bestowed upon him the abundant gift of miracle-working, so that he even raised the dead from the graves. Macarius often told his disciple, Paphnutius: "Do not judge anyone, and you will be saved." Before his death at age ninety-seven, Macarius was visited by St. Anthony and St. Pachomius who told him he would die in nine days, and so it came to pass.
Troparion
You made the wilderness your dwelling, O father Macarius, the bearer of God. You became an angel in the flesh and a wonderworker. Through fasts, vigils, and prayers, you obtained from God special graces to heal the sick and to sanctify the souls of those who come to you with trust. Glory to the One who gave you strength! Glory to the One who crowned you! Glory to the One who through your intercession grants healing to all!
Kontakion
You ended your life among those who imitate martyrdom, and you have inherited the land of the meek, O father. You filled the desert with people like a city, and God gave to you the grace to work wonders. Therefore, we come to venerate you, O Macarius.
Readings for the father
Epistle
Galatians 5:22 – 6:2
Brothers and sisters: The fruit of the spirit is love, joy, peace, patient endurance, kindness, generosity, faith, mildness and chastity. Against such there is no law! Those who belong to Christ Jesus have crucified their flesh with its passions and desires. Since we live by the spirit, let us follow the spirit's lead. Let us never be boastful, or challenging, or jealous toward one another.
Brothers and sisters, if someone is detected in sin, you who live by the spirit should gently set him right, each of you trying to avoid falling into temptation himself. Help carry one another's burden; in this way you will fulfill the law of Christ.
Gospel
Matthew 11: 27-30
The Lord said to his disciples: "Everything has been given over to me by my Father. No one knows the Son except the Father, and no one knows the Father except the Son– and anyone whom the Son wishes to reveal Him."
"Come to me, all you who are weary and find life burdensome, and I will refresh you. Take my yoke upon your shoulders and learn from me, for I am gentle and humble of heart. Your souls will find rest, for my yoke is easy and my burden light."
Readings for the day

Epistle
James 1: 1-18
To the twelve tribes in the dispersion, James, a servant of God and of the Lord Jesus Christ, sends greeting.
Brothers and sisters, count it pure joy when you are involved in every sort of trial. Realize that when your faith is tested this makes for endurance. Let endurance come to its perfection so that you may be fully mature and lacking in nothing.
If any of you is without wisdom, let him ask it from the God who gives generously and ungrudgingly to all, and it will be given him. Yet he must ask in faith, never doubting, for the doubter is like the surf tossed and driven by the wind. A man of the sort, devious and erratic in all that he does, must not expect to receive anything from the Lord.
Let's a brother in humble circumstances take pride in his eminence and the rich man be proud of his loveliness, for he will disappear "like the flower of the field." When the sun comes up with its scorching heat it parches the Meadow, the field flowers droop, and with that the Meadows loveliness is gone. Just so will the rich man wither away amid his many projects.
Happy the man who holds out to the end through trial! Once he has been proved, he will receive the crown of life the Lord has promised to those who love him. No one who is tempted is free to say, "I am being tempted by God." Surely God, who is beyond the grasp of evil, temps no one. Rather the tug and lore of his own passion tempt every man. Once passion has conceived, it gives birth to sin, and once it reaches maturity it begets death.
Make no mistake about this, my dear brothers and sisters. Every worthwhile gift, every genuine benefit comes from above, descending from the father of heavenly luminaries, who cannot change and who has never shadowed over. He wills to bring us to birth with a word spoken in truth so that we may be a kind of first fruits of his creatures.
Gospel
Mark 10: 11-16
At that time the Lord said "Whoever divorces his wife and marries another commits adultery against her; and the woman who divorces her husband and marries another commits adultery."
People were bringing their little children to Jesus to have him touch them, but the disciples were scolding them for this. Jesus became indignant when he noticed it and said to them: "Let the children come to me and do not hinder them. It is to just such as these that the kingdom of God belongs. I assure you that whoever does not accept the reign of God like a little child shall not take part in it." Then he embraced the children and blessed them, placing his hands on them.
Icon courtesy of Jack Figel, Eastern Christian Publications – ecpubs.com
Tuesday, January 18 –