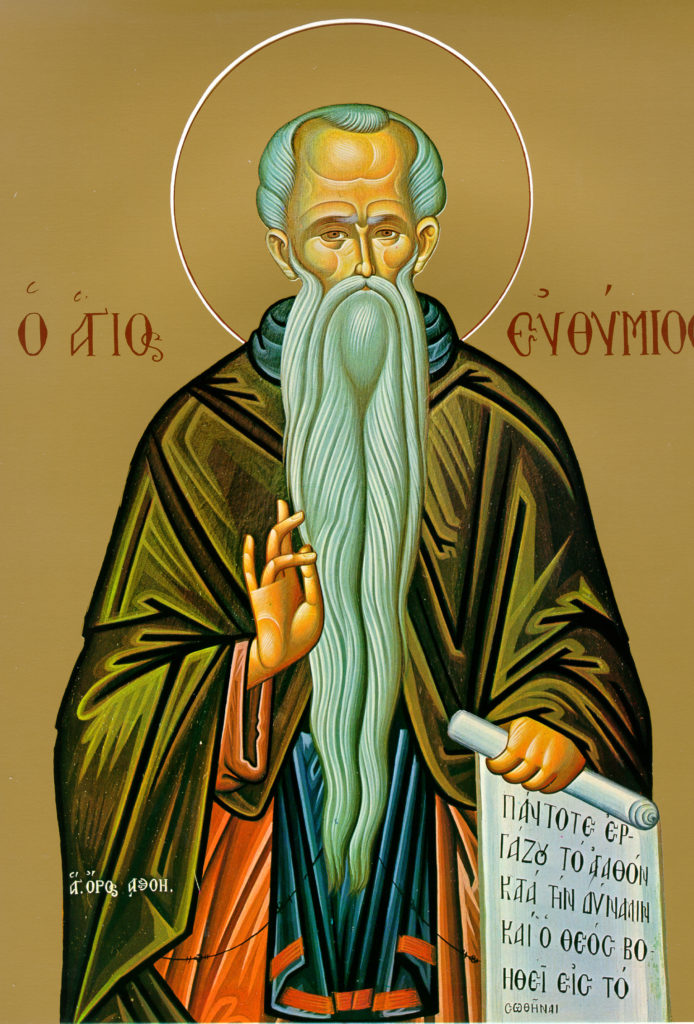 Our venerable and divinely inspired father, Euthymius the Great, Hegumen-Abbot, lived in the fifth century in Melitene in Armenia. His parents were devout Christians of noble birth. However, even after many years of marriage, they were childless. In their sorrow, they entreated God to give them a child. They had a vision and heard a voice tell them: "Be of good cheer! God will grant you a son, who will bring joy to the churches." They named their son Euthymuis which means "good cheer." St. Euthymius became a monk and was ordained to the priesthood. He was entrusted with the supervision of all the monasteries in the city. He frequently visited the monastery of St. Polyeuctus, and during the Great Fast he withdrew to the wilderness. Feeling the great weight of his responsibilities for the monasteries conflicting with his desire for stillness, St. Euthymius secretly left the city and set out for Jerusalem. After venerating the holy shrines, he visited the Fathers in the desert. He settled into a solitary cell in the monastery in Tharan where he lived the rest of his life until he died at the age of ninety-seven.
Troparion
Joy to you, O barren wilderness; rejoice, sterile desert that has never known the travail of birth; for your spouse has multiplied your children. He has planted them in devotion and piety, and made them grow in detachment for the sake of perfect virtue. Through his supplications, Christ our God, give peace to our lives.
Kontakion
Creation takes you in your birth and memory. It is delighted with the abundance of your miracles. Enrich our souls from your treasures, O father, and wash our defilements away so that we can sing: Alleluia!
Readings for Euthymius
Epistle
2nd Corinthians 4: 6-15
Brothers and sisters: God who said, "Let light shine out of darkness," has shone in our hearts, that we in turn might make known the glory of God shining on the face of Christ. This treasure we possess in earthen vessels to make it clear that its surpassing power comes from God and not from us. We are afflicted in every way possible, but we are not crushed; full of doubts, we never despair. We are persecuted but never abandoned; we are struck down but never destroyed. Continually, we carry about in our bodies the dying of Jesus, so that in our bodies the life of Jesus may also be revealed. While we live we are constantly being delivered to death for Jesus' sake, so that the life of Jesus may be revealed in our mortal flesh. Death is at work in us, but life in you. We have that spirit of faith which the Scripture says, "Because I believed, I spoke out." We believe and so we speak, knowing that he who raised up the Lord Jesus will raise us up along with Jesus and place both us and you in his presence. Indeed, everything is ordered to your great benefit, so that the grace bestowed in abundance may bring greater glory to God because they who give thanks are many.
Gospel
Luke 6:17-23
At that time, coming down the mountain with the twelve, Jesus stopped at a level stretch where there were many of his disciples; a large crowd of people was with them from all Judea and Jerusalem and the coast of Tyre and Sidon, people who came to hear him and be healed of this diseases. Those who were troubled with unclean spirits were cured; indeed, the whole crowd was trying to touch him because power went out from him which cured all.
Then, raising his eyes to his disciples, he said: "Blest are you poor, the reign of God is yours. Blest are you who hunger; you shall be filled. Blest are you who are weeping; you shall laugh. Blest shall you be when men hate you, when they ostracize you and insult you and proscribe your name as evil because of the Son of Man. On the day they do so, rejoice and exult, for your reward shall be great in heaven."
Readings for the day
Epistle
1 Peter 1: 1-2, 10-12; 2: 6-10
Peter, and apostle to Jesus Christ, to those who live as strangers scattered throughout Pontus, Galatia, Cappadocia, Asia, and Sithynia; to men chosen according to the foreknowledge of God the Father, consecrated by the Spirit to a life of obedience to Jesus Christ and purification with his blood. Favor and peace be yours in abundance.
This is the salvation which the prophets carefully searched out and examined. They prophesied the divine favor that was destined to be yours. They investigated the times and the circumstances which the Spirit of Christ within them was pointing to, for he predicted the sufferings destined for Christ and the glories that would follow. They knew by revelation that they were providing, not for themselves but for you, what has now been proclaimed to you by those who preach the gospel to you, in the power of the Holy Spirit sent from heaven. Into these matters angels long to search.
For Scripture has it: "See, I am laying a cornerstone in Zion, an approved stone, and precious. He who puts his faith in it shall not be shaken." The stone is of value for you who have faith. For those without faith, it is rather, [as Scripture also says] "A stone which the builders rejected that became a cornerstone."
It is likewise "an obstacle and a stumbling stone." Those who stumble and fall are the disbelievers in God's word; it belongs to their destiny to do so. You, however, are a "chosen race, a royal priesthood, a holy nation, a people he claims for his own to proclaim the glorious works" of the One who called you from darkness into his marvelous light. Once you were no people, but now you are God's people; once there was no mercy for you, but now you have found mercy.
Gospel
Mark 12: 1-12
At that time Jesus began to address the chief priests, the scribes, and the elders once more in parables: "A man planted a vineyard, put a hedge around it, dug a vat, and erected a tower. Then he leased it to tenant farmers and went on a journey. In due time he dispatched a man in her service to the tenants to obtain from them his share of produce from the vineyard. But the tenants seized the servant, beat him, and sent him off empty-handed. The second time he sent them another servant; him too they beat over the head and treated shamefully. He sent yet another and they killed him. So too with many others: some they beat; some they killed. He still had one to send – the son whom he loved. He sent him to the tenants as a last resort, thinking, 'They will have to respect my son.' But those tenants said to one another, 'Here is the one who will inherit everything. Come, let us kill him, and the inheritance will be ours.' Then they seized and killed him and dragged him outside the vineyard. What do you suppose the owner of the vineyard will do? He will come and destroy those tenants and turn his vineyard over to others. Are you not familiar with the passage of Scripture: 'The stone rejected by the builder has become the keystone of the structure. It was the Lord who did it and we find it marvelous to behold'?"
They wanted to arrest him at this, yet they had reason to fear the crowd. (They knew well enough that he meant the parable for them.) Finally they left him and went off.
Icon courtesy of Jack Figel, Eastern Christian Publications – ecpubs.com
Thursday, January 19 –