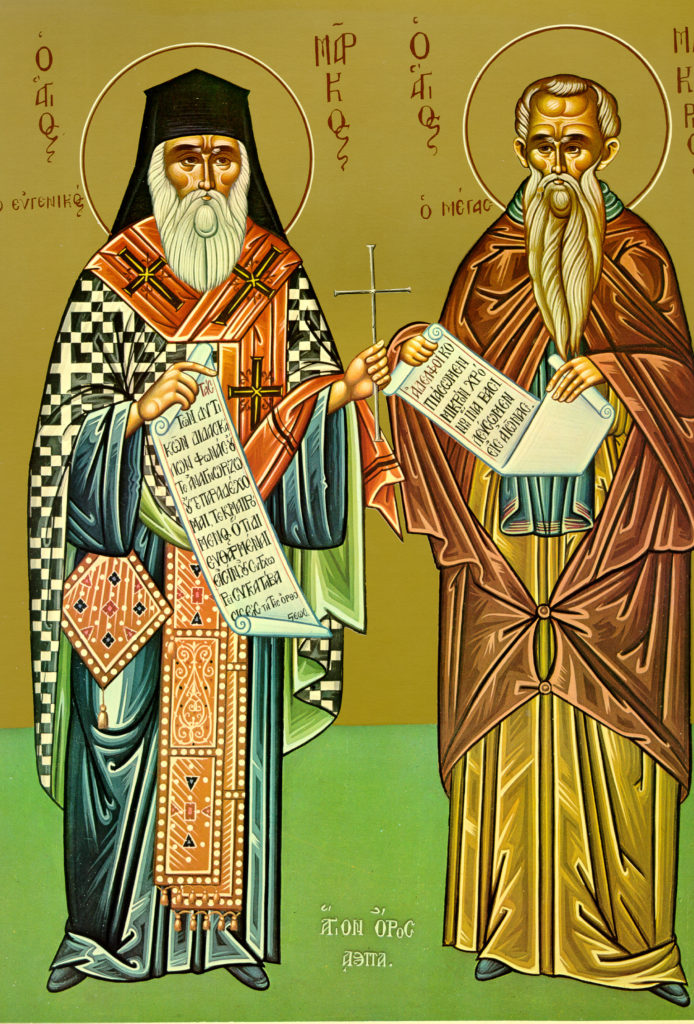 St. Macarius the Great of Egypt was born in the early fourth century in the village of Ptinapor in Egypt. At the wish of his parents he entered into marriage, but was soon widowed. After he buried his wife, he withdrew to the wilderness. He spent sixty years in labor and struggle, both inwardly and outwardly, for the Kingdom of Heaven. So much did he succeed in cleansing his mind of evil thoughts and his heart of evil desires, that God bestowed upon him the abundant gift of miracle-working, so that he even raised the dead from the graves. Macarius often told his disciple, Paphnutius: "Do not judge anyone, and you will be saved." Before his death at age ninety-seven, Macarius was visited by St. Anthony and St. Pachomius who told him he would die in nine days, and so it came to pass.
Troparion
You made the wilderness your dwelling, O father Macarius, the bearer of God. You became an angel in the flesh and a wonderworker. Through fasts, vigils, and prayers, you obtained from God special graces to heal the sick and to sanctify the souls of those who come to you with trust. Glory to the One who gave you strength! Glory to the One who crowned you! Glory to the One who through your intercession grants healing to all!
Kontakion
You ended your life among those who imitate martyrdom, and you have inherited the land of the meek, O father. You filled the desert with people like a city, and God gave to you the grace to work wonders. Therefore, we come to venerate you, O Macarius.
Readings for Macarius
Epistle
Galatians 5:22 – 6:2
Brothers and sisters: The fruit of the spirit is love, joy, peace, patient endurance, kindness, generosity, faith, mildness and chastity. Against such there is no law! Those who belong to Christ Jesus have crucified their flesh with its passions and desires. Since we live by the spirit, let us follow the spirit's lead. Let us never be boastful, or challenging, or jealous toward one another.
Brothers and sisters, if someone is detected in sin, you who live by the spirit should gently set him right, each of you trying to avoid falling into temptation himself. Help carry one another's burden; in this way you will fulfill the law of Christ.
Gospel
Matthew 11: 27-30
The Lord said to his disciples: "Everything has been given over to me by my Father. No one knows the Son except the Father, and no one knows the Father except the Son– and anyone whom the Son wishes to reveal Him."
"Come to me, all you who are weary and find life burdensome, and I will refresh you. Take my yoke upon your shoulders and learn from me, for I am gentle and humble of heart. Your souls will find rest, for my yoke is easy and my burden light."
Readings for the day
Epistle
James 4: 7- 5:9
Brothers and sisters: Submit to God; resist the devil and he will take flight. Draw close to God, and he will draw close to you. Cleanse your hands, you sinners; purify your hearts, you backsliders. Begin to lament, to mourn, and to weep; let your laughter be turned into mourning and your joy into sorrow. Be humbled in the sight of the Lord and he will raise you on high.
Do not, my brothers and sisters, speak ill of one another. The one who speaks ill of his brother or judges his brother is speaking against the law. It is the law he judges. If, however, you judge the law you are no observer of the law, you are its judge. There is but one Lawgiver and Judge, one who can save and destroy. Who are you to judge your neighbor?
Come now, you who say, "Today or tomorrow we shall go to such and such a town, spend a year there, trade, and come off with a profit!" You have no idea what kind of life will be yours tomorrow. You are a vapor that appears briefly and vanishes. Instead of saying, "If the Lord wills it, we shall live to do this or that," all you can do is make arrogant and pretentious claims. All such boasting is reprehensible. When a man knows the right thing to do and does not do it, he sins.
As for you, you rich, weep and wail over your impending miseries. Your wealth has rotted, your fine wardrobe has grown moth-eaten, your gold and silver has corroded, and their corrosion shall be a testimony against you; it will devour your flesh like a fire. See what you have stored up for yourselves against the last days. Here, crying aloud, are the wages you withheld from the farmhands who harvested your fields. The cries of the harvesters have reached the ears of the Lord of hosts. You lived in wanton luxury on the earth; you fattened yourselves for the day of slaughter. You condemned, even killed, the just man; he does not resist you.
Be patient, therefore, my brothers and sisters, until the coming of the Lord. See how the farmer awaits the precious yield of the soil. He looks forward to it patiently while the solid receives the winter and spring rains. You, too, must be patient. Steady your hearts, because the coming of the Lord is at hand. Do not grumble against one another, my brothers and sisters, lest you be condemned. See! The judge stands at the gate.
Gospel
Mark 11: 27-33
At that time Jesus and his disciples returned once more to Jerusalem. As he was walking in the temple precincts the chief priests, the scribes, and the elders approached him and said to him, "On what authority are you doing these things? Who has given you the power to do them?" Jesus said to them, "I will ask you a question. If you give me an answer, I will tell you on what authority I do the things I do. Tell me, was John's baptism of divine origin or merely from men?" They thought to themselves, "If we say 'divine,' he will ask, "Then why did you not put faith in it?' But can we say 'merely human'?" (They had reason to fear the people, who all regarded John as a true prophet.) So their answer to Jesus was, "We do not know." In turn, Jesus said to them, "Then neither will I tell you on what authority I do the things I do."
Wednesday, January 18 –