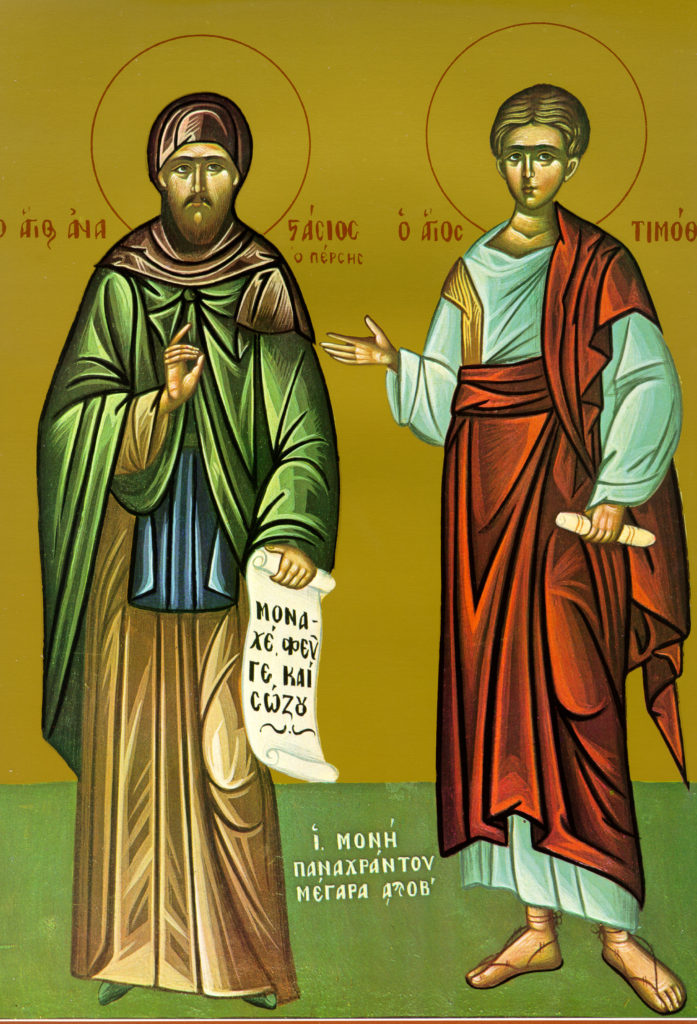 The Holy apostle Timothy who, disciple of St. Paul the Apostle and his assistant in his apostolate, was the leader of the church at Ephesus. Two epistles were written to him that offer wise counsels on the ordering of pastors and the faithful.
The venerable martyr Anastasius the Persian from Bethsaloe in Persia, monk. After enduring many tortures, which he had borne steadfastly, in Caesarea in Palestine, he was afflicted with many punishments by Chosroes, king of the Persians. After his seventy companions, he too was strangled next to a river and beheaded. His head was brought to Rome and is still venerated in the church of Ss. Vincent and Anastasius.
Troparion for Timothy
Having heard the good news and being truly temperate, you have been clothed with the priesthood in integrity. You found deep knowledge in the chosen vessel, and you kept the faith over a smooth course. O apostle Timothy, beg Christ to save our souls.
Troparion for Anastasius
O Lord our God, your holy martyr Anastasius has deserved the crown of immortality on account of his good fight. Armed with your strength, he has vanquished the persecutors and crushed Satan's dreadful might. Through his supplications, O Christ our God, save our souls.
Kontakion
Let us praise Paul's companion and disciple, Timothy. Let us venerate him along with Anastasius who beamed out of Persia like a star, who disperses the passions of our soul and the ills of our flesh.
Readings for Timothy
Epistle
2 Timothy 3:1-9
Timothy my son: But understand this: there will be terrifying times in the last days. People will be self-centered and lovers of money, proud, haughty, abusive, disobedient to their parents, ungrateful, irreligious, callous, implacable, slanderous, licentious, brutal, hating what is good, traitors, reckless, conceited, lovers of pleasure rather than lovers of God, as they make a pretense of religion but deny it power. Reject them. For some of these slip into homes and make captives of women weighed down by sins, led by various desires, always trying to learn but never able to reach a knowledge of the truth. Just as Jannes and Jambres opposed Moses, so they oppose the truth–people of depraved minds, unqualified in the faith. But they will not make further progress, for their foolishness will be plain to all, as it was with those two.
You have followed my teaching, way of life, purpose, faith, patience, love, endurance, persecutions, and sufferings, such as happened to me in Antioch, Iconium, and Lystra, persecutions that I endured. Yet from all these things the Lord delivered me. In fact, all who want to live religiously in Christ Jesus will be persecuted. But wicked people and charlatans will go from bad to worse, deceivers and deceived. But you, remain faithful to what you have learned and have known [the] sacred scriptures, which are capable of giving you wisdom for salvation through faith in Christ Jesus. All scripture is inspired by God and is useful for teaching, for refutation, for correction, and for training in righteousness, so that one who belongs to God may be competent, equipped for every good work.
Gospel
Luke 10: 1-15
At that time the Lord appointed a further seventy-two and sent them in pairs before him to every town and place he intended to visit. He said to them: "The harvest is rich but the workers are few; therefore, ask the harvest-master to send workers to his harvest. Be on your way, and remember: I am sending you as lambs in the midst of wolves. Do not carry a walking staff or traveling bag; wear no sandals and greet no one along the way. On entering any house, first say, 'Peace to this house.' If there is a peaceable man there, your peace will rest on him; if not, it will come back to you. Stay in the one house eating and drinking what they have, for the laborer is worth his wage. Do not move from house to house.
"Into whatever city you go, after they welcome you, eat what they set before you, and cure the sick there. Say to them, 'The reign of God is at hand.' If the people of any town you enter do not welcome you, go into its streets and say, 'We shake the dust of this town from our feet as testimony against you. But know that the reign of God is near.' I assure you, on that day the fate of Sodom will be less severe than that of such a town. It will go ill with you, Chorazin! And just as ill with you, Bethsaida! If the miracles worked in your midst had occured in Tyre and Sidon, they would long ago have reformed in sackcloth and ashes. It will go easier on the day of judgement for Tyre and Sidon than for you. And as for you, Capernaum, 'Are you to be exalted to the skies? You shall be hurled down to the realm of death!'"
Readings for the day

Epistle
1st Corinthians 14: 20-25
Brothers and sisters, do not be childish in your outlook. Be like children as far as evil is concerned, but in mind be mature. It is written in the law, "in strange tongues and in alien speech I will speak to this people, and even so they will not heed me, says the Lord." The gift of tongues is a sign, not for those who are without faith but for those who have faith. If the uninitiated or unbelievers should come in when the whole church is assembled and everyone is speaking in tongues, would they not say that you are out of your minds? But if an unbeliever or an uninitiate enters while all are uttering prophecy, he will be taken to task by all and called to account by all, and the secret of his heart will be laid bare. Falling prostrate, he will worship God, crying out, "God is truly among you."
Gospel
Matthew 25: 1-13
The Lord told this parable: "The reign of God can be likened to ten brides-maids who took their torches and went out to welcome the groom. Five of them were foolish, while the other five were sensible. The foolish ones, in taking their torches, brought no oil along, but the sensible ones took flasks of oil as well as their torches. The groom delayed his arrival, so they began to nod, then to fall asleep. At midnight someone shouted, 'The groom is here! Come out and greet him!' At the outcry all the virgins woke up and got their torches ready. The foolish ones said to the sensible ones, 'Give us some of your oil. Our torches are going out.' But the sensible ones replied, 'No, there may not be enough for you and us. You had better go to the dealers and buy yourselves some.' While they went off to buy it the groom arrived, and the ones who were ready went in to the wedding with him. Then the door was barred. Later the other bridesmaids came back, 'Master, master!' they cried. 'Open the door for us.' But he answered, 'I tell you, I do not know you.' The moral is: keep your eyes open, for you know not the day or the hour [when the Son of Man will come.]"
Icon courtesy of Jack Figel, Eastern Christian Publications – ecpubs.com
Friday, January 21 –