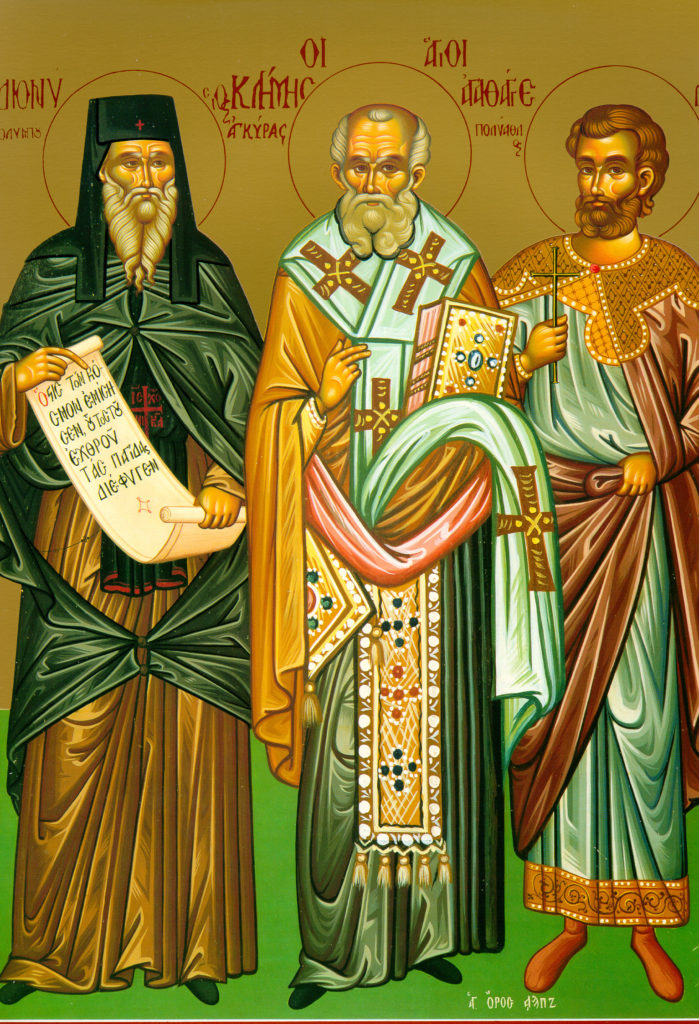 The holy martyr Clement, Priest-Martyr, Bishop of Ancrya, lived in exile for 28 years under several persecutors and died by the sword in the year 296.
The holy martyr Agathangel suffered death also in the reign of emperors Maximian and Diocletian.
Troparion
O most holy Clement, you are a vineyard of holiness for the faithful, a rod of valiance, a flower of purity, and a fruit of great delight that God has granted. Since you struggled together with the martyrs and to the dignity of a bishop, intercede with Christ our God that He may save our souls.
Kontakion
O Clement worthy of all praise, you became a precious vine and a noble conqueror in Christ's vineyard. At the time of your martyrdom you cried out with your companion: O Christ our God, You are the delight of martyrs.
Readings for Clement
Epistle
Philippians 3:20- 4:3
Brothers and sisters: As you well know, we have our citizenship in heaven; it is from there that we eagerly await the coming of our Savior, the Lord Jesus Christ. He will give new form to this lowly body of ours and remake it according to the pattern of his glorified body, by his power to subject everything to himself.
For this reason, my brothers and sisters, you whom I so love and long for, you who are my joy and my crown, my dear ones, to stand firm in the Lord. I plead with Evodia just as I do with Syntyche: come to some mutual understanding in the Lord. Yes, and I ask you, too, my dependable fellow worker, to go to their aid; they have struggled at my side in promoting the gospel, along with Clement and the others who have labored with me, whose names are in the book of life.
Gospel
Luke 12: 32-40
The Lord said, "Do not live in fear, little flock. It has pleased your Father to give you the kingdom. Sell what you have and give alms. Get purses for yourselves that do not wear out, a never-failing treasure with the Lord which no thief comes near nor any moth destroys. Wherever your treasure lies, there your heart will be.
"Let your belts be fastened around your waists and your lamps be burning ready. Be like men awaiting their master's return from a wedding, so that when he arrives and knocks, you will open for him without delay. It will go well with those servants whom the master finds wide-awake on his return. I tell you, he will put on an apron, seat them at table, and proceed to wait on them. Should he happen to come at midnight or before sunrise and find them prepared, it will go well with them. You know as well as I that if the head of the house knew when the thief was coming he would not let him break into his house. Be on guard, therefore, The Son of Man will come when you least expect him."
Readings for the day
Epistle
1 Peter 2:21- 3:9
Dearly beloved: Christ suffered for you and left you an example, to have you follow in his footsteps. He did no wrong; no deceit was found in his mouth. When he was insulted, he returned no insult. When he was made to suffer, he did not counter with threats. Instead he delivered himself up to the One who judges justly. In his own body he brought your sins to the cross, so that all of us, dead to sin, could live in accord with God's will. By his wounds you were healed. At one time you were straying like sheep, but now you have returned to the shepherd, the guardian of your souls.
You married women must obey your husbands, so that any of them who do not believe in the word of the gospel may be won over apart from preaching, through their wives conduct. They have only to observe the reverent purity of your way of life. The affectation of an elaborate hairdress, the wearing of golden jewelry, or the donning of rich robes is not for you. Your adornment is rather the hidden character of the heart, expressed in the unfading beauty of a calm and gentle disposition. This is precious in God's eyes. The holy women of past ages used to adorn themselves in this way, reliant on God and obedient to their husbands— for example, Sarah, who was subjected to Abraham and called him her master. You are her children when you do what is right and let no fears alarm you.
You husbands, too, must show consideration for those who share your lives. Treat women with respect as the weaker sex, heirs just as much as you to the gracious gift of life. If you do so, nothing will keep your prayers from being answered.
In summary, then, all of you should be like-minded, sympathetic, loving toward one another, kindly disposed, and humble. Do not return evil for evil or insult for insult. Return a blessing instead. This you have been called to do, that you may receive a blessing as your inheritance.
Gospel
Mark 12: 13-17
At that time the chief priests, the scribes, and elders sent some Pharisees and Herodians after Jesus to catch him in his speech. The two groups came and said to him: "Teacher, we know that you are a truthful man, unconcerned about anyone's opinion. It is evident you do not act out of human respect but teach God's way of life sincerely. Is it lawful to pay the tax to the emperor or not? Are we to pay or not to pay?" Knowing their hypocrisy Jesus said to them, "Why are you trying to trip me up? Bring me a coin and let me see it." When they brought one, he said to them, "Whose head is this and whose inscription is it?" "Caesar's," they told him. At that Jesus said to them, "Give to Caesar what is Caesar's, but give to God what is God's." Their amazement at him knew no bounds.
Icon courtesy of Jack Figel, Eastern Christian Publications – ecpubs.com
Sunday, January 22 –