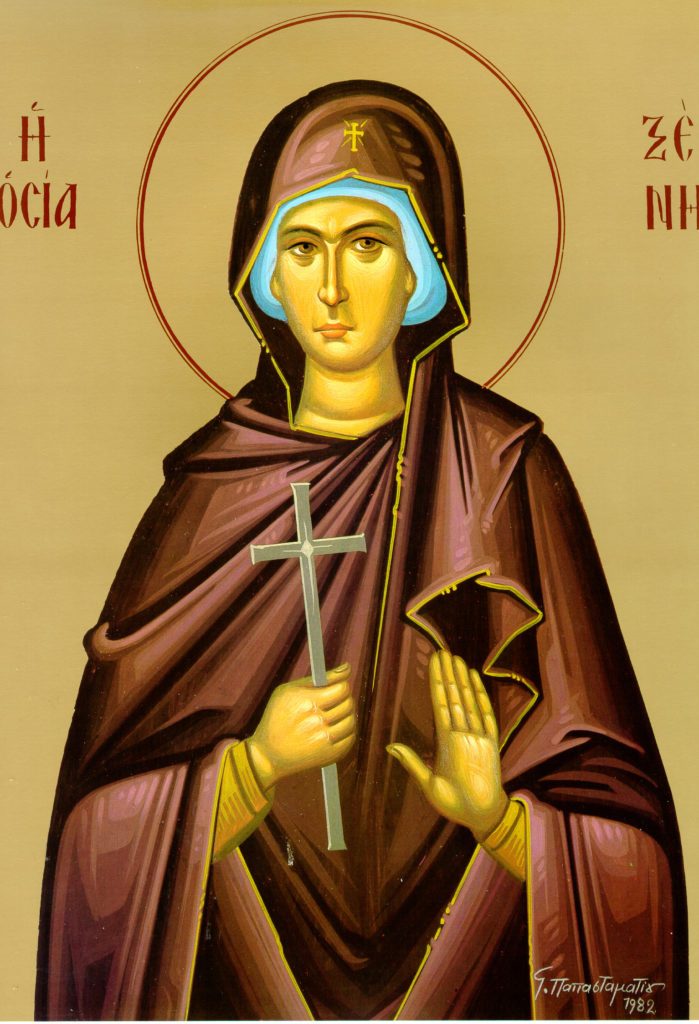 Our venerable mother Xenia was of a noble and famous Roman family. As her parents were planning her marriage, she escaped from her bridegroom and fled with two handmaidens to Alexandria for refuge. There she founded a convent for virgins, where she lived an ascetic life until her death in the year 450. At the time of her death, a sign appeared over the convent: a wreath of stars with a cross in the center, brighter than the sun. Many who were sick received healing from her relics. Her handmaidens, who also became nuns, continued in the example of their abbess. When they died, they were buried at the feet of Blessed Xenia as was their wish.
Troparion
In you, O venerable mother Xenia, the faithful image of God shone forth, for you carried your cross and followed Christ. You taught by your deeds how to spurn the body, for it passes away; and how to value the soul, for it is immortal. Therefore, your soul is forever in happiness with the angels.
Kontakion
Commemorating your marvelous life, O Xenia, we honor you with fervor, singing hymn in praise of Christ who gave you the power of miracles. Intercede with Him constantly for all of us.
Epistle
1 Peter 3: 10-22
Dearly beloved: [Scripture says] "He who cares for life and wants to see prosperous days must keep his tongue from evil and his lips from uttering deceit. He must turn from evil and do good, seek peace and follow after it, because the Lord has eyes for the just and ears for their cry; but against evildoers the Lord sets his face."
Who indeed can harm you if you are committed deeply to doing what is right? Even if you should have to suffer for justice' sake, happy will you be. [Again, Scripture says] "Fear not and do not stand in awe of what this people fears." Venerate the Lord, that is, Christ, in your hearts. Should anyone ask you the reason for this hope of yours, be ever ready to reply, but speak gently and respectfully. Keep your conscience clear so that, whenever you are defamed, those who libel your way of life in Christ may be shamed. If it should be God's will that you suffer, it is better to do so for good deeds than for evil ones.
The reason why Christ died for sins once and for all, the just man for the sake of the unjust, was that he might lead you to God. He was put to death insofar as fleshly existence goes, but was given life in the realm of the spirit. It was in the spirit also that he went to preach to the spirits in prison. They had disobeyed as long ago as Noah's day, while God patiently waited until the ark was built. At that time, a few persons, eight in all, escaped in the ark through the water. You are now saved by a baptism bath which corresponds to this exactly. This baptism is no removal of physical stain, but the pledge to God of an irreproachable conscience through the resurrection of Jesus Christ. He went to heaven and is at God's right hand, with angelic rulers and powers subjected to him.
Gospel
Mark 12: 18-27
At that time some Sadducees who hold there is no resurrection came to Jesus with a question: "Teacher, we were left this in writing by Moses: 'If anyone's brother dies leaving a wife but no child, his brother must take the wife and produce offspring for his brother.' There were seven brothers. The eldest took a wife and died, leaving no children. The second took the woman, and he too died childless. The same happened to the third; in fact none of the seven left any children behind. Last of all the woman died. At the resurrection, when all come back to life, whose wife will she be? All seven married her." Jesus said: "You are badly misled, because you fail to understand the Scriptures or the power of God. When people rise from the dead, they neither marry nor are given in marriage but live like angels in heaven. As to the raising of the dead, have you not read in the book of Moses, in the passage about the burning bush, how God told him, 'I am the God of Abraham, the God of Isaac, the God of Jacob'? He is the God of the living not of the dead. You are very much mistaken."
Icon courtesy of Jack Figel, Eastern Christian Publications – ecpubs.com
Monday, January 23 –