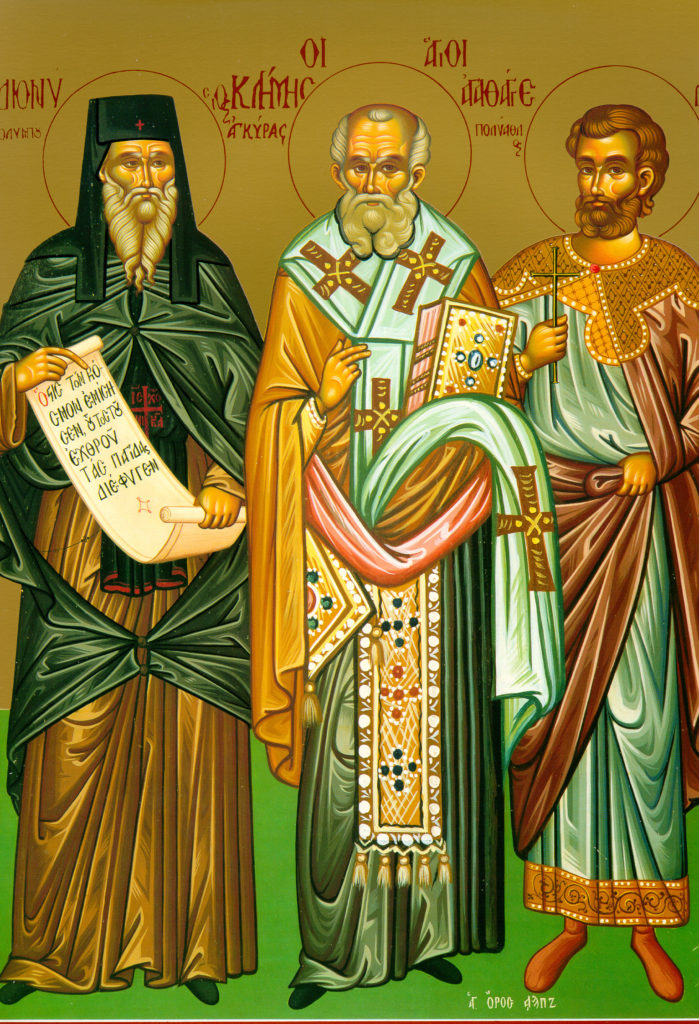 St. Clement, Priest-Martyr, Bishop of Ancrya, lived in exile for 28 years under several persecutors and died by the sword in the year 296.
St. Agthangel, Martyr, suffered death also in the reign of emperors Maximian and Diocletian.
Troparion
O most holy Clement, you are a vineyard of holiness for the faithful, a rod of valiance, a flower of purity, and a fruit of great delight that God has granted. Since you struggled together with the martyrs and to the dignity of a bishop, intercede with Christ our God that He may save our souls.
Kontakion
O Clement worthy of all praise, you became a precious vine and a noble conqueror in Christ's vineyard. At the time of your martyrdom you cried out with your companion: O Christ our God, You are the delight of martyrs.
Readings for Clement
Epistle
Philippians 3:20- 4:3
Brothers and sisters: As you well know, we have our citizenship in heaven; it is from there that we eagerly await the coming of our Saviour, the Lord Jesus Christ. He will give new form to this lowly body of ours and remake it according to the pattern of his glorified body, by his power to subject everything to himself.
For this reason, my brothers and sisters, you whom I so love and long for, you who are my joy and my crown, my dear ones, to stand firm in the Lord. I plead with Evodia just as I do with Syntyche: come to some mutual understanding in the Lord. Yes, and I ask you, too, my dependable fellow worker, to go to their aid; they have struggled at my side in promoting the gospel, along with Clement and the others who have labored with me, whose names are in the book of life.
Gospel
Luke 12: 32-40
The Lord said, "Do not live in fear, little flock. It has pleased your Father to give you the kingdom. Sell what you have and give alms. Get purses for yourselves that do not wear out, a never-failing treasure with the Lord which no thief comes near nor any moth destroys. Wherever your treasure lies, there your heart will be.
"Let your belts be fastened around your waists and your lamps be burning ready. Be like men awaiting their master's return from a wedding, so that when he arrives and knocks, you will open for him without delay. It will go well with those servants whom the master finds wide-awake on his return. I tell you, he will put on an apron, seat them at table, and proceed to wait on them. Should he happen to come at midnight or before sunrise and find them prepared, it will go well with them. You know as well as I that if the head of the house knew when the thief was coming he would not let him break into his house. Be on guard, therefore, The Son of Man will come when you least expect him."
Readings for the day

Epistle
2nd Corinthians 6:16- 7:1
Brothers and sisters: You are the temple of the living God, just as God has said: "I will dwell with them and walk among them. I will be their God and they shall be my people. Therefore, 'Come out from among them and separate yourselves from them.' says the Lord; 'and touch nothing unclean. I will welcome you and be a father to you and you will be my sons and daughters,' says the Lord Almighty."
Since we have these promises, beloved, let up purify ourselves from every defilement of flesh and spirit, and in the fear of God strive to fulfill consecration perfectly.
Gospel
Matthew 15:21-28
At that time Jesus left that place and withdrew to the district of Tyre and Sidon. It happened that a Canaanite woman living in that locality presented herself, crying out to him, "Lord, Son of David, have pity on me! My daughter is terribly troubled by a demon." He gave her no word of response. His disciples came up and began to entreat him, "Get rid of her. She keeps shouting after us." Jesus replied, "My mission is only to the lost sheep of the house of Israel." She came forward then and did him homage with the plea, "Help me Lord!" But he answered, "It is not right to take the food of sons and daughters and throw it to the dogs." "Please, Lord," she insisted, "even the dogs eat the leavings that fall from their masters' tables." Jesus then said in reply, "Woman, you have great faith! Your wish will come to pass." That very moment her daughter got better.
Icon courtesy of Jack Figel, Eastern Christian Publications – ecpubs.com
Saturday, January 22 –