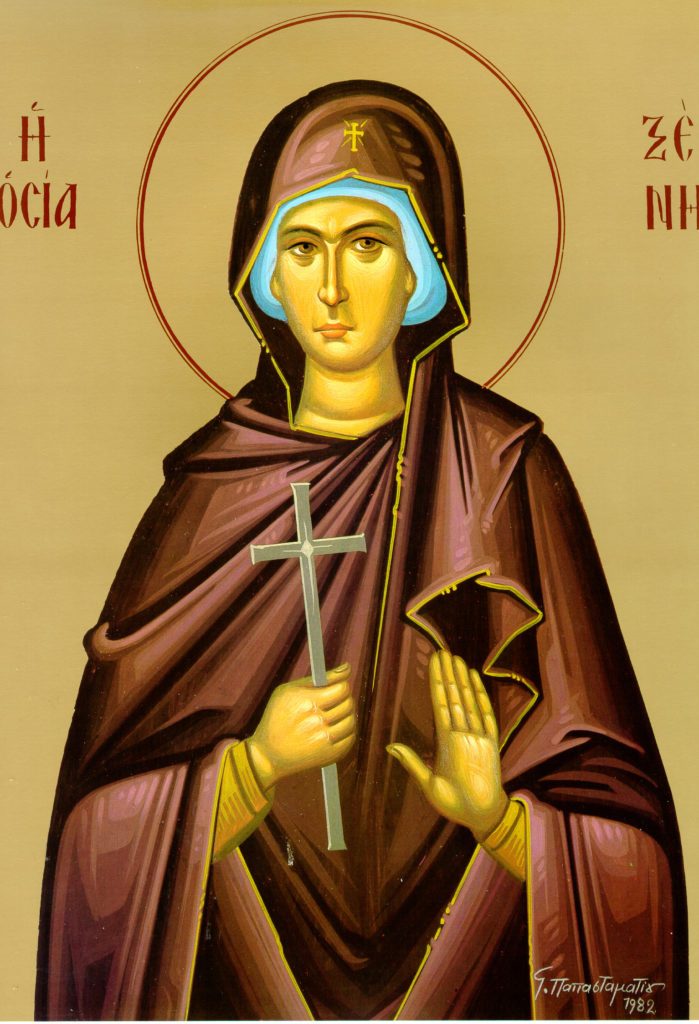 Our venerable mother Xenia was of a noble and famous Roman family. As her parents were planning her marriage, she escaped from her bridegroom and fled with two handmaidens to Alexandria for refuge. There she founded a convent for virgins, where she lived an ascetic life until her death. At the time of her death in 450, a sign appeared over the convent: a wreath of stars with a cross in the center, brighter than the sun. Many who were sick received healing from her relics. Her handmaidens, who also became nuns, continued in the example of their abbess. When they died, they were buried at the feet of Blessed Xenia as was their wish.
Troparion
In you, O venerable mother Xenia, the faithful image of God shone forth, for you carried your cross and followed Christ. You taught by your deeds how to spurn the body, for it passes away; and how to value the soul, for it is immortal. Therefore, your soul is forever in happiness with the angels.
Kontakion
Commemorating your marvelous life, O Xenia, we honor you with fervor, singing hymn in praise of Christ who gave you the power of miracles. Intercede with Him constantly for all of us.
Epistle
James 2: 14-26
Brothers and sisters, what good is it to profess faith without practicing it? Such faith has no power to save one, has it? If a brother or sister has nothing to wear and no food for the day, and you say to them, "Goodbye and good luck! Keep warm and well fed," but do not meet their bodily needs, what good is that? So it is with the faith that does nothing in practice. It is thoroughly lifeless.
To such a person one might say, "You have faith and I have work– is that it?" Show me your faith without works, and I will show you the faith that underlies my works! Do you believe that God is one? You are quite right. The demons believe that, and shudder. Do you want proof, you ignoramus, that without works faith is idle? Was not out father Abraham justified by his works when he offered his son Isaac on the altar? There you see proof that faith was both assisting his works and implemented by his works. You also see how the Scripture was fulfilled which says, "Abraham believed God, and it was credited to him as justice": for this he received the title "God's friend."
You must perceive that a person is justified by his works and not by faith alone. Rahab the harlot will illustrate the point. Was she not justified by her works when she harbored the messengers and sent them out by a different route? Be assured, then, that faith without works is as dead as a body without breath.
Gospel
Mark 10: 46-52
At that time as Jesus was leaving Jericho with his disciples and a large crowd, there was a blind beggar Bartimaeus sitting by the roadside. On hearing that it was Jesus of Nazareth, he began to call out, "Jesus, Son of David, have pity on me!" Many people were scolding him to make him keep quiet, but he shouted all the louder, "Son of David, have pity on me!" Then Jesus stopped and said, "Call him over." So they called the blind man over, telling him as they did so, "You have nothing to fear from him! Get up! He is calling you!" He threw aside his cloak, jumped up and came to Jesus. Jesus asked him, "What do you want me to do for you?" "Rabboni," the blind man said, "I want to see." Jesus said in reply, "Be on your way! Your faith has healed you." Immediately he received his sight and started to follow Jesus on the road.
Icon courtesy of Jack Figel, Eastern Christian Publications – ecpubs.com
Sunday, January 23 –