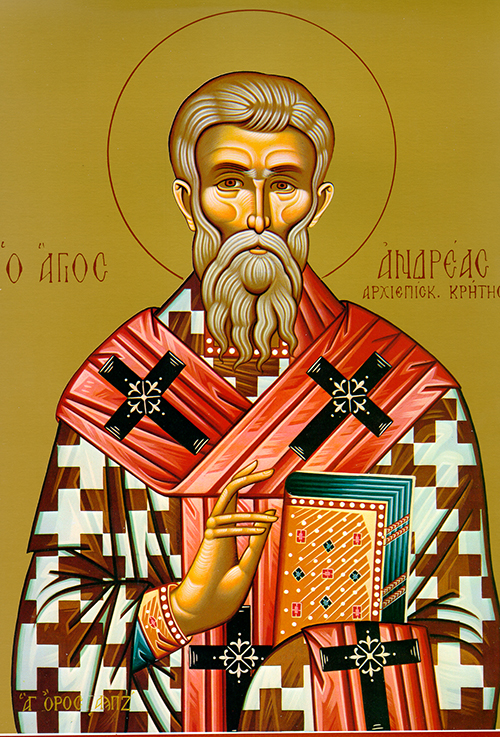 Our holy father Andrew of Jerusalem, archbishop of Crete, whose passing over is remembered this day at Erissus on the island of Lesbos. He was bishop of Gortyna, and sang –a singular art– praises to God by his prayers, hymns, and songs. He exalted the Virgin Mother of God, immaculate, and assumed into heaven.
Our venerable mother Martha, mother of St. Simeon the Venerable, on the Admirable Mountain in Syria. She was notable for following the ancient practice of rising at midnight for prayer, and gave help to the needy with great compassion by visiting the sick and the poor.
Troparion – Andrew
You elated Christ's Church with your beautiful hymns showing in theology the glory of the Holy Trinity. Therefore, O Andrew, we sing of you as a man of insight. And glorify your memory, O shepherd of Crete. We praise you as Christ's friend among the saints.
Troparion – Martha
By your love for the Theotokos and a holy life you were graced to give birth to a child of light for the world. This child was radiant with the light of the Trinity. Therefore, we ask you to pray unceasingly for all of us.
Kontakion – Andrew
Having sounded sublime praise with the trumpet of your spirit, you were shown to the world as a beacon of the Trinity. We call to you, O Andrew: Pray without ceasing for all of us.
Kontakion – Martha
You gave birth to a holy child, O Martha, after you offered fervent prayers to the Lord and after you had interceded with the virgin Theotokos. This child was Simeon who became a light for the world. Pray with him for the salvation of our souls.
Epistle
Romans 12: 4-5, 15-21
Brothers and sisters: Just as each of us has one body with many members, and not all the members have the same function, so too we, though many, are one body in Christ and individually one of another.
Rejoice with those who rejoice, weep with those who weep. Have the same attitude toward all. Put away ambitious thoughts and associate with those who are lowly. Do not be wise in your own estimation. Never repay injury with injury. See that your conduct is honorable in the eyes of all. If possible, live peacefully with everyone. Beloved, do not avenge yourselves; leave that to God's wrath, for it is written: "'Vengeance is mine; I will repay,' says the Lord." But "if your enemy is hungry, feed him; if he is thirsty, give him something to drink; by doing this you will heap burning coals upon his head." Do not be conquered by evil but conquer evil with good.
Gospel
Matthew 12: 9-13
At that time Jesus went into their synagogue. A man with a shriveled hand happened to be there, and they put this request to Jesus, hoping to bring an accusation against him: "Is it lawful to work a cure on the sabbath?" Jesus said in response: "Suppose one you has a sheep and it falls into a pit on the sabbath. Will he not take hold of it and pull it out? Well, think how much more precious a human being is than a sheep. Clearly, good deeds may be performed on the sabbath." To the man he said: "Stretch out your hand." The man did so, and the hand was perfectly restored; it became as sound as the other.
Icon courtesy of Jack Figel, Eastern Christian Publications – ecpubs.com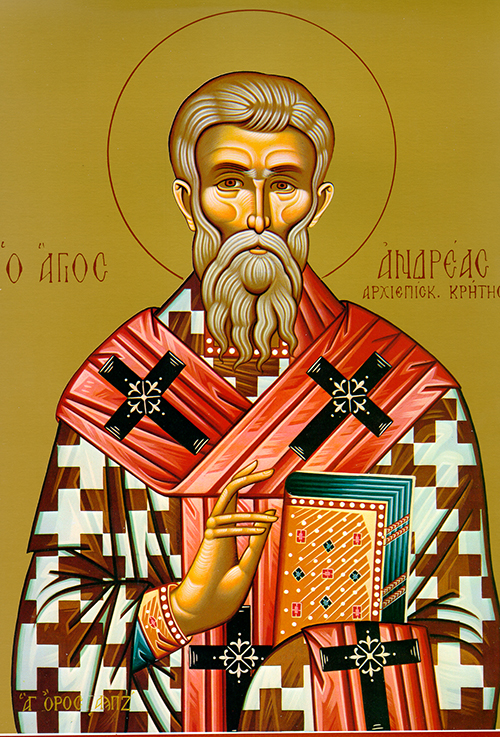 Sunday, July 3 –