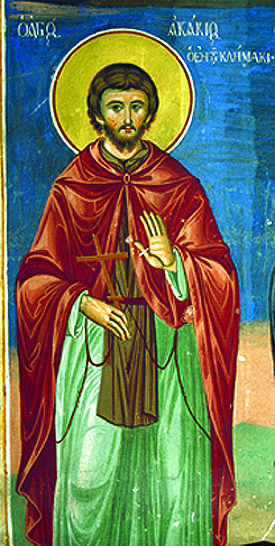 St. Thomas was a 10th century general famed for courage and wealth. He was a huge man, a source of fear for his enemies. He came to know Christ, and left his worldly life behind to go into the desert. When people heard of this, they came to him, and St. Thomas cured their diseases.
St. Acacius of Sinai lived during the 6th century and was a novice at a monastery in Sinai. The humble monk distinguished himself by his patient and unquestioning obedience to his Elder, a harsh and dissolute man. He forced his disciple to toil excessively, starved him with hunger, and beat him without mercy. Despite such treatment, Acacius meekly endured the affliction. He died after suffering these torments for nine years.
Troparion
Thomas is radiant in his miracles, and Acacius has become famous for his obedience. They shine as lights for the world and guiding stars for monks. We have recourse to you as favorites of God to defend us in battle by your prayers so that we might ask Christ to forgive our sins since we honor your memory.
Kontakion – Thomas
With courage you pushed on to victory, having been inflamed with divine love. You offended the mortal king and spurned the beauties of this earth. Ending your days on the mountain of Maleum, you stepped up from it into heaven itself. O Thomas, pray unceasingly for all of us.
Kontakion – Acacius
From childhood, most wide and venerable Acacius, you followed after Christ, forsaking the world. Imitating his willing meekness, you overcame the proud torturer. Now pray unceasingly for all of us.
Epistle
Romans 15: 17-29
Brothers and sisters: This means I can take glory in Christ Jesus for the work I have done for God. I will not dare to speak of anything except what Christ has done through me to win the Gentiles to obedience by word and deed, with mighty signs and marvels, by the power of God's Spirit. As a result, I have completed preaching the gospel of Christ from Jerusalem all the way around to Illyria. It has been a point of honor with me never to preach in places where Christ's name was already known, for I did not want to build on a foundation laid by another but rather to fulfill the words of Scripture, "They who received no word of him will see him, and they who have never heard will understand."
That is why I have so often been hindered from visiting you. Now I have no more work to do in these regions, and I continue to cherish the desire to visit you which I have had for many years. As soon as I can set out for Spain, I hope to see you in passing; I trust that you will send me on my journey only after I have had the joy of being with you for a little while. Just now I am leaving for Jerusalem to bring assistance to the saints. Macedonia and Achaia have kindly decided to make a contribution for those in need among the saints in Jerusalem. They did so of their own accord, yet they are also under obligation. For if the Gentiles have shared in the spiritual blessings of the Jews, they ought to contribute to their temporal needs in return. When I have finished my task and have safely handed over this contribution to them, I shall set out for Spain, passing through your midst on the way. I am certain that when I do visit you, I shall come with Christ's full blessing.
Gospel
Matthew 12:46 – 13:3
At that time while Jesus was still addressing the crowds his mother and his brothers appeared outside to speak with him. Someone said to him, "Your mother and your brothers are standing out there and they wish to speak to you." Jesus said to the one who had told him, "Who is my mother? Who are my brothers?" Then, extending his hand toward his disciples, he said, "There are my mother and my brothers. Whoever does the will of my heavenly Father is brother and sister and mother to me."'
That same day, on leaving the house, Jesus sat down by the lakeshore. Such great crowds gathered around him that he went and took his seat in a boat while the crowd stood along the shore. He addressed them at length in parables.
Icon courtesy of Jack Figel, Eastern Christian Publications – ecpubs.com
Wednesday, July 6 –