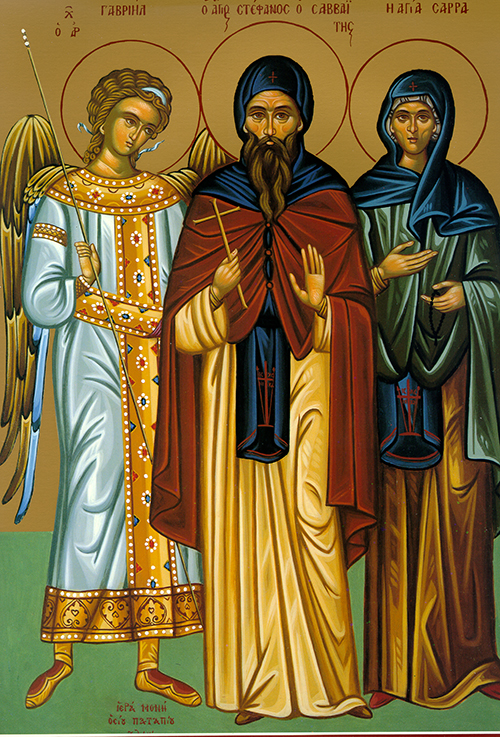 The synaxis of the Archangel Gabriel: the primary feast of the Archangel is March 26. On this day is commemorated all his appearances and marvels throughout the history of salvation. This feast was instituted on Mt. Athos in 982.
Our venerable father Stephen of the Monastery of St. Sabbas, who suffered death in 784 during the reign of the emperor Severus. He was the nephew of St. John Damascene, and lived the monastic life in the Sabbaite monastery near Jerusalem.
Our holy father Julian, Bishop of Kenoman at Le Mans, Cenomanus in Latin, in Galia Lugdunesis, a Roman province that is now France. He is considered the first bishop of that city.
Troparion – Archangel
O people, with a candlelight assembly let us sing the praises of the leader of heaven's hosts. He is the servant of light sent from the Light divine to enlighten all who sing with love: O Gabriel, leader of the angels, rejoice with all the power of heaven.
Troparion – Venerable Father
O guide of the true faith, mirror of piety and commendable behavior, bright star of the universe, and adornment of pontiffs, you enlightened us all by your teachings. O wise Stephen, inspired by God and lyre of the Holy Spirit, intercede with Christ our God that He may save our souls.
Kontakion – Archangel
Having beheld the glory of God in heaven and having brought grace to earth from on high, save and protect those who sing to you: O prince of angels and wise Gabriel, minister of God's glory and heavenly defender of the world, always protect us and never abandon us.
Kontakion – Venerable Father
You sought the very depth of wisdom, O Stephen, and great was your joy when you found that precious pearl. You found understanding in your infirmities, most blessed Stephen.
Readings for the Archangel
Epistle
Hebrews 2: 2-10
Brothers and sisters: If the word spoken through angels stood unchanged, and all transgressions and disobedience received its due punishment, how shall we escape if we ignore a salvation as great as ours? Announced first by the Lord, it was confirmed to us by those who had heard him. God then gave witness to it by signs, miracles, varied acts of power, and distribution of the gifts of the Holy Spirit as he willed.
For he did not make the world to come–that world of which we speak– subject to angels. Somewhere this is testified to, in the passage that says: "What is man that you should be mindful of him, or the son of man that you should care for him? You made him for a little while a little lower than the angels: you crowned him with glory and honor, and put all things under his feet." In subjecting all things to him, God left nothing unsubjected. At present we do not see all things thus subject, but we do see Jesus crowned with glory and honor because he suffered death: Jesus, who was made for a little while lower than the angels, that through God's gracious will he might taste death for the sake of all men. Indeed, it was fitting that when bringing many sons to glory God, for whom and through whom all things exist, should make their leader in the work of salvation perfect through suffering.
Gospel
Luke 10: 16-22
The Lord said to his disciples: "He who hears you, hears me, He who rejects you, rejects me. And he who rejects me, rejects him who sent me."
The seventy-two disciples returned jubilation saying, "Master, even the demons are subject to us in your name." Jesus said in reply: "I watched Satan fall from the sky like lightning. See what I have done; I have given you power to tread on snakes and scorpions and all the forces of the enemy, and nothing shall ever injure you. Nevertheless, do not rejoice so much in the fact that the devils are subject to you as that your names are inscribed in heaven."
At that moment Jesus rejoiced in the Holy Spirit and said: "I offer you praise, O Father, Lord of heaven and earth, because what you have hidden from the learned and the clever you have revealed to your merest children. Yes, Father, you have graciously willed it so."
Readings for the day
Epistle
1 Corinthians 2:9- 3:2
Brothers and sisters: Of wisdom it is written: "Eye has not seen, ear has not heard, nor has it so much as dawned on man what God has prepared for those who love him." Yet God has revealed this wisdom to us through the Spirit. The Spirit scrutinizes all matters, even the deep things of God. Who, for example, knows a man's innermost self but the man's own spirit within him? Similarly, no one knows what lies at the depths of God but God's Spirit, helping us to recognize the gifts he has given us. We speak of these, not in words of human wisdom but in words taught by the Spirit, thus interpreting spiritual things in spiritual terms. The natural man does not accept what is taught by the Spirit of God. For him, that is absurdity. He cannot come to know such teaching because it must be appraised in a spiritual way. The spiritual man, on the other hand, can appraise everything, though he himself can be appraised by no one. For, (Scripture says,), "Who has known the mind of the Lord so as to instruct him?" But we have the mind of Christ.
Brethren, the trouble was that I could not talk to you as spiritual men but only as men of flesh, as infants in Christ. I fed you with milk, and did not give you solid food because you were not ready for it. You are not ready for it even now, being still very much in a natural condition. For as long as there are jealousy and quarrels among you, are you not of the flesh? And is not your behavior that of ordinary men? When someone says, "I belong to Paul," and someone else, "I belong to Apollos," is it not clear that you are still at the human level?
After all, who is Apollos? And who is Paul? Simply ministers through whom you became believers, each of them doing only what the Lord assigned him. I planted the seed and Apollos watered it, but God made it grow. This means that neither he who plants nor he who waters is of any special account, only God, who gives the growth. He who plants and he who waters work to the same end. Each will receive his wages in proportion to his toil.
Gospel
Matthew 13: 31-36
The Lord told this parable: "The reign of God is like a mustard seed which someone took and sowed in his field. It is the smallest seed of all, yet when full-grown it is the largest of plants. It becomes so big a shrub that the birds of the sky come and build their nest in its branches."
Jesus offered them still another image: "The reign of God is like yeast which a woman took and kneaded into three measures of flour. Eventually the whole mass of dough began to rise." All these lessons Jesus taught the crowds in the form of parables. He spoke to them in parables only, to fulfill what had been said through the prophet: "I will open my mouth in parables, I will announce what has lain hidden since the creation of the world." Then, dismissing the crowds, Jesus went home.
Icon courtesy of Jack Figel, Eastern Christian Publications – ecpubs.com
Tuesday, July 12 –