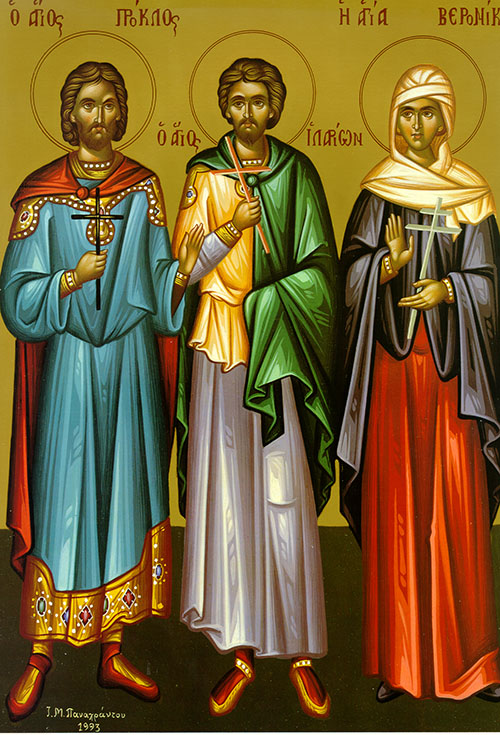 The holy martyrs Proclus and Hilary (Hilarion) were arrested for being Christians during the reign of the emperor Trajan (98-117). Proclus was the uncle of Hilary. Proclus said to the tortures, "When you are afraid to transgress the Emperor's commands and risk falling into temporal punishment, how much more do we Christians fear to transgress against God's commands and fall into eternal torment!"
Our venerable father Michael of Malein was a wealthy man of noble birth who gave away all his goods and became a hermit on Mt. Kyminas in Bithynia. He had many disciples, of whom the best-known is St. Athanasius the Athonite. He lived during the 3rd century.
Troparion – Martyrs
The angels looked down and were amazed by your sufferings. By your flesh you vanquished the spirit foes, O holy ones, and spread him by the power of the cross. Pray for us in our need, O Proclus and Hilarion, that we too may conquer the enemy and save our souls.
Troparion – Venerable Father
Having soared on mental wings to a vision of God, you left behind all the noises of the world, O blessed saint. You despised all the explanations according to the flesh, but sought the wisdom from on high. You present yourself as a model for all of us, saying; It is a good thing to live with God.
Kontakion – Martyrs
The sufferings of these martyrs shine with the brilliance of miracles like morning stars. Therefore, we celebrate their memory and beg Christ to save our souls.
Kontakion – Venerable Father
O Michael, you purified your flesh with good works, and you plumbed the spirit of mediation. You are clearly revealed to us as a home of the Trinity. O Michael, pray unceasingly for all of us.
Epistle
1 Corinthians 1: 1-9
Paul, called by God's will to be an apostle of Christ Jesus, and Sosthenes our brother, send greetings to the church of God which is in Corinth; to you who have been consecrated in Christ Jesus and called to be a holy people, as to all those who, wherever they may be, call on the name of our Lord Jesus Christ, their Lord and ours. Grace and peace from God our Father and the Lord Jesus Christ.
I continually thank my God for you because of the favor he has bestowed on you in Christ Jesus, in whom you have been richly endowed with every gift of speech and knowledge. Likewise, the witness I bore to Christ has been so confirmed among you that you lack no spiritual gift as you wait for the revelation of our Lord Jesus Christ. He will strengthen you to the end, so that you will be blameless on the day of our Lord Jesus Christ. God is faithful, and it was he who called you to fellowship with his Son, Jesus Christ our Lord.
Gospel
Matthew 13: 24-30
The Lord told this parable: "The reign of God may be likened to a man who sowed good seed in his field. While everyone was asleep, his enemy came and sowed weeds through his wheat, and then made off. When the crop began to mature and yield grain, the weeds made their appearance as well. The owner's slaves came to him and said, 'Sir, did you not sow good seed in your field? Where are the weeds coming from?' He answered, 'I see an enemy's hand in this.' His slaves said to him, 'Do you want us to go out and pull the weeds up?' 'No,' he replied, 'pull up the weeds and you might take the wheat along with them. Let them grow together until the harvest; then at the harvest time I will order the harvesters, 'First collect the weeds and bundle them up to burn, then gather the wheat into my barn.'"
Icon courtesy of Jack Figel, Eastern Christian Publications – ecpubs.com
Monday, July 11 –