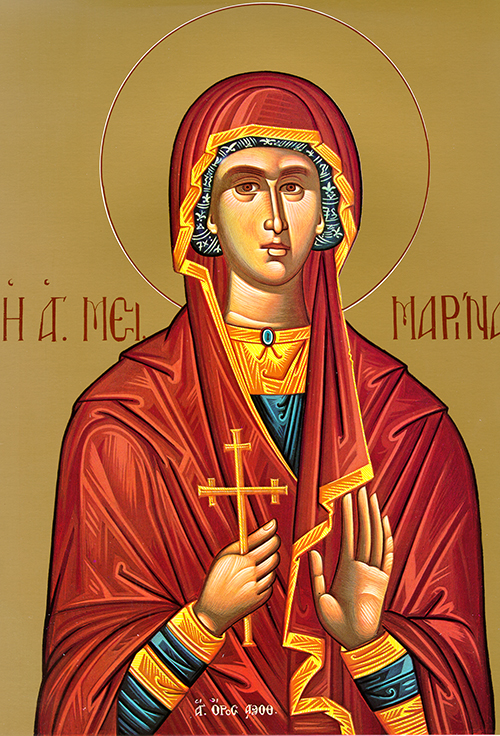 The holy great martyr Marina was born in Antioch of Pisidia in southern Asia Minor into the family of a pagan priest. In her infancy, St. Marina lost her mother, and her father gave her into the care of a nursemaid. The nursemaid raised Marina in the Orthodox Faith. Upon learning that his daughter had become Christian, the father angrily disowned her. During the time of the persecutions against Christians under the emperor Diocletian (284-305), when she was fifteen years old, St. Marina was arrested and locked in prison. With firm trust in the will of God and His help, the young prisoner prepared for her impending fate. She was not swayed by the governor who tried to convince her to renounce Christ and marry him, nor was she swayed by the various tortures she suffered. After a Holy Light healed all her injuries, St. Marina was finally executed by beheading along with 15,000 other Confessors for Christ.
Troparion
Your lamb Marina, O Jesus, cries out in a loud voice: I love You, my Bridegroom; I seek You with longing; I am crucified with You; in Your baptism, I am buried with You; I suffer for You that I may reign with You; I die for You that I may live with You. Receive me as a spotless sacrifice immolated with love for You. By her prayers, O merciful one, save our souls.
Kontakion
Anointed with the balm of virginity, O virgin Marina, you were crowned with unwilting laurels. You were stained scarlet with a martyr's blood, and now you are brilliant with miracles of healing. You have received the honors of a martyr's triumph.
Epistle
Romans 12: 6-14
Brothers and sisters: We have gifts that differ according to the favor bestowed on each of us. One's gift may be prophecy; its use should be in proportion to his faith. It may be the gift of ministry; it should be used for service. One who is a teacher should use his gift for teaching; one with the power of exhortation should exhort. He who gives alms should do so generously; he who rules should exercise his authority with care; he who performs works of mercy should do so cheerfully.
Your love must be sincere. Detest what is evil, cling to what is good. Love one another with the affection of brothers. Anticipate each other on showing respect. Do not grow slack but be fervent in spirit; he whom you serve is the Lord. Rejoice in hope, be patient under trial, persevere in prayer. Look on the needs of the saints as your own; be generous in offering hospitality. Bless your persecutors; bless and do not curse them.
Hebrews 13: 7-16
Brothers and sisters: Remember your leaders who spoke the word of God to you; consider how their lives ended, and imitate their faith. Jesus Christ is the same yesterday, today, and forever.
Do not be carried away by all kinds of strange teaching. It is good to have our hearts strengthened by the grace of God and not by foods which are useless to those who take them as a standard for living. We have an altar from which those who serve the tabernacle have no right to eat. The bodies of the animals whose blood is brought into the sanctuary by the high priest as a sin offering are burned outside the camp. Therefore Jesus died outside the gate, to sanctify the people by his own blood. Let us go to him outside the camp, bearing the insult which he bore. For here we have no lasting city; we are seeking one which is to come. Through him let us continually offer God a sacrifice of praise, that is, the fruit of lips which acknowledge his name. Do not neglect good deeds and generosity; God is pleased by sacrifices of that kind.
Gospel
Matthew 9: 1-8
At that time Jesus reentered the boat, made the crossing, and came back to his own town. There the people at once brought to him a paralyzed man lying on a mat. When Jesus saw their faith he said to the paralytic, "Have courage, son, your sins are forgiven." At that some of the scribes said to themselves, "The man blasphemes." Jesus was aware of what they were thinking and said: "Why do you harbor evil thoughts? Which is less trouble to say, 'Your sins are forgiven' or 'Stand up and walk'? To help you realize the Son of Man has authority on earth to forgive sins" – he then said to the paralyzed man – "Stand up! Roll up your mat, and go home." The man stood up and went toward his home. At the sight, a feeling of awe came over the crowd, and they praised God for giving such authority to men.
Matthew 5: 14-19
The Lord said to his disciples: "You are the light of the world. A city set on a hill cannot be hidden. Men do not light a lamp and then put it under a bushel basket. They set it on a stand where it gives light to all in the house. In the same way, your light must shine before men so that they may see goodness in your acts and give praise to your heavenly Father.
"Do not think that I have come to abolish the law and the prophets. O have come, not to abolish them, but to fulfill them. Of this much I assure you: until heaven and earth pass away, not the smallest letter of the law, not the smallest part of a letter, shall be done away with until it all comes true. That is why whoever breaks the least significant of these commands and teaches others to do so shall be called least in the kingdom of God. Whoever fulfills and teaches these commands shall be great in the kingdom of God."
Icon courtesy of Jack Figel, Eastern Christian Publications – ecpubs.com
Saturday, July 16 –