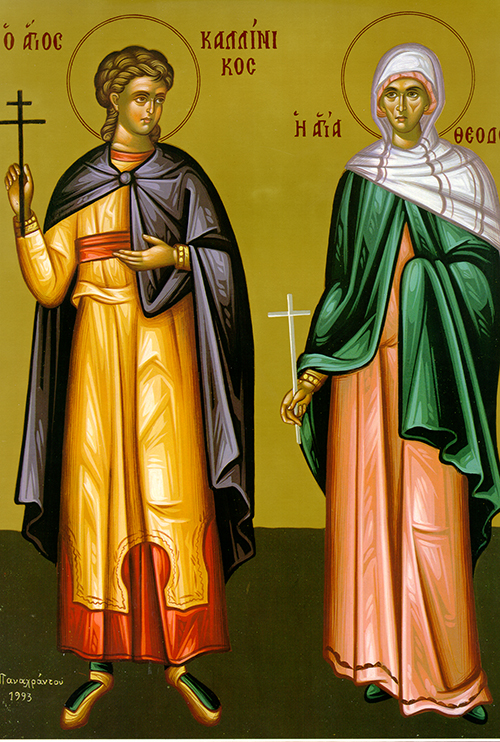 The holy martyr Callinicus, a native of Cilicia, was raised from childhood in the Christian Faith. Grieving that many misguided people would perish for eternity because they worshiped idols, he went through the cities and villages to proclaim Jesus Christ and His teachings to the pagans, and with the Word of God he converted many to Christianity. In the Galatian city of Ancyra the holy confessor was arrested and brought to trial before the governor, Sacerdonus, a fierce persecutor of Christians. The governor, threatening tortures and death, ordered the saint to offer sacrifice to the idols. The saint fearlessly declared that he was not afraid of martyrdom, since every believer in Christ receives from Him strength in ordeals, and through death inherits an eternal blessing.
Troparion
Your martyr Callinicus, O Lord our God, in his struggle received an incorruptible crown from You. With Your strength, he brought down the tyrants and broke the cowardly valor of demons. Through his prayers, O Christ our God, save our souls.
Kontakion
You were burnt to ashes because you loved Christ. In heaven you have inherited eternal goods. How courageously you endured your pains, O Callinicus. Now that you are in heaven, do not forget us who are still on earth.
Epistle
1 Corinthians 11: 8-22
Brothers and sisters: Man was not made from woman but woman from man. Neither was man created for woman but woman for man. For this reason a woman ought to have a sign of submission on her head, because of the angels. Yet, in the Lord, woman is not independent of man nor man independent of woman. In the same way that woman was made from man, so man is born of a woman; and all is from God. I will let you judge for yourselves. Is it proper for a woman to pray to God unveiled? Does not nature itself teach you that it is dishonorable for a man to wear his hair long, while the long hair of a woman is her glory? Her hair has been given her for a covering. If anyone wants to argue about this, remember that neither we nor the churches of God recognize any other usage.
What I now have to say is not said in praise, because your meetings are not profitable but harmful. First of all, I hear that when you gather for a meeting there are divisions among you, and I am inclined to believe it. There may even have to be factions among you for the tried and true to stand out clearly. When you assemble it is not to eat the Lord's Supper, for everyone is in haste to eat his own supper. One person goes hungry while another gets drunk. Do you not have homes where you can eat and drink? Would you show contempt for the church of God, and embarrass those who have nothing? What can I say to you? Shall I praise you? Certainly not in this manner!
Gospel
Matthew 17: 10-18
At that time the disciples put this question to Jesus: "Why do the scribes claim that Elijah must come first?" In reply he said: "Elijah is indeed coming, and he will restore everything. I assure you, though, that Elijah has already come, but they do not recognize him and they did as they pleased with him. The Son of Man will suffer at their hands in the same way." The disciples then realized that he had been speaking to them about John the Baptizer.
As they approached the crowd, a man came up to Jesus and knelt before him. "Lord," he said, "take pity on my son who is demented and in a serious condition. For example, he often falls into the fire and frequently into the water. I have brought him to your disciples but they could not cure him." In reply Jesus said: "What an unbelieving and perverse lot you are! How long must I remain with you? How long can I endure you? Bring him here to me!" Then Jesus reprimanded the demon and it came out of the boy. That very moment the boy was cured.
Icon courtesy of Jack Figel, Eastern Christian Publications – ecpubs.com
Thursday, July 28 –