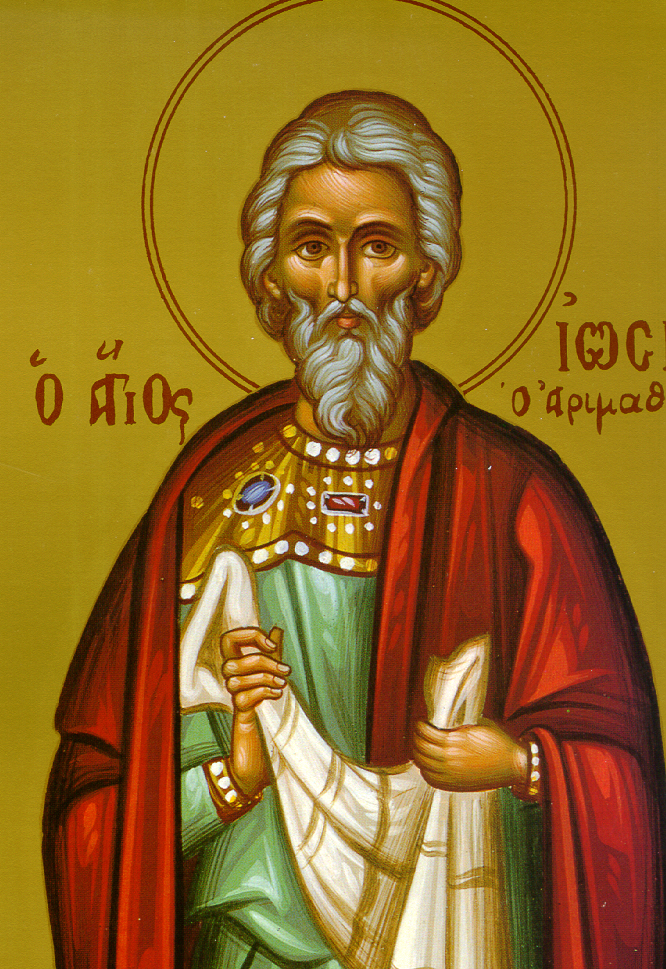 The holy and righteous Eudocimus lived in the time of the emperor Theophilus, the iconoclast. He was a military governor of Cappadocia, and lived a virtuous life before God and man. He died at the age of thirty-three during the 9th century.
The holy Joseph of Arimathea was a secret disciple of our Lord Jesus Christ. As a member of the Sanhedrin he did not participate in the "counsel and deed" of the Jews in passing a death sentence for Jesus Christ. After the Crucifixion and Death of the Savior he made bold to go to Pilate and ask him for the Body of the Lord, to Which he gave burial with the help of Righteous Nicodemus, who was also a secret disciple of the Lord. They took down the Body of the Savior from the Cross, wrapped it in a winding-cloth, and placed it in a new tomb, in which no one had ever been buried, in the Garden of Gethsemane, in the presence of the Mother of God and the holy Myrrh-Bearing Women (St Joseph had prepared this tomb for himself). Having rolled a heavy stone before the entrance of the tomb, they departed (John. 19: 37-42; Mt. 27: 57-61; Mark 15: 43-47; Luke. 24: 50-56). St. Joseph traveled around the world, proclaiming the Gospel of Christ. He died peacefully in England.
Troparion
Holy Eudocimus, God called you out of this world and led you to the eternal mansions. He will keep your body incorrupt. You lived a life of wisdom and honor, keeping your body pure. Intercede trustingly with Christ that He may save all of us.
Kontakion
You yearned for the things of heaven, and you achieved union with them. You perfected your soul like a fiery chariot by the means of the ladder of good works. O most blessed Eudocimus, since you lived your life on earth like an angel, now you have received the Creator's seal.
Epistle
1 Corinthians 1: 10-17
Brothers and sisters, I beg you, in the name of our Lord Jesus Christ, to agree in what you say. Let there be no factions; rather, be united in mind and judgment. I have been informed, my brothers and sisters, by certain members of Chloe's household that you are quarreling among yourselves. This is what I mean: One of you will say, "I belong to Paul," another, "I belong to Apollos," still another, "Cephas has my allegiance," and the fourth, "I belong to Christ." Has Christ, then, been divided into parts? Was it Paul who was crucified for you? Was it in Paul's name that you were baptized? Thank God, I baptized none of you except Crispus and Gaius, so there are none who can say that you were baptized in my name. Oh, and I baptized the household of Stephanas. Beyond that, I am not aware of having baptized anyone else. For Christ did not send me to baptize, but to preach the gospel – not with wordy "wisdom," however, lest the cross of Christ be rendered void of its meaning!
Gospel
Matthew 14: 14-22
At that time when Jesus saw the vast throng, his heart was moved with pity, and he cured their sick. As evening drew on, his disciples came to him with a suggestion: "This is a deserted place and it is already late. Dismiss the crowds so that they may go to the villages and buy some food for themselves." Jesus said to them: "There is no need for them to disperse. Give them something to eat yourselves." They replied, "We have nothing here but five loaves and a couple of fish." "Bring them here," Jesus said. Then he ordered the crowds to sit down on the grass. He took the five loaves and two fish, looked up to heaven, blessed and broke them and gave the loaves to the disciples, who in turn gave them to the people. All those present ate their fill. The fragments remaining, when gathered up, filled twelve baskets. Those who ate were about five thousand, not counting women and children.
Immediately afterward, while dismissing the crowds, Jesus insisted that his disciples get into the boat and precede him to the other side of the lake.
Icon courtesy of Jack Figel, Eastern Christian Publications – ecpubs.com
Saturday, July 30 –