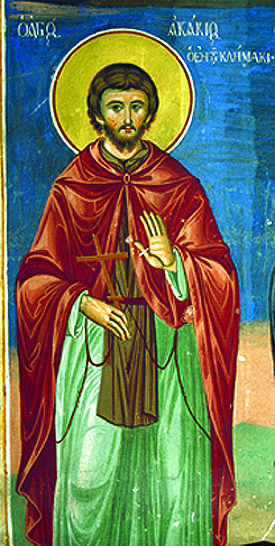 Our venerable father Thomas of Maleum was a 10th century general famed for courage and wealth. He was a huge man, a source of fear for his enemies. He came to know Christ, and left his worldly life behind to go into the desert. When people heard of this, they came to him, and St. Thomas cured their diseases.
Our venerable father Acacius of Sinai lived during the 6th century and was a novice at a monastery in Sinai. The humble monk distinguished himself by his patient and unquestioning obedience to his Elder, a harsh and dissolute man. He forced his disciple to toil excessively, starved him with hunger, and beat him without mercy. Despite such treatment, Acacius meekly endured the affliction. He died after suffering these torments for nine years.
Troparion
Thomas is radiant in his miracles, and Acacius has become famous for his obedience. They shine as lights for the world and guiding stars for monks. We have recourse to you as favorites of God to defend us in battle by your prayers so that we might ask Christ to forgive our sins since we honor your memory.
Kontakion – Thomas
With courage you pushed on to victory, having been inflamed with divine love. You offended the mortal king and spurned the beauties of this earth. Ending your days on the mountain of Maleum, you stepped up from it into heaven itself. O Thomas, pray unceasingly for all of us.
Kontakion – Acacius
From childhood, most wide and venerable Acacius, you followed after Christ, forsaking the world. Imitating his willing meekness, you overcame the proud torturer. Now pray unceasingly for all of us.
Epistle
1 Corinthians 4: 5-8
Brothers and sisters: Stop passing judgment before the time of the Lord's return. He will bring to light what is hidden in darkness and manifest the intentions of hearts. At that time, everyone will receive his praise from God.
Brothers and sisters, I have applied all this to myself and Apollos by way of example for your benefit. May you learn from us not to go beyond what is set down, so that none of you will grow self-important by reason of his association with one person rather than another. Who confers any distinction on you? Name something you have that you have not received. If, then, you have received it, why are you boasting as if it were your own? At the moment you are completely satisfied. You have grown rich! You have launched upon your reign, that we might be reigning with you!
Gospel
Matthew 13: 44-54
The Lord told this parable: "The reign of God is like a buried treasure which a man found in a field. He hid it again, and rejoicing at his find went and sold all that he had and bought that field. Or again, the kingdom of heaven is like a merchant's search for fine pearls. When he found one really valuable pearl, he went back and put up for sale all that he had and bought it.
"The reign of God is also like a dragnet thrown into a lake, which collects all sorts of things. When it was full they hauled it ashore and sat down to put what was worthwhile into containers. What was useless they threw away. That is how it will be at the end of the world. Angels will go out and separate the wicked from the just and hurl the wicked into the fiery furnace, where they will wail and grind their teeth.
"Have you understood all this?" "Yes," they answered; to which Jesus replied, "Every scribe who is learned in the reign of God is like the head of a household who can bring from his storeroom both the new and the old."
When Jesus had finished these parables, he moved on from that district. Jesus next went to his native place and spent his time teaching them in their synagogues.
Icon courtesy of Jack Figel, Eastern Christian Publications – ecpubs.com
Thursday, July 6 –