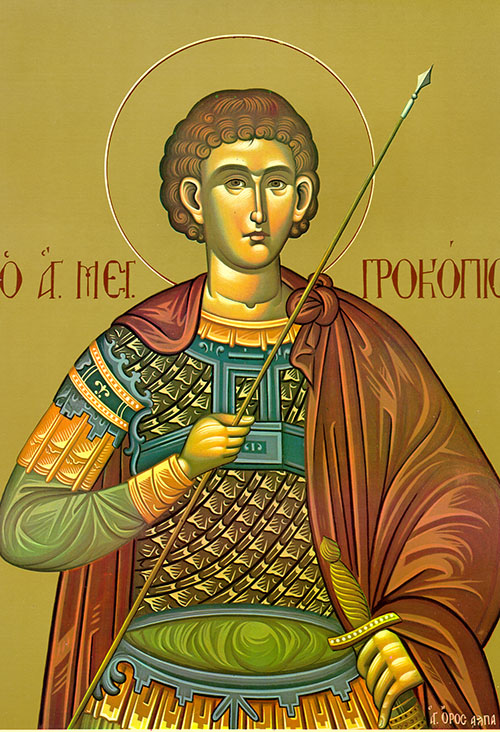 The holy great martyr Procopius was born Neanius, raised by his pagan mother, and worked in service of the emperor Diocletian. He was sent to Alexandria to persecute the Church of God. On his way there he had a vision, similar to that of Saul on his voyage to Damascus, and the Lord Jesus appeared asking him, "Why do you persecute Me?" At that moment a radiant Cross appeared in the air. Neanius felt an inexpressible joy and spiritual happiness in his heart and he was transformed from being a persecutor into a zealous follower of Christ. When it was discovered that Neanius was no longer worshiping pagan idols, he was brought before a judge and handed the decree of Diocletian which the saint read through and tore to pieces in front of the court. He was sent in chains to Caesarea in Palestine. There he was tortured and thrown into a dark prison cell. On his first night there, the Lord Jesus Christ Himself came to him again and baptized the suffering confessor, and gave him the name Procopius. Procopius suffered greatly as he was tormented, but he refused to renounce Christ. He was beheaded in the year 303.
Troparion
Receiving heaven's invitation, O holy one, you turned from the errors of your ancestors and their ancient ways to being zealous for Christ like Paul. You endured many tortures and wounds, and you have been repaid with a crown of glory. Therefore, pray to Christ to save us, O great martyr Procopius.
Kontakion
Inflamed with a heavenly zeal for Christ and protected by the might of the Cross, you leveled the rages and bitterness of the foe. You raised up the Church, O Procopius, by the strength of your faith. You enlightened us by your example.
Readings for the saint
Epistle
2nd Timothy 2: 1-10
Timothy, my son: You must be strong in the grace which is ours in Christ Jesus. The things which you have heard from me through many witnesses you must hand on to trustworthy men who will be able to teach others. Bear hardship along with me as a good soldier of Christ Jesus. No soldier becomes entangled in the affairs of civilian life; he avoids this in order to please his commanding officer. Similarly, if one takes part in an athletic contest, he cannot receive the winner's crown unless he has kept the rules. The hardworking farmer is the one who should have the first share of the crop. Reflect on what I am saying, for the Lord will make my meaning fully clear.
Remember that Jesus Christ, a descendant of David, was raised from the dead. This is the gospel I preach; in preaching it I suffer as a criminal, even to the point of being thrown into chains–but there is no chaining the word of God! Therefore I bear with all of this for the sake of those whom God has chosen, in order that they may obtain the salvation to be found in Christ Jesus and with it eternal glory.
Gospel
Matthew 10:37 – 11:1
The Lord said to his disciples: "Whoever loves father or mother more than me is not worthy of me, and whoever loves son or daughter more than me is not worthy of me; and whoever does not take up his cross and follow after me is not worthy of me. Whoever finds his life will lose it, and whoever loses his life for my sake will find it.
"Whoever receives you receives me, and whoever receives me receives the one who sent me. Whoever receives a prophet because he is a prophet will receive the prophet's reward, and whoever receives the righteous man because he is righteous will receive the righteous man's reward. And whoever gives only a cup of cold water to one of these little ones to drink because he is a disciple–amen, I say to you, he will surely not lose his reward."
When Jesus finished giving these commands to his twelve disciples, he went away from that place to teach and preach in other towns.
Readings for the day
Epistle
Romans 9: 1-5
Brothers and sisters: I speak the truth in Christ: I do not lie. My conscience bears me witness in the Holy Spirit that there is great grief and constant pain in my heart. Indeed, I could even wish to be separated from Christ for the sake of my brothers, my kinsmen the Israelites. Theirs were the adoption, the glory, the covenants, the law-giving, the worship, and the promises; theirs were the patriarchs, and from them came the Messiah (I speak of his human origins.). Blessed forever be God who is all over! Amen.
Gospel
Matthew 9: 18-26
At that time a leader of the synagogue came to Jesus, did him reverence, and said: "My daughter has just died. Please come and lay your hands on her and she will come back to life." Jesus stood up and followed him, and the disciples did the same. As they were going, a woman who had suffered from hemorrhages for twelve years came up from behind Jesus and touched the tassel of his cloak. "If only I can touch his cloak," she thought, "I shall get well." Jesus turned around and saw her and said, "Courage daughter! Your faith has restored your health." That very moment the woman got well.
When Jesus arrived at the synagogue leader's house and saw the flute players and the crowd who were making a din, he said, "Leave, all of you! The little girl is not dead. She is asleep." At this they began to ridicule him. When the crowd had been put out he entered and took her by the hand, and the little girl got up. News of this circulated throughout the district.
Icon courtesy of Jack Figel, Eastern Christian Publications – ecpubs.com
Friday, July 7 –