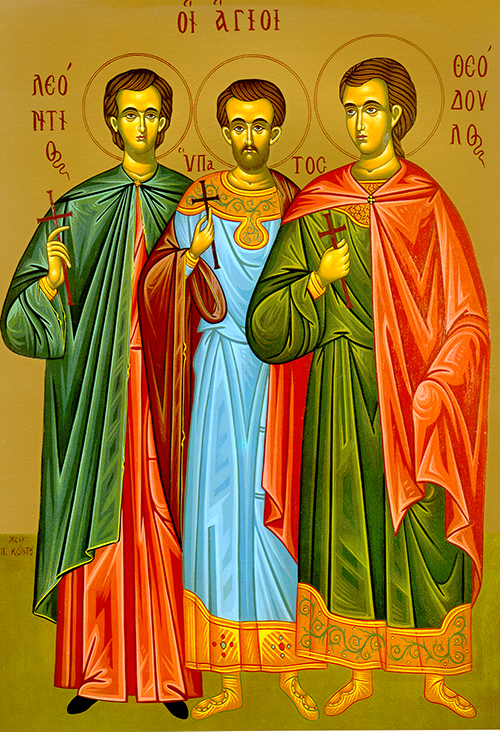 The holy martyr Leontius, a Greek by origin, served as a military chief in the imperial army of the Phoenician city of Tripoli during the reign of Vespasian (70-79). Leontius was distinguished for his bravery and good sense, and the people of Tripoli held him in deep respect because of his virtue. The emperor appointed the Roman senator Adrian as governor of the Phoenician district, with full powers to hunt out Christians, and in case of their refusal to offer sacrifice to the Roman gods, to give them over to torture and death. And on his way to Phoenicia, Adrian received a report that St. Leontius had turned many away from worshiping the pagan gods toward Christ. Learning what had happened, he ordered St. Leontius, Hypatius, and Theodulus to be brought to him. After threatening them with torture and death, he demanded that they renounce Christ and offer sacrifice to the Roman gods. Having suffered patiently harsh tortures in prison, the death of the holy martyrs occurred between the years 70 and 79.
Troparion
O Lord our God, your holy martyr Leontius has deserved the crown of immortality on account of his good works. Armed with your strength, he has vanquished his persecutors and crushed Satan's dreadful might. Through his supplications, O Christ our God, save our souls.
Kontakion
You shamed the evil treachery of the torturers, and you prevailed against the false worship of the Greeks. You presented the knowledge of God in piety to all people. For all of this we honor you with love, O wise Leontius.
Epistle
Romans 3: 19-26
Brothers and sisters: We know that everything the law says is addressed to those who are under its authority. This means that every mouth is silenced and the whole world stands convicted before God, since no one will be justified in God's sight through observance of the law; the law does nothing but point out what is sinful.
But now the justice of God has been manifested apart from the law, even though both law and prophets bear witness to it – that justice of God which works through faith in Jesus Christ for all who believe. All men have sinned and are deprived of the glory of God. All men are now undeservedly justified by the gift of God, through the redemption wrought in Christ Jesus. Through his blood, God made him the means of expiation for all who believe. He did so to manifest his own justice, for the sake of remitting sins committed in the past – to manifest his justice in the present, by the way of forbearance, so that he might be just and might justify those who believe in Jesus.
Gospel
Matthew 7: 1-8
The Lord said: "If you want to avoid judgment, stop passing judgment. Your verdict on others will be the verdict passed on you. The measure with which you measure will be used to measure you. Why look at the speck in your brother's eye when you miss the plank in your own? How can you say to your brother, 'Let me take that speck out of your eye,' while all the time the plank remains in your own? You hypocrite! Remove the plank from your own eye first; then you will see clearly to take the speck from your brother's eye.
"Do not give what is holy to dogs or toss your pearls before swine. They will trample them under foot, at best, and perhaps even tear you to shreds.
"Ask, and you will receive. Seek, and you will find. Knock, and it will be opened to you. For the one who asks, receives. The one who seeks, finds. The one who knocks, enters."
Icon courtesy of Jack Figel, Eastern Christian Publications – ecpubs.com
Friday, June 17 –