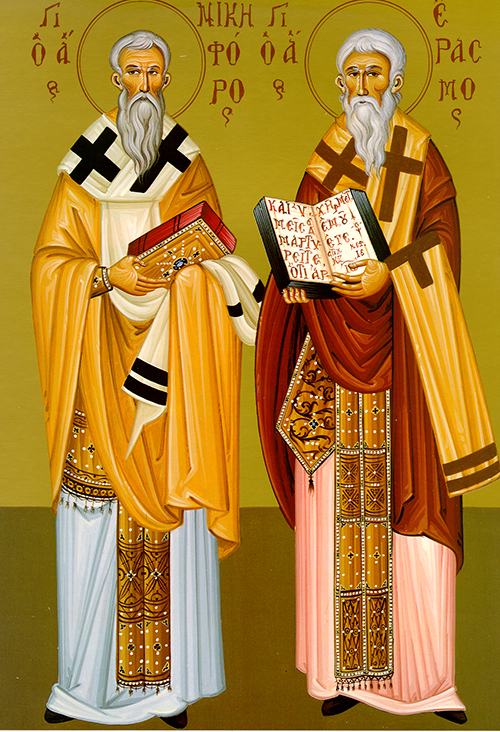 Our venerable father Nicephorus was a dignitary at the court of the Empress Irene (797-802). After embracing monasticism, he became widely known for his piety. He assumed the Patriarchal Throne of Constantinople in 806. He was a zealous defender of the holy icons. In 815, the iconoclast Emperor Leo (813-820) exiled him to Prokonnis, where he fell asleep in the Lord in the year 828.
Troparion
The grace of your deep words and lofty teaching has become a ladder of virtue for us. You possessed a trumpet of the spirit, O father, and by it you announce spiritual teaching. You have taken up your abode in paradise, but still confound enemies with the might of your words. O blessed Nicephorus, beg Christ to forgive the sins of those who honor you.
Kontakion
Since you have received the crown of victory from God, save those who appeal to you in faith, O glorious Nicephorus, for you are a prince of Christ's priests and a teacher for us.
Epistle
Romans 2: 14-29
Brothers and sisters: When Gentiles who do not have the law keep it as by instinct, these men although without the law serve as a law for themselves. They show that the demands of the law are written in their hearts. Their conscience bears witness together with that law, and their thoughts will accuse or defend them on the day when, in accordance with the gospel I preach, God will pass judgment on the secrets of men through Jesus Christ.
Let us suppose you bear the name of "Jew" and rely on the law and pride yourself on God. Instructed by the law, you know his will and are able to make sound judgments on disputed points. You feel certain that you can guide the blind and enlighten those in darkness, that you can discipline the foolish and teach the Simple, because in the law you have at hand a clear pattern of knowledge and truth. Now then, teacher of others, are you failing to teach yourself? You who preach against stealing, do you steal? You who forbid adultery, do you commit adultery? You who abhor idols, do you rob temples? You who pride yourself on the law, do you dishonor God by breaking the law? As Scripture says, "On your account the name of God is held in contempt among the Gentiles."
Circumcision, to be sure, has value if you observe the law, but if you break it you might as well be uncircumcised! Again, if an uncircumcised person keeps the precepts of the law, will he not be considered circumcised? If a man who is uncircumcised keeps the law, he will pass judgment on you who, with your written law and circumcision, break it. Appearance does not make a Jew. True circumcision is not a sign in the flesh. He is a real Jew who is one inwardly, and true circumcision is of the heart; its source is the spirit, not the letter. Such a one receives his praise, not from men, but from God.
Gospel
Matthew 5: 33-41
The Lord said: "You have heard the commandment imposed on your forefathers, 'Do not take a false oath; rather, make good to the Lord all your pledges.' What I tell you is: do not sweat at all. DO not swear by heaven (it is God's throne), nor by the earth (it is his footstool), nor by Jerusalem (it is the city of the great King); do not swear by your head (you cannot make a single hair white or black). Say, 'Yes' when you mean 'Yes' and 'No' when you mean 'No.' Anything beyond that is from the evil one.
"You have heard the commandment, 'An eye for an eye, a tooth for a tooth.' But what I say to you is: offer no resistance to injury. When a person strikes you on the right cheek, turn and offer him the other. If anyone wants to go to law over your shirt, hand him your coat as well. Should anyone press you into service for one mile, go with him two miles."
Icon courtesy of Jack Figel, Eastern Christian Publications – ecpubs.com
Thursday, June 1 –