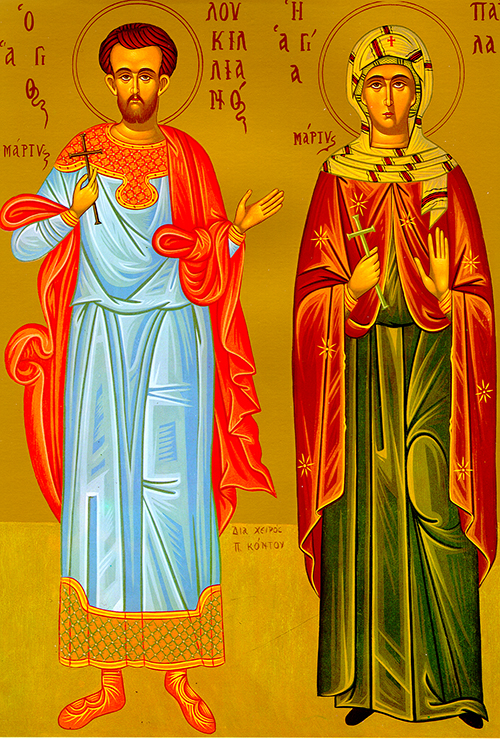 The holy martyr Lucillian was a pagan priest during the reign of the Roman emperor Aurelian (270-275). In his old age he was persuaded to see the falseness of the pagan religion, and with all his heart he turned to the faith in Christ the Savior and was baptized. Under the influence of his preachings, many pagans were converted to Christianity. Then certain Jews, seeing that he was spreading faith in Christ, reported the saint to the Nicomedia prefect, who urged the old man to return to idol worship. When St. Lucillian refused, they smashed his jawbone and beat him with rods and suspended him upside down, and then they locked him in prison. There he met four youths who were confessors of Christianity: Claudius, Hypatius, Paul, and Dionysius. They were brought to trial, and thrown into a red-hot furnace. Suddenly, rain fell and extinguished the flames, and the martyrs remained unharmed. The governor sentenced them to death, sending them to Byzantium to be executed. The holy youths were beheaded by sword, and the holy martyr Lucillian was nailed to a cross with many nails.
Troparion
O Lord our God, your holy martyrs have deserved the crown of immortality on account of their good fight. Armed with your strength they have vanquished their persecutors and crushed Satan's dreadful might. Through their supplications, O Christ our God, save our souls.
Kontakion
You approached the fire but were not burned, O courageous and wise martyr Lucillian. You possessed the cooling dew of God. You and your companions surpassed nature; therefore, we ask all of you to remember us.
Epistle
Romans 1: 7b-12
Brothers and sisters: Grace and peace from God our father and the Lord Jesus Christ. First of all, I give thanks to my God through Jesus Christ for all of you because your faith is heralded throughout the world. The God I worship in the spirit by preaching the gospel of his Son will bear witness that I constantly mention you in prayer, always pleading that somehow by God's will I may at last find my way clear to visit you. For I long see and share with you some spiritual gift to strengthen you–rather, what I wish is that we may be mutually encouraged by our common faith.
Gospel
Matthew 5: 42-48
The Lord said: "Give to the man who begs from you. Do not turn your back on the borrower. You have heard the commandment, 'You shall love your countryman but hate your enemy.' My command to you is: love your enemies, pray for your persecutors. This will prove that you are sons of your heavenly Father, for his sun rises on the bad and the good, he rains on the just and the unjust. If you love those who love you, what merit is there in that? Do not tax collectors do as much? And if you greet your brothers only, what is so praiseworthy about that? Do not pagans do as much? In a word, you must be made perfect as your heavenly Father is perfect."
Icon courtesy of Jack Figel, Eastern Christian Publications – ecpubs.com
Friday, June 2 –