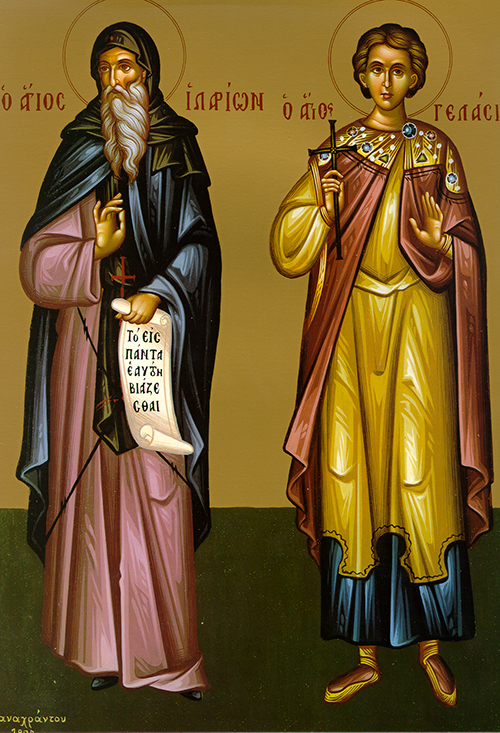 Our venerable father Bessarion the Wonder-worker was an anchorite in Skete in Egypt, stood as a beggar for the love of God and as a pilgrim in the fifth century. The Greek fathers compared him to Moses and Elijah because of his virtues and miracles.
Our venerable father Hilary the Younger was hegumen of the Dalmatian Monastery, and for the sake of the cult of holy icons, he suffered imprisonment, lashes, and exile with unconquered faith in the ninth century.
Troparion
O God of our ancestors, You always deal with us according to your everlasting compassion, take not your mercy away from us; but through the prayers of our ancestors, guide our lives along the ways of peace.
Kontakion – Bessarion
Imitating the powers of heaven, O venerable father, you lived a soaring life like a bird, flying upward with unquenchable desire to Christ the King until you reached Him. O Bessarion, pray unceasingly for all of us.
Kontakion – Hilarion
O father Hilarion, you were a courageous fighter, and the fire did not harm you because of the refreshing dew that came from God. You exceeded the limits of human endurance in fighting your battles; and now you rejoice with the saints. As you join with them, we beg you to pray for all of us.
Epistle
Ephesians 5: 8b-19
Brothers and sisters: Live as children of light. Light produces every kind of goodness and justice and truth. Be correct in your judgment of what pleases the Lord. Take no part in vain deeds done in darkness; rather, condemn them. It is shameful even to mention the things these people do in secret; but when such deeds are condemned they are seen in the light of day, and all that then appears is light. That is why we read: "Awake, O sleeper, arise from the dead, and Christ will give you light."
Keep careful watch over your conduct. Do not act like fools, but like thoughtful men. Make the most of the present opportunity, for these are evil days. Do not continue in ignorance, but try to discern the will of the Lord. Avoid getting drunk on wine; that leads to debauchery. Be filled with the Spirit, addressing one another in psalms and hymns and inspired songs. Sing praise to the Lord with all your hearts.
Gospel
Matthew 18: 10-20
The Lord said to his disciples: "See that you never despise one of these little ones. I assure you, their angels in heaven constantly behold my heavenly Father's face. What is your thought on this: A man owns a hundred sheep and one of them wanders away; will he not leave the ninety-nine out on the hills and go in search of the stray? If he succeeds in finding it, believe me he is happier about this one than about the ninety-nine that did not wander away. Just so, it is no part of your heavenly Father's plan that a single one of these little ones shall ever come to grief.
"If your brother should commit some wrong against you, go and point out his fault, but keep it between the two of you. If he listens to you, you have won your brother over. If he does not listen, summon another, so that every case may stand on the word of two or three witnesses. If he ignores them, refer it to the church. If he ignores even the church, then treat him as you would a Gentile or a tax collector. I assure you, whatever you declare bound on earth shall be held bound in heaven, and whatever you declare loosed on earth shall be held loose in heaven.
"Again I tell you, if two of you join your voices on earth to pray for anything whatever, it shall be granted you by my Father in heaven. Where two or three are gathered in my name, there am I in their midst."
To view on our website, click the link in our bio
Icon courtesy of Jack Figel, Eastern Christian Publications – ecpubs.com
#byzantine #catholic #saints #prayer #byzantineLA
Sunday, June 5 –