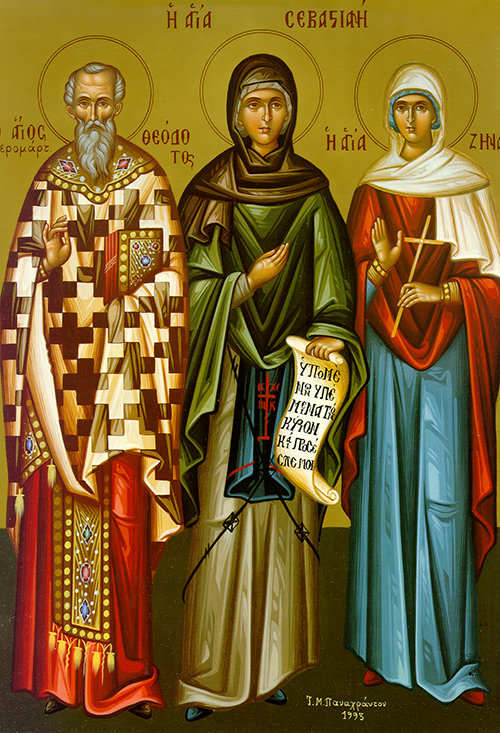 The holy martyr Theodotus lived in Ancyra of Galatia in the third century. He was distinguished by his kindliness and concern. At the height of the persecution under Diocletian (284-305) he provided Christians with everything they needed, and gave them shelter in his home. There they secretly celebrated church services. St. Theodotus visited the Christian captives in prison, paid their bail, and reverently buried the bodies of martyrs who had been thrown to the wild beasts. Once he buried the bodies of seven holy women martyrs, who were drowned at sea (May 18). They reported this act to the governor and he was arrested. After refusing to offer sacrifice to idols, and denouncing the folly of paganism, St. Theodotus confessed Christ as God, for which they subjected him to terrible tortures and beheaded him with a sword. They wanted to burn the holy martyr's body, but could not do so because of a storm which had arisen, so they gave his holy relics to a certain Christian for burial.
Troparion
O holy priest-martyr Theodotus, you lent yourself to the apostles' way of life and succeeded them on their throne. Inspired by God, you found the way to contemplation through the practice of virtue. Therefore, you became the perfect teacher of truth, fighting for the faith unto the shedding of your blood. Intercede with Christ our God that He may save our souls.
Kontakion
Enlightening creation with miracles and sufferings, you were truly a star of light, O blessed Theodotus. Celebrating your famous memory today, we praise Christ with a heart of joy.
Epistle
Romans 1: 1-7 and 13-17
Greetings from Paul, a servant of Christ Jesus, called to be an apostle and set apart to proclaim the gospel of God which he promised long ago through his prophets, as the holy Scriptures record – the gospel concerning his Son, who was descended from David according to the flesh but was made Son of God in power according to the spirit of holiness, by his resurrection from the dead: Jesus Christ our Lord. Through him we have been favored with apostleship, that we may spread his name and bring obedient faith to all Gentiles, among who are you who have been called to belong to Jesus Christ.
To all in Rome, beloved of God and called to holiness, grace and peace from God our Father and the Lord Jesus Christ.
My brothers, I want you to know that I have often planned to visit you (though up to now I have been kept from it) in order to do some fruitful work among you, as I have among the other Gentiles. I am under obligation to Greeks and non-Greeks, to learned and unintelligent alike. That is why I am eager to preach the gospel to you Romans as well.
I am not ashamed of the gospel. It is the power of God leading everyone who believes in it to salvation, the Jew first, then the Greek. For in the gospel is revealed the justice of God which begins and ends with faith; as Scripture says, "The just man shall live by faith."
Gospel
Matthew 4: 23-25, 5: 1-13
At that time Jesus toured all of Galilee. He taught in their synagogues, proclaimed the good news of the kingdom, and cured the people of every disease and illness. As a consequence of this, his reputation traveled the length of Syria. They carried to him all those afflicted with various diseases and racked with pain: the possessed, the lunatics, the paralyzed. He cured them all. The great crowds that followed him came from Galilee, the Ten Cities, Jerusalem and Judea, and from across the Jordan.
When he saw the crowds he went up on the mountainside. After he had sat down his disciples gathered around him, and he began to teach them: "How blest are the poor in spirit: the reign of God is theirs. Blest too are the sorrowing; they shall be consoled. Blest are the lowly; they shall inherit the land. Blest are they who hunger and thirst for holiness; they shall have their fill. Blest are they who show mercy; mercy shall be theirs. Blest are the single-hearted for they shall see God. Blest too are the peacemakers; they shall be called sons of God. Blest are those persecuted for the sake of holiness; the reign of God is theirs. Blest are you when they insult you and persecute you and utter every kind of slander against you because of me. Be glad and rejoice, for your reward is great in heaven; they persecuted the prophets before you in the very same way.
"You are the salt of the earth. But what if salt goes flat? How can you restore its flavor? Then it is good for nothing but to be thrown out and trampled underfoot."
Icon courtesy of Jack Figel, Eastern Christian Publications – ecpubs.com
Monday, June 6 –