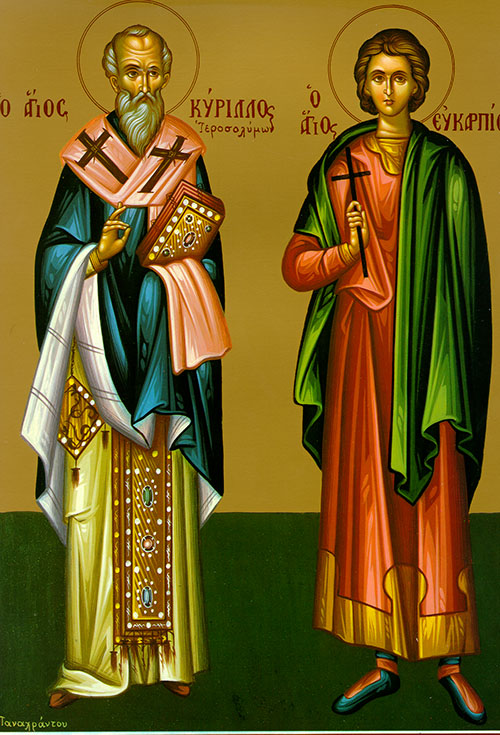 Our father among the saints Cyril, Archbishop of Jerusalem, was born in Jerusalem in the year 315 and was raised in strict Christian piety. Upon reaching the age of maturity, he became a monk, and in the year 346 he became a presbyter. In the year 350, upon the death of Archbishop Maximus, he succeeded him on the episcopal throne of Jerusalem. As Patriarch of Jerusalem, St. Cyril fought against the heresies of Arius and Macedonius. In doing so, he aroused the animosity of the Arian bishops, and they sought to have him deposed and banished from Jerusalem. St. Cyril's works include twenty-three Instructions (18 are Catechetical, for those preparing for baptism, and 5 are for the newly-baptized) and two discourses on Gospel themes: "On the Paralytic," and "Concerning the Transformation of Water into Wine at Cana." At the heart of the Catechetical Instructions is a detailed explanation of the Symbol of Faith. The saint suggests that a Christian should inscribe the Symbol of Faith upon "the tablets of the heart." St. Cyril, a great ascetic and a champion of Orthodoxy, died in the year 386.
Troparion
The sincerity of your deeds has revealed you to your people as a teacher of moderation, a model of faith, and an example of virtue. Therefore, you attained greatness through humility and wealth through poverty. O father and archbishop Cyril, ask Christ our God to save our souls.
Kontakion
You enlightened your people by your words which came from divine inspiration. You honored the indivisible nature of the Trinity which embraces three Persons. We rejoice that you are an advocate of God, and we celebrate your all-holy memory.
Epistle
Hebrews 6: 9-12
Brothers and sisters: Even though we speak in this way, we are persuaded of better things in your regard, things pointing to your salvation. God is not unjust; he will not forget your work and the love you have shown him by your service, past and present, to his holy people. Our desire is that each of you show the same zeal to the end, fully assured of that for which you hope. Do not grow lazy, but imitate those who, through faith and patience, are inheriting the promises.
Gospel
Mark 7: 31-37
At that time Jesus left the territory of Tyre and returned by way of Sidon to the Sea of Galilee, into the district of the Ten Cities. Some people brought him a deaf man who had a speech impediment and begged Jesus to lay his hand on him. Jesus took him off by himself away from the crowd. He put his fingers into the man's ears and, spitting, touched the man's tongue; then Jesus looked up to heaven and emitted a groan. He said to the man "Ephphathal!" (that is "Be opened!") At once the man's ears were opened; he was freed from the impediment, and began to speak plainly. Then Jesus enjoined them strictly not to tell anyone; but the more he ordered them not to, the more they proclaimed it. Their amazement went beyond all bounds and they said: "He has done everything well! He makes the deaf hear and the mute speak!"
Icon courtesy of Jack Figel, Eastern Christian Publications – ecpubs.com
Friday, March 17 –