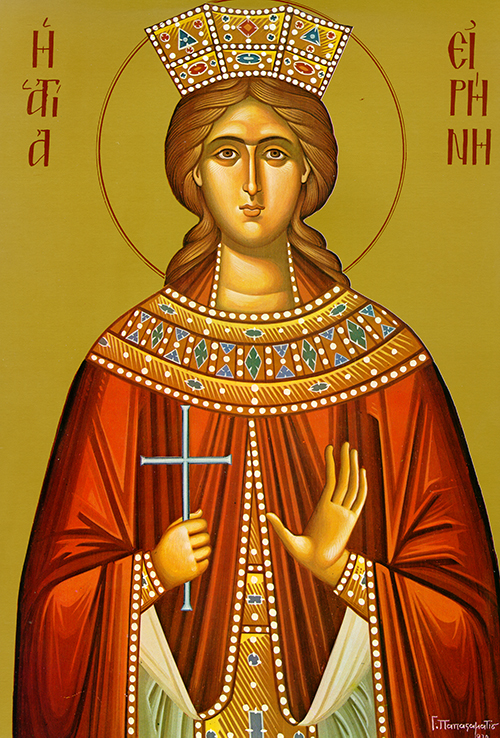 The holy and glorious martyr Irene, at Thessalonica in Macedonia. Since she had hidden the sacred books in violation of the edict of Diocletian, she was taken to a public house of ill repute, then burned in a fire by order of the governor Dulecetius. It was under the same governor that her sisters Agape and Chionia had suffered previously.
Troparion
O Jesus, your lamb Irene cries out to You with great love: O my Bridegroom, I long for You in great pain. I am crucified with you, and in baptism I am buried with You. I suffer for your sake in order to reign with You. I die for You in order to live in You. Accept me as an immaculate victim since I am immolated for your love. Through her intercession, O merciful One, save our souls.
Kontakion
Anointed with the sweetness of virginity, you were beautiful in your martyrdom, O virgin Irene. Robed in crimson from your blood, you exposed the lies of the godless. For this the Creator crowned you in triumph.
Epistle
Acts 8: 26-39
In those days, an angel of the Lord then addressed himself to Philip: "Head south toward the road which goes from Jerusalem to Gaza, the desert route." Philip began the journey. It happened that an Ethiopian eunuch, a court official in charge of the entire treasury of Candace (a name meaning Queen) of the Ethiopians, had come on a pilgrimage to Jerusalem and was returning home. He was sitting in his carriage reading the prophet Isaiah. The Spirit said to Philip, "Go and catch up with that carriage." Philip ran ahead and heard the man reading the prophet Isaiah. He said to the eunuch, " Do you really grasp what you are reading?" "How can I," the man replied, "unless someone explains it to me?" With that, he invited Philip to get in and sit down beside him. This was the passage of Scripture he was reading: "Like a sheep he was led to the slaughter, like a lamb before its shearer he was silent and opened not his mouth. In his humiliation he was deprived of justice. Who will ever speak of his posterity, for he is deprived of justice. Who will ever speak of his posterity, for he is deprived of his life on earth?" The eunuch said to Philip, "Tell me, if you will, of whom the prophet says this himself or someone else?" Philip launched out with this Scripture passage as his starting point, telling him the good news of Jesus. As they moved along the road they came to some water, and the eunuch said, "Look, there is some water right there. What is keeping me from being baptized?" He ordered the carriage stopped, and Philip went down into the water with the eunuch and baptized him. When they came out of the water, the Spirit of the Lord snatched Philip away and the eunuch saw him no more. Nevertheless the man went on his way rejoicing.
Gospel
John 6: 40-44
The Lord said to the people coming to him: "Indeed, this is the will of my Father, but everyone who looks upon the Son and believes in him shall have eternal life. Him I will raise up on the last day."
At this point the people started to murmur in protest because he claimed, "I am the bread that came down from heaven." They kept saying: " Is this not Jesus, the son of Joseph? Do we not know his father and mother? How can I claim to have come down from heaven?"
"Stop your murmuring," Jesus told them. "No one can come to me unless the Father who sent me draws him; I will raise him up on the last day.
Icon courtesy of Jack Figel, Eastern Christian Publications – ecpubs.com
Wednesday, May 4 –