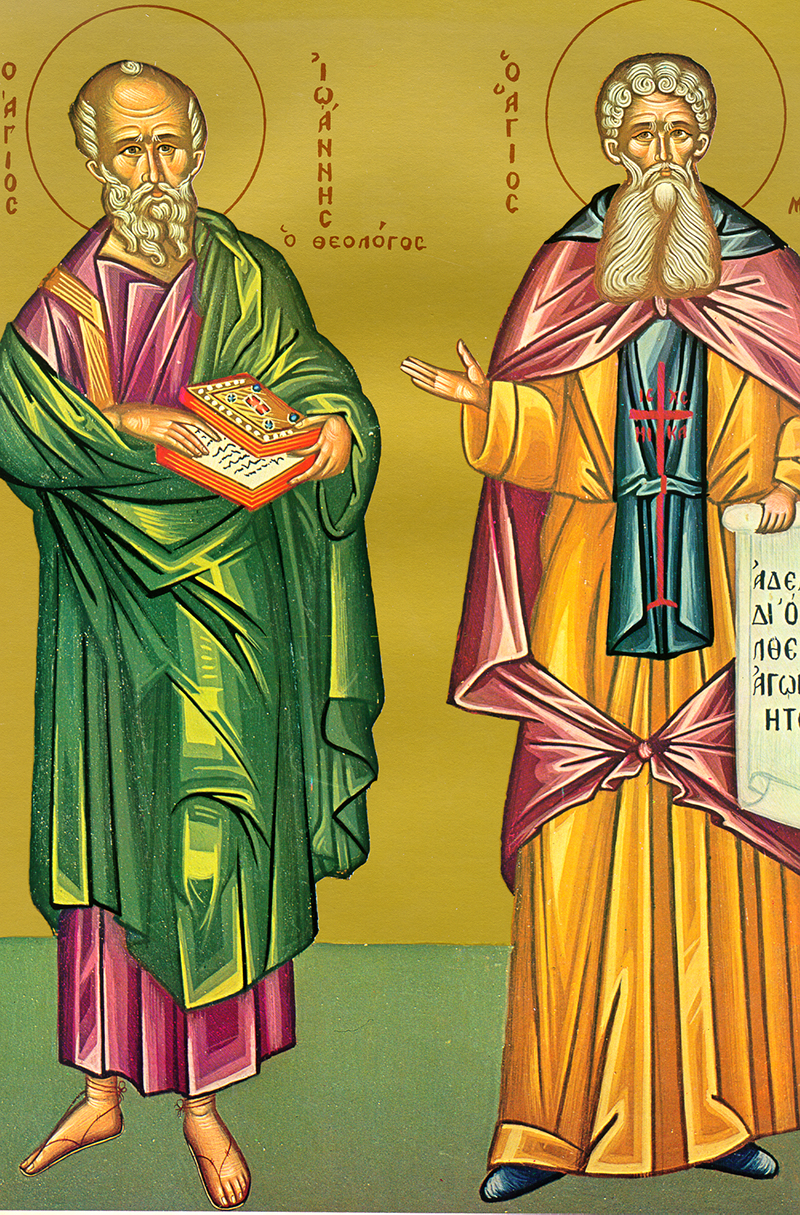 The holy apostle and evangelist John the Theologian, who, a son of Zebedee, with his brother James and Peter was a witness to the transfiguration and also the passion of the Lord. At the cross, he took Mary as his mother at the command of the dying Lord. In the Gospel and in his other writings John shows himself to be a theologian. He was found worthy to contemplate the glory of the incarnate Word, which he saw and proclaimed. All this is reflected in the gospel reading for today: John 19: 25-27 & 21: 24-25.
When Saint John was more than one hundred years old, he told seven of his disciples to take spades and follow him to a certain place outside the city of Ephesus, and then he told everyone to sit down while he went off to pray by himself for a while. When he returned, he told his disciples to dig a grave as long as he was tall, in the form of a cross. After giving them instructions and kissing them, he climbed into the grave and said: "Take some earth, my mother earth, and cover me." They covered him with earth up to his knees, and he said: "Now take some more earth and cover me up to my neck." As soon as they had done this, Saint John spoke again: "Bring a linen cloth and place it on my face, then kiss me again for the last time, because you shall not see me anymore in this life." After the Apostle dismissed them, they buried him and wept bitterly. Later, they returned and opened the grave, but the Saint's body was not there. They wept and returned to the city. Every year, on May 8, a red dust appears on his grave, which heals the sick, through the prayers of the Holy Apostle John. People call this dust "manna from the earth."
Troparion
Beloved apostle of Christ our God, hasten to deliver a people that lacks any other defense. He who accepted that you lay your head on his breast will also accept your prayer. Pray to Christ, O Theologian, that He may overcome the darkness of pagan nations, and beg that He grant us peace and abundant mercy.
Kontakion
O man of purity, who could describe your glory? Many are the miracles and healings you perform. Since you are a theologian and the beloved of Christ, intercede with Him for the salvation of our souls.
Readings for the saint
Epistle
1st John 1: 1-7
Beloved, this is what we proclaim to you: what was from the beginning, what we have heard, what we have seen with our eyes, what we have looked upon and our hands touched–we speak of the word of life. (This life became visible; we have seen and bear witness to it, and we proclaim to you the eternal life that was present to the Father and became visible to us.) What we have seen and heard we proclaim in turn to you so that you may share life with us. This fellowship of ours is with the Father and with his Son, Jesus Christ. Indeed, our purpose in writing you this is that our joy may be complete.
Here, then, is the message we have heard from him and announce to you: that God is light; in him there is no darkness. If we say, "We have fellowship with him," while continuing to walk in darkness, we are liars and do not act in truth. But if we walk in light, as he is in the light, we have fellowship with one another, and the blood of his Son Jesus cleanses us from all sin.
Gospel
John 19: 25-27 & 21: 24-25
At that time near the cross of Jesus there stood his mother, his mother's sister, Mary the wife of Clopas, and Mary Magdalene. Seeing his mother there with the disciples whom he loved, Jesus said to his mother, "Woman, there is your son." In turn he said to the disciple, "There is your mother." From that hour onward, the disciple took her into his care.
It is the same disciple who is witness to these things; it is he who wrote them down and his testimony, we know, is true. There are still many other things that Jesus did, yet if they were written about in detail, I doubt there would be room enough in the entire world to hold the books to record them.
Readings for the day
Epistle
Acts 9: 32-42
In those days, when Peter was making numerous journeys, he went -among other places- to God's holy people living in Lydda. There he found a man named Aeneas, a paralytic who had been bedridden for eight years. Peter said to him, "Aeneas, Jesus Christ cures you! Get up and make you bed." The man got up at once. All the inhabitants of Lydda and Sharon, upon seeing him, were converted to the Lord.
Now in Joppa there was a certain woman convert named Tabotha (in Greek Dorcas, meaning gazelle). Her life was marked by constant good deeds and acts of charity. At about that time she fell ill and died. They washed her body and laid it out in an upstairs room. Since Lydda was near Joppa, the disciples who had heard that Peter was there sent two men to him with the urgent request, "Please come over to us without delay." Peter set out with them as they asked. Upon his arrival they took him upstairs to the room. All the windows came when she was still with them. Peter first made everyone go outside; then he knelt down and prayed. Turning to the dead body, he said, "Tabitha, stand up." She opened her eyes, then looked at Peter and sat up. He gave her his hand and helped her to her feet. The next thing he did was call in those who were believers and the widows to show them all that she was alive. This became known all over Joppa, and because of it, many came to believe in the Lord.
Gospel
John 5: 1-15
At that time, on the occasion of a Jewish feast, Jesus went up to Jerusalem. Now in Jerusalem by the Sheep Pool there is a place with the Hebrew name Bethesda. Its five porticos were crowded with sick people lying there blind, lame, or disabled waiting for the movement of the water. There was one man who had been sick for thirty-eight years. Jesus, who knew the man had been sick for a long time, said when he saw him lying there, "Do you want to be healed?" "Sir," the sick man answered, "I do not have anyone to plunge me into the pool once the water has been stirred up. By the time I get there, someone else has gone in ahead of me." Jesus said to him, "Stand up! Pick up your mat and walk!" The man was immediately cured; he picked up his mat and began to walk.
The day was a sabbath. Consequently, some of the Jews began telling the man who had been cured, "It is the sabbath, and you are not allowed to carry that mat around." He explained, "It was the man who cured me who told me, 'Pick up your mat and walk.'" "This person who told you to pick it up and walk," they asked, "who is he?" The man who had been restored to health had no idea who it was. The crowd in that place was so great that Jesus had been able to slip away.
Later on, Jesus found the man in the temple precincts and said to him: "Remember, now, you have been cured. Give up your sins so that something worse may not overtake you." The man went odd and informed the Jews that Jesus was the one who had cured him.
Icon courtesy of Jack Figel, Eastern Christian Publications – ecpubs.com
Saturday, May 7 –