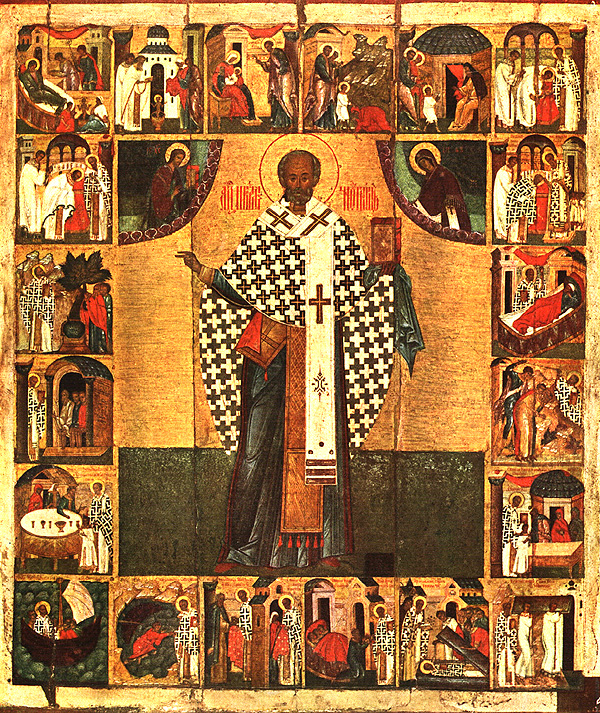 Translation of the relics of our holy Father Nicholas from Myra to Bari in the reign of Alexis Commenus, emperor of New Rome in the year 1087. The body of the saint was taken to Italy after a Muslim attack on Lycia aiming to destroy the saints relics failed. Fearing another attempt would be successful, Venetian merchants transported the relics into the church of St. Stephen. The solemn bearing of the relics was accompanied by numerous healings of the sick, which inspired great reverence for the saint. A year afterwards, a church was built in the name of St. Nicholas and consecrated by Pope Urban II.
Troparion
A day of festal joy has come. The city of Bari rejoices, and the world sings with it. Today we celebrate the transfer of the relics of the wonderworking and holy Nicholas. Just as the perfect Light has gleamed in glory, so does Nicholas disperse the darkness of temptation for those who sing out: Save us as a patron, O Nicholas.
Kontakion
Like a star rising in the East, your relics have arisen and come to the West. The waters of the sea have been hallowed by your passage, and the city of Bari has received grace from you. You are truly a most wonderful miracle-worker and a merciful prelate; therefore, we praise you.
Readings for the saint
Epistle
Hebrews 13: 17-21
Brothers and sisters: Obey your leaders and submit to them, for they keep watch over you as men who must render an account. So act that they may fulfill their task with joy, not with sorrow, for that would be harmful to you. Pray for us; we are confident that we have a good conscience, wishing, as we do, to act rightly in every respect. I especially ask your prayers that I may be restored to you very soon. May the God of peace, who brought up from the dead the great Shepherd of the sheep by the blood of the eternal covenant, Jesus our Lord, furnish you with all that is good, that you may do his will. Through Jesus Christ may he carry out in you all that is pleasing to him. To Christ be the glory forever! Amen.
Gospel
Luke 6: 17-23
At that time, coming down the mountain with the Twelve, Jesus stopped at a level to stretch where there were many of his disciples; a large crowd of people was with them from all Judea and Jerusalem and the coast of Tyre and Sidon, people who came to hear him and be healed of their diseases. Those who were troubled with unclean spirits were cured; indeed, the whole crowd was trying to touch him because power went out from him which cured all. Then, raising his eyes to his disciples, he said: "Blest are you poor; the reign of God is yours. Blest are you who hunger; you shall be filled. Blest are you who are weeping; you shall laugh. Blest shall you be when men hate you, when they ostracize you and insult you and proscribe your name as evil because of the Son of Man. On the day they do so, rejoice and exult, for your reward shall be great in heaven."
Readings for the day
Epistle
Acts 10: 1-16
In those days, in Caesarea there was a centurion named Cornelius, of the Roman cohort Italica, who was religious and God-fearing. The same was true of his whole household. He was in the habit of giving generously to the people and he constantly prayed to God. One afternoon at about three he had a vision in which he clearly saw a messenger of God coming toward him and calling, "Cornelius!" He stared at the sight and said in fear, "What is it, sir?" The answer came: "Your prayers and your generosity have risen in God's sight, and because of them he has remembered you. Send some men to Joppa and summon a certain Simon, known as Peter. He is a guest of Simon the leather-tanner whose house stands by the sea." When the messenger who spoke these words had disappeared, he called two servants and a devout soldier from among those whom he could trust. He explained everything to them and dispatched them to Joppa.
About noontime the next day, as the men were traveling along and approaching the city, Peter went up to the roof terrace to pray. He became hungry and asked for some food, and while it was being prepared he fell into a trance. He saw the sky open and an object come down that looked like a big canvas. It was lowered to the ground by its four corners. Inside it were all the earth's four-legged creatures and reptiles and birds of the sky. A voice said to him: "Get up, Peter! Slaughter, then eat." He answered: "Sir it is unthinkable! I have never eaten anything unclean or impure in my life." The voice was heard a second time: "What God has purified you are not to call unclean." This happened three times; then the object was snatched up into the sky.
Gospel
John 6: 56-69
The Lord said to the people coming to him: "The man who feeds on my flesh and drinks my blood remains in me, and I in him. Just as the Father who has life sent me and I have life because of the Father, so the man who feeds on me will have life because of me. This is the bread that came down from heaven. Unlike your ancestors who ate and died nonetheless, the man who feeds on this bread shall live forever."
He said this in a synagogue instruction at Capernum. After hearing his words, many of his disciples remarked, "This sort of talk is hard to ensure! How can anyone take it seriously?" Jesus was fully aware that his disciples were murmuring in protest at what he had said. "Does it shake your faith?" he asked them.
"What, then, if you were to see the Son of Man ascend to where he was before…? It is the spirit that gives life; the flesh is useless. The words I spoke to you are spirit and life. Yet among you there are some who do not believe." Jesus knew from the start, or course, the ones who refused to believe, and the one who would hand him over.
He went on to say: "This is why I have told you that no one can come to me unless it is granted him by the Father." From this time on many of his disciples broke away and would not remain in his company any longer. Jesus then said to the Twelve, "Do you want to leave me too?" Simon Peter answered him, "Lord, to whom shall we go? You have the words of eternal life. We have come to believe; we are convinced that you are God's holy one."
Sunday, May 8 –